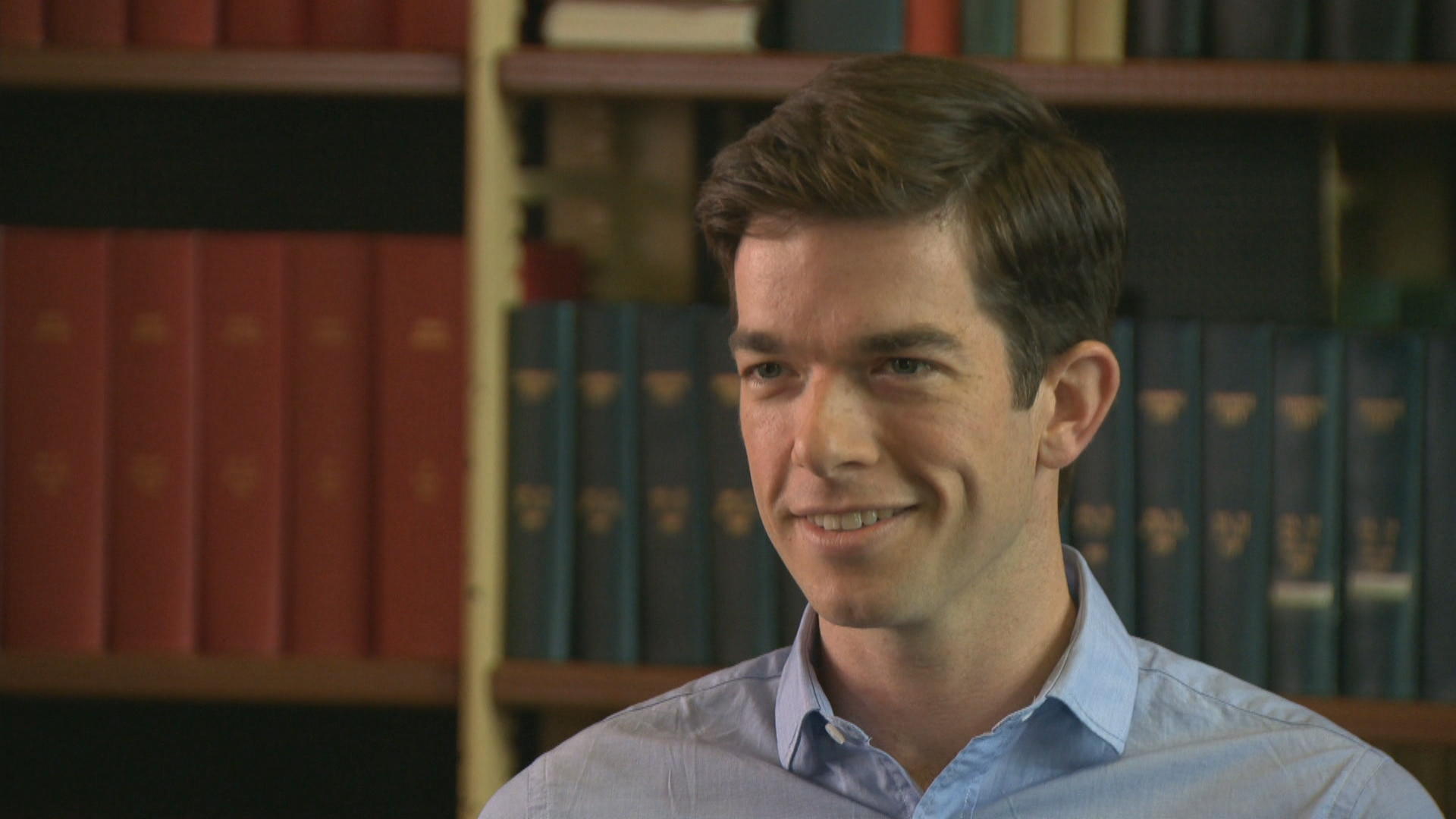 Comedian John Mulaney reflects on his start in stand-up and "Oh, Hello" success
Emmy Award-winning writer and "Saturday Night Live" alum John Mulaney has just finished the first leg of a nationwide stand-up tour, and will hit the road again next month. All that follows a successful run in an unlikely venue – the Broadway stage.
Mulaney's comedy is cheerfully self-deprecating. He told CBS News' Jamie Wax that the subject has remained the same.
"It's still, you know, the adventures of a sweet idiot," he said.
Those adventures started soon after Mulaney arrived at Georgetown University, where his talents were noticed by an upperclassman who would later become a collaborator.
"While I was here, I was doing improv comedy in an improv group called, 'The Georgetown Players Improv Group.' The director was a guy named Nick Kroll. He was a senior and he cast me in the group," Mulaney said. "Had I not met Nick that day -- and then met Mike Birbiglia, another incredible comedian who's helped me out so much -- it really would have been a different path. So while I always wanted to be a comedian, there were specific people and moments here that helped make that happen."
After graduation, the Chicago-born comedian would spend time in New York crashing with Kroll and building his on-stage confidence.
"If I had a show scheduled, I always secretly hoped it would be canceled because I was so nervous. And then there was a turning point where I started to just enjoy the work of it so much that I was hoping the show would not be canceled," Mulaney said.
It wasn't long before his career took off. In 2008, he landed a coveted writing job on "Saturday Night Live." There, he co-created the eccentric city reporter Stefon, played by Bill Hader.
"That then changed the course of my career exponentially. I was writing comedy. To compare it to writing comedy at 'Saturday Night Live,' it'd be like if you were a farmer and you were picking up rocks and then suddenly, you're an astronaut on the moon and you're picking up rocks. Now, you're still just picking up rocks, but you're on the moon. And I would often look around at 'Saturday Night Live' and go, 'I'm on the moon,'" he said. "I mean, it was just -- it was a whole level of rare air that I can't believe I got to experience."
While he thrived at SNL as a writer and an on-screen presence, it was his one-hour Comedy Central special "New In Town" that cemented his status as a standup comic.
The performance helped earn him his own TV show on FOX, though the self-titled "Mulaney" was cancelled after just 13 episodes.
"Ultimately, I think the best thing that came from it was, I was able to say, 'I thought I wanted that and I don't want that.' But it helped me recalibrate what I wanted to do," he said. "Sometimes big old -- big, old, complicated failures take a while to unpack."
The unpacking included hitting the road and starting a tour that became the basis of a Netflix special, fittingly titled, "The Comeback Kid."
Then, he reunited with friend and mentor Nick Kroll to develop "Oh, Hello," playing rumpled old New Yorkers. First a sketch on Kroll's Comedy Central show, it then made the unlikely transition from TV to Broadway. Mulaney wasn't sure how it would be received.
"By the time we got to 'Oh, Hello' we both entered it thinking, 'We enjoy this so much. We want people to like it but we don't really care that much what they say.' If someone had written a review saying, 'Oh, Hello is stupid,' we would have said, 'Yeah it is, you're absolutely right," Mulaney said. "That people liked it was extremely cool."

Of what's next, Mulaney said, "I don't make plans anymore. So I'm not living minute to minute. A professor here at Georgetown once said that -- we were a scene study workshop, and someone said, 'Well, blah blah blah I think my character is just living day by day.' And he said, 'Well, that's interesting. You know, Mulaney lives minute to minute.' I always liked that."

His current tour will end next year with three nights at Radio City Music Hall, where he will be filming his next one-hour special. If you missed "Oh, Hello" on Broadway, it's available now on Netflix.
Thanks for reading CBS NEWS.
Create your free account or log in
for more features.