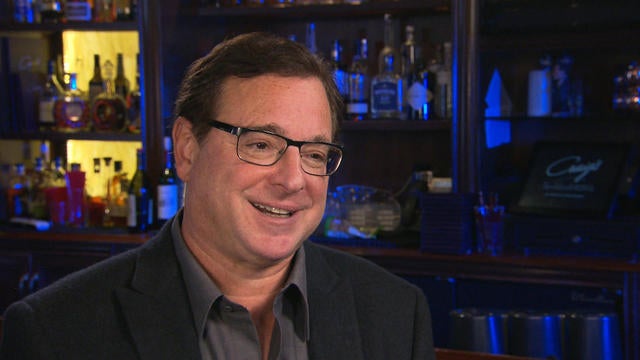 Comedian Bob Saget on loss, returning to sitcoms and his clashing personas
Comedian Bob Saget's career is famously a tale of two comic personas. There's the family-friendly Saget of "Full House" and "America's Funniest Home Videos" and, in stark contrast, the stand-up comedian whose act can tend toward the decidedly blue.
CBS News contributor Jamie Wax sat down with Saget to discuss his new stand-up special, his return to sitcoms and his relationship with the late legendary comic Don Rickles.
A lot of actors have a late career resurgence by playing counter to type, but Saget began his career that way.
"I'm a little bipolar in my work, because I'm doing stand-up again and I feel a need to perform now more than I ever have," Saget said.
Saget's been performing comedy for 44 years. Early on, he was the warm-up comedian for the studio audience on the 1980s TV series "Bosom Buddies," where he was given a small on-camera role and met Jeff Franklin.
"Franklin was a producer on that show and he'd always thought of me for Danny Tanner. He said he knew about Bob's edgy side but he knew that I could also be the Richie Cunningham of the show," Saget said.
Wholesome father Danny Tanner would go on to be Saget's defining role on a new show Franklin was creating called "Full House."
Just a few years later he became even more of a fixture on family television as the host of "America's Funniest Home Videos," giving him the rare achievement of being the star of two primetime-ratings winners.
Even back then, that was in stark contrast to the uncensored stand-up he would deliver at comedy clubs at night.
"People were surprised. I was playing in Vancouver one night in a casino up there, and there was a lady that just started to walk," he said. "But for the most part I always adapt in a chameleon-like way to the audience. I don't purposely go, 'I'm gonna be crass here,' if they're not enjoying it, you know. I want to get laughs."
Behind the smiles, Saget is no stranger to loss. His sister Andrea died of an aneurysm at the age of 34. His sister Gay died at 47 of scleroderma, a cause for which the comedian has since raised over $40 million.
"It's hard to make gallows humor out of something, which is what we always fall back on, which was what my dad instilled upon me. Make people feel better during this horrible time," he said.
And that's just what he did, for others and for himself, turning the toughest of times into an ABC TV movie inspired by his sister, Gay.
"I think that kind of opened me up filmically and made me want to make movies even more, because that got me into the zone of, why am I doing this? What story do I want to tell?" he said.
Saget has worked steadily, directing projects like "Dirty Work" with Norm Macdonald. But it was two raunchy roles -- a cameo appearance as a cocaine addict in "Half Baked" and a foul-mouthed parody of himself on "Entourage" -- that gained him the attention of a new fan base.
"Seems that every seven years or so I have a resurgence in a different way. And it's not something that I plan, it's just how long my gestation period is for what art I've been doing, or for whatever I've been doing," Saget said.
The latest resurgence includes directing the upcoming independent film "Benjamin" and coming full circle to once again playing straight-laced Danny Tanner on the Netflix sensation "Fuller House."

Saget never thought people would be still talking about "Full House."
"I thought it would go away," he said. "But now, more people go, 'I love your stand-up. I mean, 'Full House' I watch that. My kids watch it. But I love your stand-up.' I never used to get that," he said.
Saget has had many mentors in his career. One of the most important was the late legendary comic Don Rickles.
"Don's whole thing was, 'I'm gonna entertain these people in a way I'm gonna give them everything I have. I called him four weeks before he passed away, and his mind was sharp. And I said, 'How are you doing?' And he starts screaming at me, 'What do I have to do to get you out of my life?' And you know, the sad joke is I didn't want him to go this far to get away from me," he said.
"I don't see myself stopping. I mean, I see 20, 25 years of work coming out of me that hopefully will entertain people."

Saget's stand-up special "Zero to Sixty" is now available on multiple digital platforms including Amazon and iTunes.
Thanks for reading CBS NEWS.
Create your free account or log in
for more features.