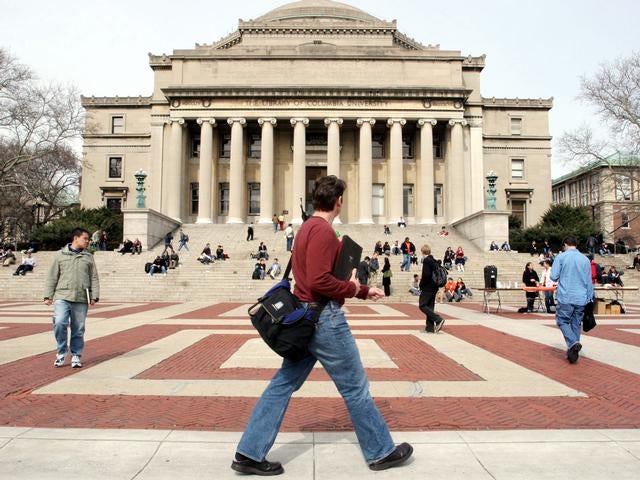 17 women sue Columbia University, its hospitals, claim "massive coverup" of doctor's sex abuse
Seventeen women filed suit Tuesday against Columbia University and its associated hospitals, claiming the institutions committed negligence and fraud as part of a "massive coverup" of an obstetrician's sexual abuse of patients for more than 20 years.
The women say the university and hospitals were first made aware of the former doctor's behavior in the early 1990s, but "actively and deliberately — and inexplicably — concealed Robert Hadden's sexual abuse for decades, and continued to grant Robert Hadden unfettered access to vulnerable, unsuspecting, pregnant and non-pregnant female patients."
Hadden is accused of a lengthy list of sexual abuses, including licking and digitally penetrating his patients' vaginas without gloves, and fondling their breasts and anuses, all under the guise of performing medical examinations. In total, at least 22 women are involved in lawsuits related to the case.
Marissa Hoechstetter is the only plaintiff in Tuesday's filing who chose to reveal her name. She told CBS News in an interview that her decision to go public with her account of abuse came only after years of struggle to process the treatment she received at Columbia's NewYork-Presbyterian hospital during and after her pregnancy.
"It has deeply affected my life. I did not go to doctors for a number of years. I have to think really carefully about who I'm going to see," Hoechstetter said.
Hadden treated Hoechstetter throughout her pregnancy with twins, and in the year after. In the lawsuit, she says Hadden first made repeated inappropriate sexual statements, and performed prolonged, unnecessary breast examinations, including during her hospital stay after giving birth.
Hoechstetter said concern for the twins led her to overlook many of Hadden's "red flags."
"It's really traumatic. You are at I'd say one of the most vulnerable points of your life. I was scared. I was really nervous to have twins," Hoechstetter said. "I had a friend who lost twins, so every appointment I went, I just really wanted to hear that my babies were OK."
But during a postpartum visit in 2012, about a year after her children were born, she said she realized for sure that Hadden had violated her.
"From the start there were inappropriate questions. There was a lot of touching. There were exams without nurses or other people in the room, and on the last occasion, when I knew that something happened, he licked me. And I knew that that happened and I never went back to the office again," Hoechstetter said.
"It has destroyed the memories of my pregnancy. What should have been really a very joyful time in one's life when I look back on it, it's a horrible memory. There was a time when I would look at my daughters and almost resent them for being the reason that I was seeing this person in the first place. It's a challenge, and it's something that I think very hard about how to move past that, and, you know, take care of myself medically now, take care of my children," Hoechstetter said.
Hoechstetter's experiences are echoed by 16 other "Jane Does" in the lawsuit, and more uncovered during Hadden's prosecution, before he entered a guilty plea in 2016 for charges related to just two of the women.
Women in the cases reported being manhandled and fondled, told to disrobe and bend over in order to be examined from behind. They said he used un-gloved fingers, and even his tongue, to probe inside them. Most of the patients were pregnant or postpartum. One woman had HIV and another had HPV. One was a minor during her time in Hadden's care, according to the lawsuit.
Hadden never spent a day in prison. Under the terms of his plea agreement, he forfeited his medical license and entered guilty pleas to two of the counts, criminal sex act in the third degree and forcible touching. The plea deal also included a stipulation downgrading his sex offender status to the lowest level, meaning he is not listed in New York State's online sex offender registry.
While Hoechstetter said she was not pleased with the deal — especially a stipulation that bars New York prosecutors from pursuing charges in at least 17 cases — she says the focus of Tuesday's lawsuit is Columbia University and its hospitals.
The lawsuit claims "medical chaperones, nurses, supervisors, administrators, doctors and other hospital personnel were aware of" abuse by Hadden for decades. It cites an incident in either 1992 or 1993 that was also noted during Hadden's prosecution. A nurse told a supervisor that she witnessed Hadden appearing to touch a woman inappropriately, but was allegedly told to "keep quiet" and "don't let him get himself in trouble."
Over the course of his career, Hadden saw an estimated 30,000 patients, according to a statement made by his defense attorney during a hearing in the criminal case.
Tuesday's complaint describes a 2012 incident in which Hadden was questioned by detectives at a medical clinic. A woman, who would later become "Jane Doe #1" in the case, had filed a complaint saying she ran out of Hadden's office after he licked her. Hadden was led out of the building by police, but not immediately charged. He continued working at the hospital after the incident, according to the lawsuit.
The lawsuit alleges that the hospital told women Hadden was out on "sick leave" after his indictment, and violated HIPAA laws by revealing medical information about the women to lawyers trying to prevent lawsuits. It also claims that Hadden is collecting disability benefits from the university under a claim that he has not been working since his arrest due to a mental condition, "when in reality (his) lack of current employment is the result of decades of sexual predation."
The lawsuit seeks unspecified damages.
In a statement to CBS News, the Columbia University Irving Medical Center said Hadden hasn't practiced medicine at the hospital since 2012, but declined to comment on litigation related to his case.
"The allegations leading to Robert Hadden's 2016 guilty plea and the accusations contained in this recent complaint are abhorrent," the medical center said.
New York-Presbyterian Hospital declined to comment. No lawyer for Hadden could be reached.
The womens' lawyer, Anthony DiPietro, said in an interview with CBS News that Columbia and the hospital have sought to avoid meeting with his clients, even to discuss removing Hadden's name from their childrens' birth certificates.
"They haven't taken any accountability for what happened," DiPietro said, accusing the hospital of enabling Hadden. "This kind of predator needs an institution. They can't do this without an institution."
Hoechstetter said hearing about how another institution, Michigan State University, shielded osteopathic physician Larry Nassar as he abused hundreds of gymnasts and other girls over the course of decades, ultimately impacted her decision to sue.
"Doctors have authority to touch your body. You go in for them to examine your body, and so there's a lot of gray area between what you might think is appropriate and what isn't appropriate. And hearing the testimony of a lot of women in the Nassar trial really did affect me in terms of my wanting to speak forward about medical doctor sex abuse," Hoechstetter said.
Thanks for reading CBS NEWS.
Create your free account or log in
for more features.