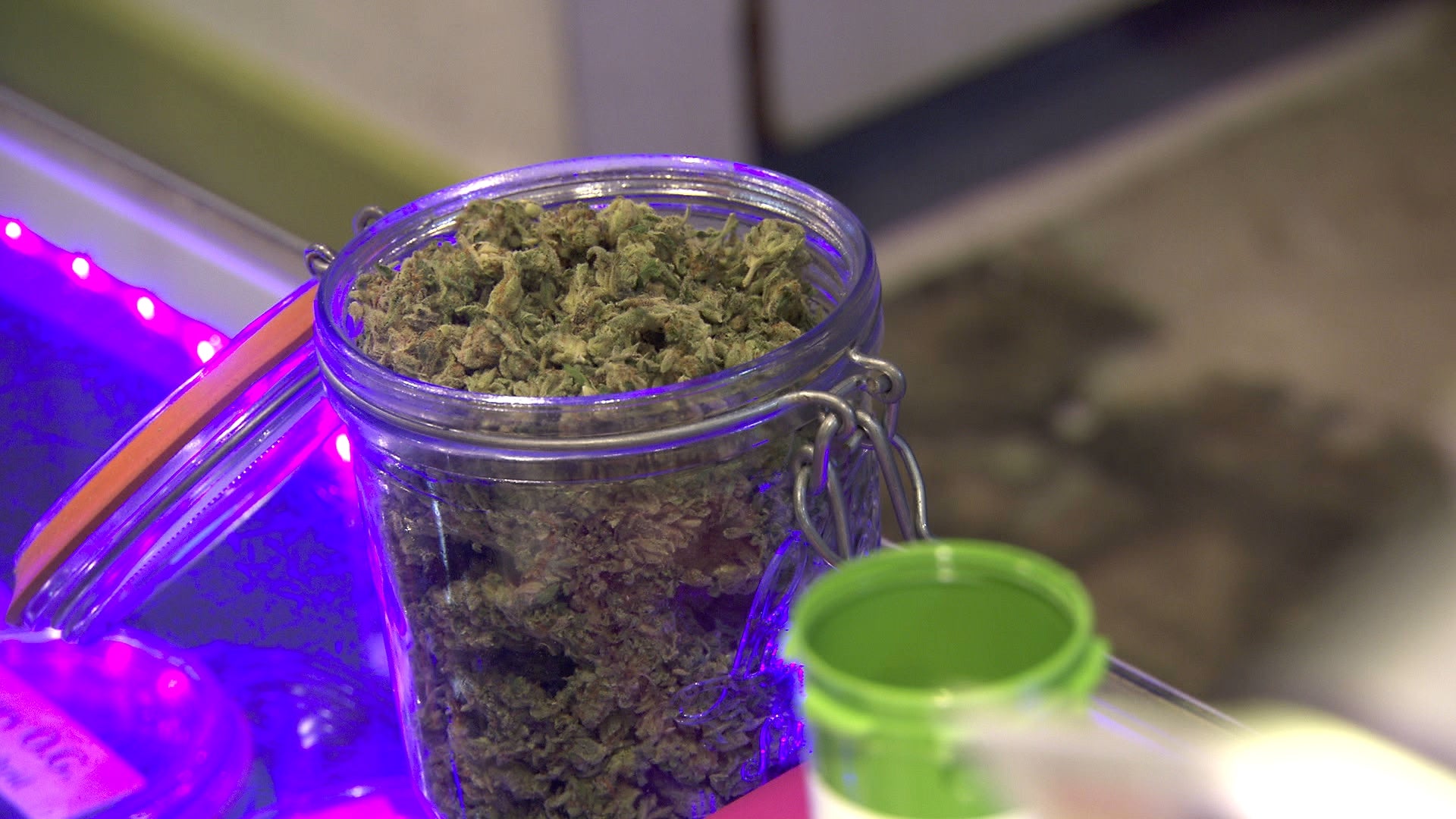 Update: According to new data released by Colorado and analyzed by the Marijuana Policy Group, Colorado's recreational dispensaries are estimated to ring up $295 million in sales and $51 million in tax revenue in 2014.
---
The following script is from "Colorado Pot" which aired on Jan. 11, 2015. Bill Whitaker is the correspondent. Marc Lieberman, producer.
Visit Colorado these days and you can smell change in the air. It's the scent of legal marijuana for recreational use. If you're a resident 21 or older, you can walk in to a state-licensed store and buy up to an ounce of pot. Tourists are limited to a quarter ounce.
Colorado has allowed medical marijuana since 2001. But in 2012, voters amended the state constitution to allow recreational pot - and gave the government one year to make it work. Colorado's governor calls it the most ambitious social experiment of the 21st century. Three other states also have approved recreational pot. But none has gone further or faster into the legal retail weed business than Colorado. The experiment just hit the one year mark and we wanted to know how it's going. So we headed to Denver, the epicenter of a marijuana industry that's now in full bloom.
Welcome to the Mile High City where marijuana, long a symbol of the counterculture, now is just a part of everyday culture. It's a Thursday night in downtown Denver and we were invited to a marijuana food and wine-pairing catering to young professionals. You might expect to see the band toking up, but here everybody is.
The food is sprinkled with marijuana, the wine infused with a strain called Killer Queen. Budtender Leo Dunaev selected it for the evening.
Leo Dunaev: Because of the mellowness of the strain there isn't any kind of anxiety attached to it so that's why we have such a crowd of happy and fantastic people. And what we're doing there, with that machine, is it creates smoke that is cooled to 10 degrees. And that smoke is then blown into this glass. And that allows the wine to open up and really bring in the fruit forward qualities of it.
Those who might remember pot from the 70s - the marijuana grown and sold in Colorado today is up to 10 times stronger. There's a healthy appetite for The Rocky Mountain high and no shortage of stores to supply the demand. There's the corner store in Denver...a high-end boutique in Aspen right around the corner from Prada and Gucci. Colorado has licensed more than 300 recreational dispensaries so far, ringing up an estimated $288 million in sales, $37 million in tax revenue.
Bill Whitaker: This is a lot of pot. This is industrial scale.
Meg Sanders: It is.
Bill Whitaker: How many rooms like this do you have?
Meg Sanders: When we're fully finished with our construction, we'll have 12 like this.
Meg Sanders is a new breed of cannabis CEO, driven to push marijuana into the mainstream. A suburban mother of two, she left a private equity firm to run Mindful, a chain of four retail stores that sells recreational and medicinal pot.
Bill Whitaker: All of this is legal. That's just mind-blowing.
Meg Sanders: It is.
Bill Whitaker: Meg, did you ever think you would be here doing this?
Meg Sanders: No, never in a million years. I was working in a small financial office, and there just wasn't a lot of upward growth. And what better opportunity than to jump into a fledgling industry--something that we'll never see again in our lifetime.
Her 44,000 square-foot marijuana factory is cutting edge. Automated water and nutrient systems feed the plants. Lighting mimics the seasons so plants can be harvested year round - all this in a warehouse right across the street from a Denver police station. Sixty Mindful employees cultivate, trim, and package up to 500 pounds of marijuana every month.
Bill Whitaker: This is not somebody's back yard. This is not some stoner's basement. This is a big business.
Meg Sanders: This is industrial agriculture. Absolutely. Commercial grow right here.
Which is why she recruited Phillip Hague, known in the trade as a master grower. He used to cultivate flowers on an industrial scale in Texas. But his true passion is pot.
Bill Whitaker: What do you bring to the table here?
Phillip Hague: Efficiencies on the grow side. I treat this building more like a large-scale tomato greenhouse than your average cannabis grow.
Bill Whitaker: But, these ain't tomatoes.
Phillip Hague: These are definitely not tomatoes. It's a very specialized plant.
Bill Whitaker: And you are personally familiar with your wares?
Phillip Hague: Most definitely. (laugh) Yes, sir.
All of this still is illegal at the federal level. The Justice Department is watching closely. The feds say they won't intervene as long as Colorado's recreational pot doesn't fall into the hands of kids or criminals or cross state lines. With marijuana's growing acceptance in Colorado, Sanders says she's comfortable as a cannabis capitalist.
Meg Sanders: I have a massive engineering feat for you.
Alijah Smith: All right.
Her 23-year-old son Alijah works with her at Mindful. She says parents at her daughter's middle school seem more curious than critical of her business.
Bill Whitaker: Do you have any concerns that your job is sending the wrong signal to your 13-year-old daughter?
Meg Sanders: I'm not concerned about that.
Bill Whitaker: At all?
Meg Sanders: I'm not. This isn't carte blanche, "Oh, because I work here, everybody should have access to it. And that includes her." We have very good conversations about it. She knows. She knows.
Bill Whitaker: I mean, you say you're a business person. I think some parents would look at this and say, "She's just peddling drugs."
Meg Sanders: I can tell you that the drug dealer, illegal drug dealer on the corner in any state in this nation isn't carding, isn't checking your ID, isn't making sure you have a medical marijuana card or you're over 21. This industry does it every day, the stats show it. We've done a phenomenal job.
Mindful expects to rake in $18 million this year, but it's not easy money. Colorado requires every plant grown by a licensed operator to be tracked from seed to sale. Each one has a barcoded radio frequency ID tag and is logged into a statewide database. Cameras watch it all. The goal is to keep every bud and bit off the black market.
Greenwood Village Police Chief John Jackson isn't sold.
John Jackson: Law enforcement is really trying to do the right thing here. It's different. And it's requiring a mind change or shift on our part.
Jackson is president of the Colorado Association of Chiefs of Police. He says there's still illegal pot on the streets from underground dealers who don't have to levy 28 percent in state taxes.
John Jackson: There's a common belief that by legalizing it, you will get rid of the black market. I can resoundly say that the black market is alive and doing well.
Bill Whitaker: It's still cheaper to buy it from the dealer on the street than to buy it in the store?
John Jackson: Certainly. You know, we've created an entire industry here. And I'm gonna be honest with you. There are some very responsible people that are involved. And it's like anything else in society. You've got a few people that are really making it hard for the others, and maybe use Colorado as a platform to simply provide their marijuana to the rest of the country.
"There's a common belief that by legalizing it, you will get rid of the black market. I can resoundly say that the black market is alive and doing well."
This is what he's talking about. In October, Denver police and the DEA raided several warehouse operations that were allegedly growing marijuana destined for out-of-state. Neighbors Nebraska and Oklahoma are suing to have the U.S. Supreme Court declare Colorado's recreational pot market unconstitutional, claiming marijuana is crossing their borders. It's too early to say if other problems are taking root. Colorado is just now starting to collect and analyze data on pot's impact on the state.
Andrew Freedman: I do worry about if we are irreparably harming Colorado. And it's something that will take years to suss out.
This baby-faced 31-year-old, Andrew Freedman, is Colorado's marijuana czar. He's a Harvard Law grad - hand picked by Colorado Gov.John Hickenlooper to oversee the rollout of legalized, recreational pot.
Bill Whitaker: There is no roadmap. I mean you guys are racing ahead at, you know, 1,000 miles an hour. And you're trying to work this out on-the-fly. How do you do that?
Andrew Freedman: It's an unbelievable challenge. Within one year, we wanted to get our culture up to speed. What is the right amount to imbibe or to smoke and drive? What's appropriate around kids? What's appropriate in public? And society had never weighed in on these things before.
[Andrew Freedman: OK, anything else on caregivers? Black market, gray market, where we're going on it?]
"I do worry about if we are irreparably harming Colorado. And it's something that will take years to suss out."
He regularly calls together the department heads of revenue; health; education; all the state agencies involved with marijuana - trying to balance the demands of the people with public safety and the law.
Bill Whitaker: It's legal here, but outside of Colorado, it's still illegal. It's a federally illegal drug. How do you square those two?
Andrew Freedman: Well, it is a round peg in a square hole. It takes everybody being creative in ways they haven't been creative before, and knowing that at any time the federal government could come and shut us down, tell us that what we're doing is illegal in their eyes.
Bill Whitaker: You still think that's possible?
Andrew Freedman: Sure. It's completely possible that in a few years, somebody comes around and says - a new president says, "We're not OK with you doing this."
They know they're under a microscope. That's why Colorado was quick to act when it bit into trouble with edibles -- marijuana candies, cookies and other infused foods. Just three months into legalization, a 19-year-old college student visiting Denver leapt to his death from a hotel balcony after eating a pot-laced cookie. The coroner's reported noted "marijuana intoxication" as "a significant contributing factor."
Andrew Freedman: I think one of the things we didn't see coming was that-- people were gonna overdose on edibles. And we're not gonna try to hide that problem. New rules and regulations came out faster than I think you ever see state government do something.
New rules placed immediate limits on the amount of THC, marijuana's major psychoactive ingredient, allowed in edibles and required new labeling detailing the potency of each serving.
But the biggest cloud over the industry is banking. As long as the federal government continues to count pot proceeds as illegal drug money, most banks won't touch it. So Colorado's billion dollar marijuana industry is conducted almost entirely in cash: that's why Meg Sanders keeps a two-ton safe.
Bill Whitaker: So your payroll was in cash?
Meg Sanders: Payroll, rent.
Bill Whitaker: Taxes?
Meg Sanders: Taxes, licensing fees, Home Depot, vendors, you name it, our - our electrician, absolutely.
Bill Whitaker: All in cash?
Meg Sanders: Absolutely. From a public safety standpoint, it's definitely the number one issue that this industry faces.
Gov. John Hickenlooper: If you want to guarantee that a fledgling industry becomes corrupt and, you know, becomes populated with gang activity make it all cash, right. That's as old as Al Capone, right. Cash creates corruption.
Colorado Governor John Hickenlooper says a partial solution might be a new state-chartered cannabis credit union. He's urging the federal government to approve it. Still, despite the problems, Governor Hickenlooper says he's encouraged by the rollout of this green experiment Colorado voters wanted.
Bill Whitaker: In the beginning you didn't think it was a good idea?
Gov. John Hickenlooper: No. I opposed it. You know, and I opposed it and I think even after the election if I'd had a magic wand and I could wave the wand I probably would've reversed it and had the initiative fail. But now, I look at it and I'm not so sure I'd do that even if I had such a wand. I mean, I think we've made a lot of progress. And, you know, still a lot of work to be done. But I think we might actually create a system that can work.
[Customer: Alright, I will have an eighth of that.]
Meg Sanders says marijuana is good for business...
[Customer: That's pretty groovy dude.]
And good for Colorado.
Bill Whitaker: Are you seeing a marijuana effect on the economy here?
Meg Sanders: Absolutely. You can't find an empty warehouse in the city of Denver (laugh) really. I mean, you just can't. And then think of the ripple effect. I mean we affect a ton of businesses. Security, marketing-- you know-- web hosting. You name-- we're a business just like anybody else. We have the same needs.
Today, you can walk into a Mindful dispensary and buy a joint for $14.53. Business is good. Sanders is planning to expand.
Meg Sanders: We're creating. We're saying, "Please, trust us. We know that we can do this right."
Bill Whitaker: I do I remember when this was rolled out everyone thought that the sky was going to fall.
Meg Sanders: It's still there. (laugh) It didn't fall. And business is thriving. And the customers are still coming through the door. So clearly, if I'm looking at my business and I'm looking at those around me, the consumer is saying, "Yeah, this works."
Thanks for reading CBS NEWS.
Create your free account or log in
for more features.