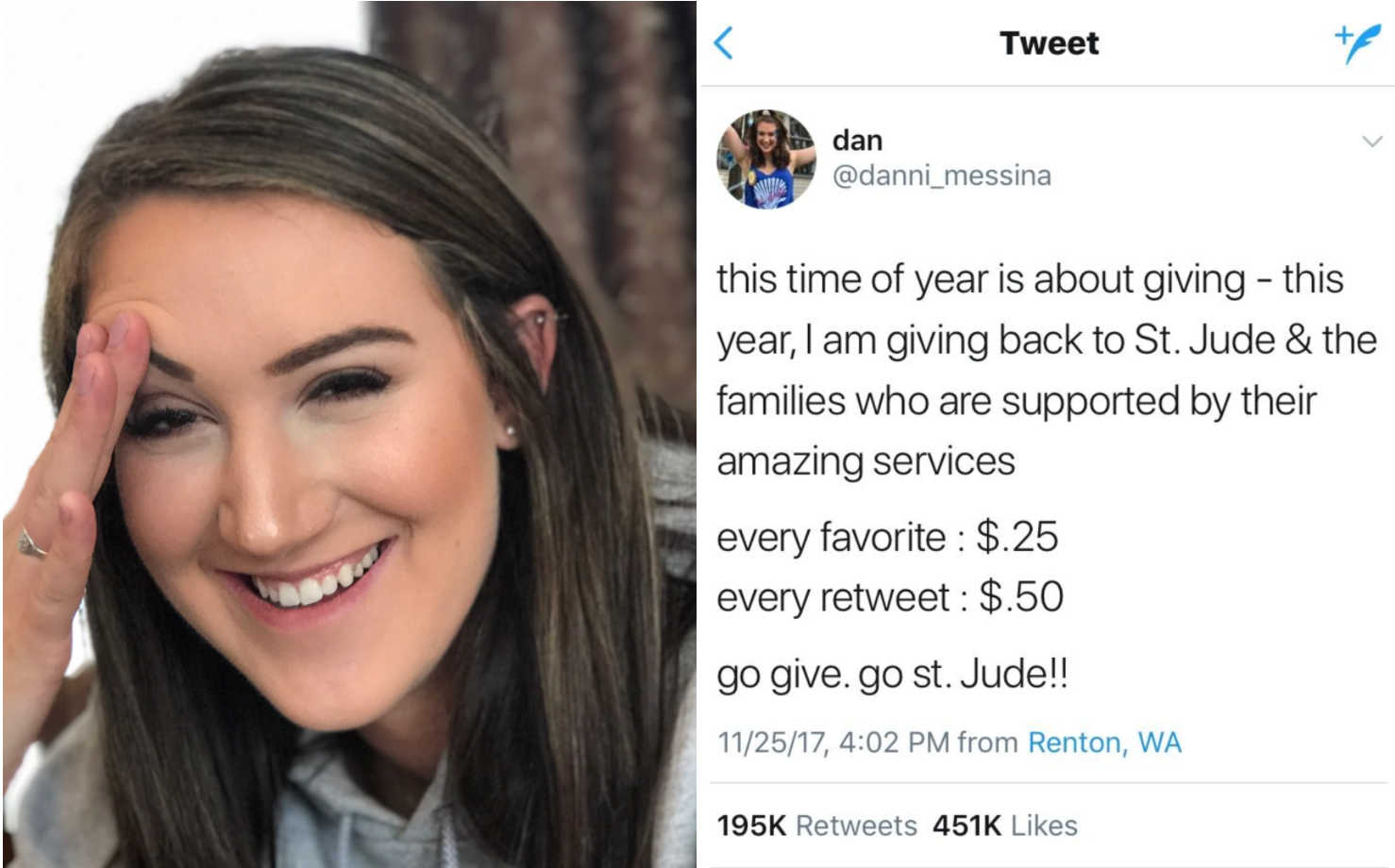 Oops? Teen "owes" over $200,000 to charity after tweet goes viral
Instead of simply writing a check for a charity over Thanksgiving break this year, Danni Messina decided to turn to social media to get her friends involved.
The 19-year-old Washington State University student from Seattle tweeted from her personal account on Nov. 25 that she would donate 50 cents for every retweet and 25 cents for every "favorite" she received to St. Jude's Children's Hospital.
She thought she'd maybe get a handful of interactions from her friends and followers. She never expected the tweet to go viral.
Within hours the tweet had thousands of retweets and favorites. As of Tuesday evening, nearly 195,000 people had retweeted the post and 450,000 favorited it — which translates to roughly $210,000, a sum of money that is way outside of the teenager's budget.
"I was originally planning on donating personally $1,000," Messina told CBS News.
The next night, Messina had to call it quits.
"Wowza ok - so we are stopping it here," she tweeted.
But Messina still wants to follow through on her promise. So, the 19-year-old started a GoFundMe account on Sunday, asking the public for a little assistance.
"I tweeted because I had absolutely no idea there would be that much support around the idea," she explained. "So, unfortunately, I don't have the funds to support this, but here is a link to donate to one of the best hospitals there is."
By Tuesday afternoon, Messina had received donations from 675 people for a total of more than $8,600. She set a goal of $50,000.
Dozens of people commented on the GoFundMe page, sharing words of encouragement.
"Love that you're doing this! Keep it up!" one person commented.
"Thanks for having this idea and using social media for good and not harm. Good luck!" another wrote.
Messina was inspired to donate to St. Jude after learning her friend was spending Thanksgiving in the hospital with his grandmother. It's also her sorority's designated philanthropy.
"I felt like it was a perfect fit," she said.
While Messina can't come up with the $210,000 she promised, she hopes the effort will at least raise awareness for a good cause.
"I am still in shock. I think it's so incredible that people are donating because they saw my tweet," she said. "I love the awareness part of it, and it's been awesome talking to St. Jude more."
Thanks for reading CBS NEWS.
Create your free account or log in
for more features.