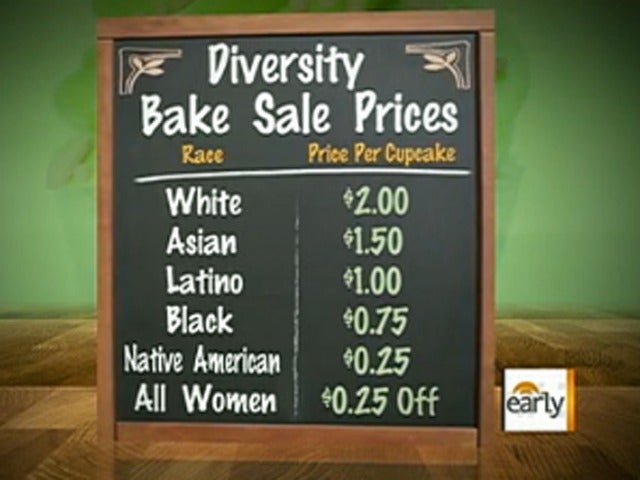 College bake sale charging based on gender, race
University of California, Berkeley outside San Francisco is known for its history of protest. And now some students there are using cupcakes to, in their words, take a stand against affirmative action.
The small bake sale is cooking up a big controversy.
"Early Show" co-anchor Erica Hill reported the Berkeley College Republicans' bake sale will sell cupcakes based on the customers' race and gender.
According to the menu - white males will have to pay the most for the baked treats at $2.00 a cupcake, Asians will be charged $1.50, Latinos $1.00, blacks just 75 cents and Native Americans only 25 cents. And if you're female, you can take an extra 25 cents off - no matter the category you fall in.
The sale is in response to California SB 185 - a bill that would allow state universities to consider race, gender and ethnicity in the admissions process.
Berkeley College Republicans think the affirmative action bill is intrinsically racist - and are pricing their pastries to make a point.
Shawn Lewis, of the Berkeley College Republicans, said, "How do you put someone in one category and this SB 185 kind of forces people to do that. You have to check one box and so our bake sale, you gotta choose one and that doesn't seem fair and we don't think 185 is fair either."
The reactions across the campus were, unsurprisingly, immediate and not entirely supportive.
Joey Freeman, vice president of External Affairs of the Associated Students of the University of California, said, "It really was deeply hurtful to lots of members of our college community."
Alex Bernhart, a freshman at the college said, "I think it is creative but I think it is moderately offensive."
On "The Early Show" Tuesday morning, Berkeley's College Republican president Shawn Lewis said the bake sale was going to go forward as planned, unless some type of security threat would present itself.
Lewis said the student government has endorsed the bill. He said, "It is clear that the student government was not interested in the welcoming debate of this issue on campus. Our student government took one side on this issue. They did not invite any other views on this issue and they didn't consider the other students might have another view of SB185 in this policy. ... We're putting ourselves out there to show there's another opinion on this campus."
Berkeley's College Republican vice president Mia Lincoln added, "A large group of the student population here is not politically involved and we've brought them into this discussion. They may not have even known that this event was going to take place, that the student government had an opinion on this bill. Now they know and maybe they're able to form their own opinions."
When "Early Show" co-anchor Erica Hill asked Lincoln what she takes issue with the bill, Lincoln replied, "One issue that I can personally identify with is the fact that this bill would consider gender specifically as one of the specifically stated terms in the college admissions process. And as a woman in college, I would not like to know that my college admission had been based on the fact that I was a woman. I think that women in America are trying to move past this and that this bill would be a step backwards."
Hill noted race, gender, national origin, geographic origin, household income would be factors that would permit preferential treatment when it comes to admissions to college.
Lewis said, "Well, one other term in the bill is, quote, 'other relevant factors.' The fact is, (the bill) is so loosely vague and loosely written, it's wide open door to lawsuit and litigation. There's a lot of problems with the bill, the way it is written itself. And the fact is, (the bill) is blatantly unconstitutional. The California State Constitution states that the state shall not give, shall not discriminate or give preferential treatment to any sex, race, gender or ethnic origin in admissions process. And we see this as a blatant disregard for the Constitution."
When asked about dealing their grievances going forward and taking the matter further to a state level, Lewis said he hasn't heard from anyone about planning a debate or discussion.
Hill asked, "Would you guys consider organizing that? Would that perhaps have been a better way to bring this issue to the forefront to get people talking about it?"
Lewis said, "In this scenario, I think we chose the best course of action because, if we had had a table...with pamphlets and simple literature to explain why we oppose the bill, we wouldn't be having a national dialogue about this right now. As Mia mentioned, people wouldn't be on our campus, people who didn't even know this was going on wouldn't be talking about it. I think maybe it was controversial and it was definitely offensive to some people, but you have to admit that we've really succeeded in creating a debate on campus and getting people to talk more about it."
Thanks for reading CBS NEWS.
Create your free account or log in
for more features.