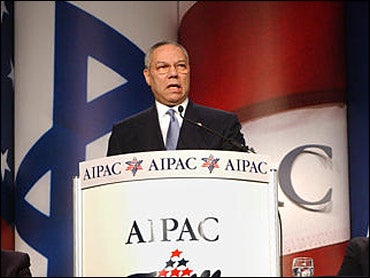 Colin Powell's Terror Warning
Secretary of State Colin Powell says Iran must stop its drive for weapons of mass destruction and Syria must end its support for terrorism.
In a strongly worded speech to a pro-Israel lobby, Powell bracketed Iran and Syria with Iraq as promoters of terrorism and suggested they faced grave consequences.
His tough words matched those last week of Defense Secretary Donald Rumsfeld and served to signal unity within the Bush administration on the anti-terror front.
Both Iran and Syria have shown no inclination to bend to the Bush administration's growing rhetorical campaign against them.
Syrian Foreign Minister Farouk al-Sharaa said Sunday that "Syria has a national interest in the expulsion of the invaders from Iraq" and that Iran-based guerrillas are openly deployed in Kurdish territories of northern Iraq and have been crossing back and forth into southern Iraq.
Rumsfeld on Friday accused Syria of supplying military technology to Iraq, a charge Syria denied. He also said the United States would hold Iran responsible for the entrance of Iran-sponsored forces into Iraq.
Carrying the threat a step forward, Powell on Sunday demanded Iran "stop its support for terrorism against Israel" and said Tehran also "must stop its pursuit of weapons of mass destruction and the ability to produce them."
Turning to the regime in Damascus, Powell said "Syria now faces a critical choice" of whether to "continue its direct support for terrorism in the dying days" of President Saddam Hussein's government in Iraq.
"Syria bears responsibility for its choices and consequences," Powell said sternly at the 44th annual policy conference of the American Israel Public Affairs Committee.
Of the war in Iraq, he said "let there be no doubt of the outcome. We will drive Saddam Hussein and his regime from power."
And Powell said, to wide applause from the heavily Jewish audience, "we will keep his weapons of mass destruction from the Middle East."
Stepping into a growing debate, Powell, chairman of the U.S. Joint Chiefs of Staff in the Persian Gulf War in 1991, endorsed the Bush administration's current war plan, which has encountered some criticism as the drive against Saddam has slowed.
"I have total confidence in the plan and total confidence in General (Tommy) Franks and those carrying out the plan," he said.
Powell also vowed an unflinching pursuit of al Qaeda terrorists all over the world. "Let there be no doubt, we will pursue al Qaeda wherever they are," he said.
And in a message to Palestinian extremists, Powell said there must be "an end to violence as a political tool; terror must end."
He renewed the Bush administration's support for establishment of a Palestinian state by the end of 2005, and said the drive would be stepped up once Mahmoud Abbas was confirmed as prime minister.
The longtime lieutenant of Yasser Arafat has at times spoken in support of all measures against Israel and at other times appeared critical of attacks on civilians.
On Sunday he met with leaders of the militant Hamas group, and representatives of the militant Popular Front group and the Iraq-backed Arab Liberation Front.
Powell, urging Israel to make peace with the Palestinian Authority, said "Israel's security requires peace with its neighbors."
He also renewed President Bush's call for a halt to Jewish home-building on the West Bank and Gaza, which drew a mixed response of mild applause and a few boos.
Israeli Foreign Minister Silvan Shalom followed Powell's speech with his own condemnation of Iran as a sponsor of terrorism. He said Iran was behind the bloody attacks in 1992 on the Israeli Embassy in Buenos Aires and in 1994 on a Jewish center in capital of Argentina.
"We will work closely with the United States to oppose terror," the minister said.
On the conflict with the Palestinians, Shalom was cautious. "We need a true Palestinian partner, one who will stop the violence once and for all," he said.
By Barry Schweid
Thanks for reading CBS NEWS.
Create your free account or log in
for more features.