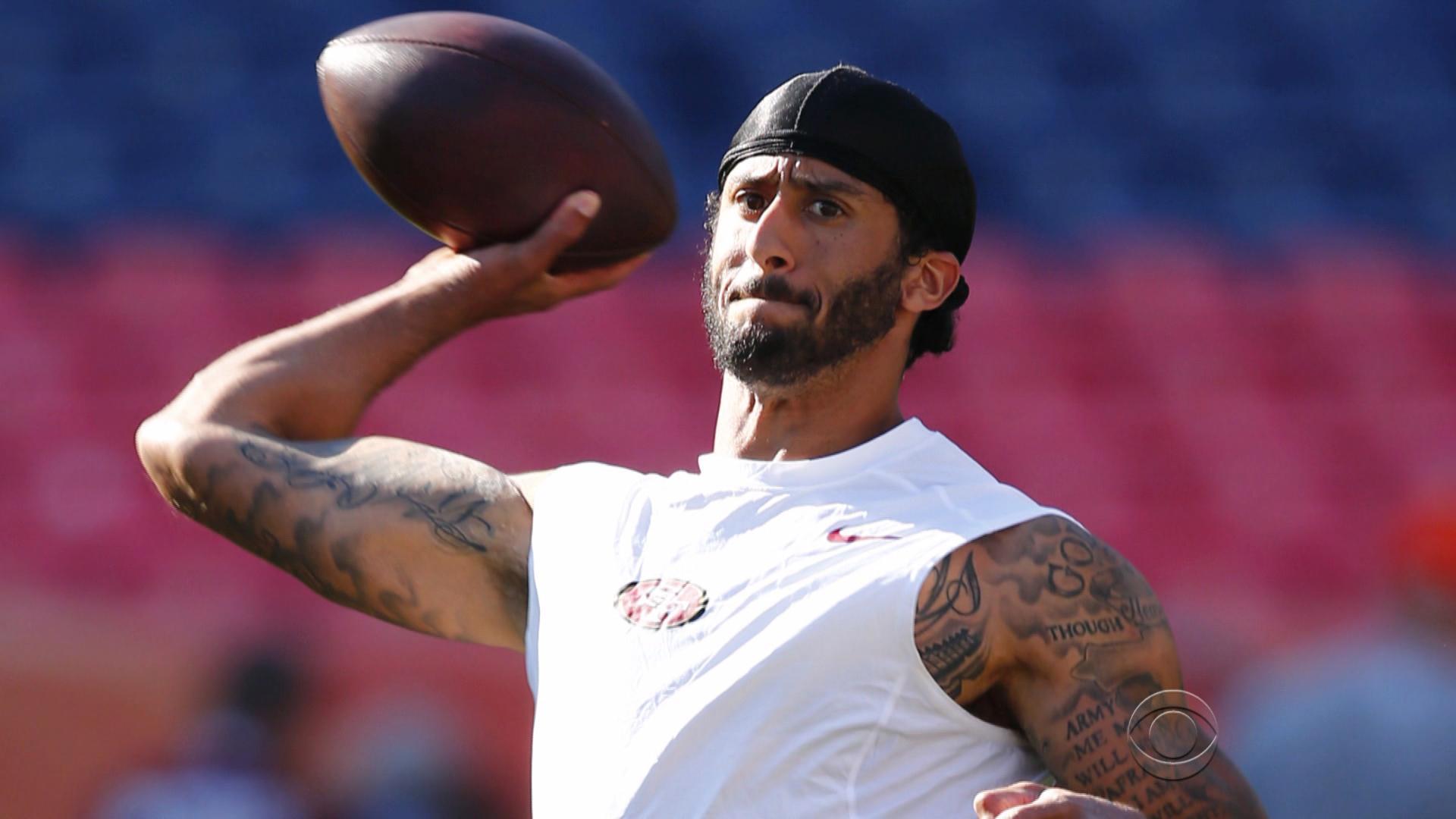 Despite leading team to Super Bowl, Colin Kaepernick remains unemployed
NEW YORK -- Quarterback Colin Kaepernick started the movement of kneeling during the national anthem last season, while playing for the San Francisco 49ers.
This year, Kaepernick finds himself without a team.
The NFL covets quarterbacks for their arms, but Kaepernick's marketability may start with his knee and his pre-game protests last season.
All 32 NFL teams have at least two quarterbacks, and despite leading a team to the Super Bowl, Kaepernick remains unemployed.
CBS Sports analyst Boomer Esiason, a former NFL MVP, explains why the NFL is having a trouble finding a spot for Kaepernick.
"They would have a very, very tough time signing somebody who protested the American flag and the national anthem," Esiason said.
Already this pre-season, protests have continued on NFL sidelines. And for the first time, some white players are standing -- and kneeling -- alongside their teammates.
Seventy percent of NFL players are African American. Many see a racial injustice with Kaepernick.
To Seattle defensive back Richard Sherman, the league's message is: "Boy, stay in your place." The Eagles' Malcolm Jenkins called the teams "cowards."
Dr. Harry Edwards, a Kaepernick advisor, agrees.
"You have people who came back after being associated with drugs, rape charges and so forth ... but a man who violated no league rules, who committed no crime, who has statistics that Colin Kaepernick has cannot play in the league … that is not Kaepernick's problem," Edwards said. "That is the league's problem."
NFL commissioner Roger Goodell denies the quarterback is being blackballed.
"Those are football decisions that each team has to make and what they think are the right ways to make their football teams better," Goodell said.
Kaepernick's protests clearly offended many in the NFL, including Esiason.
"Whatever political views that you have you don't take it to the NFL field," Esiason said. "You don't own that field and you do not own that uniform you are paid to play football."
"I wouldn't want him on my team," he added.
If signed, Kaepernick says he will stand for the national anthem this season.
Thanks for reading CBS NEWS.
Create your free account or log in
for more features.