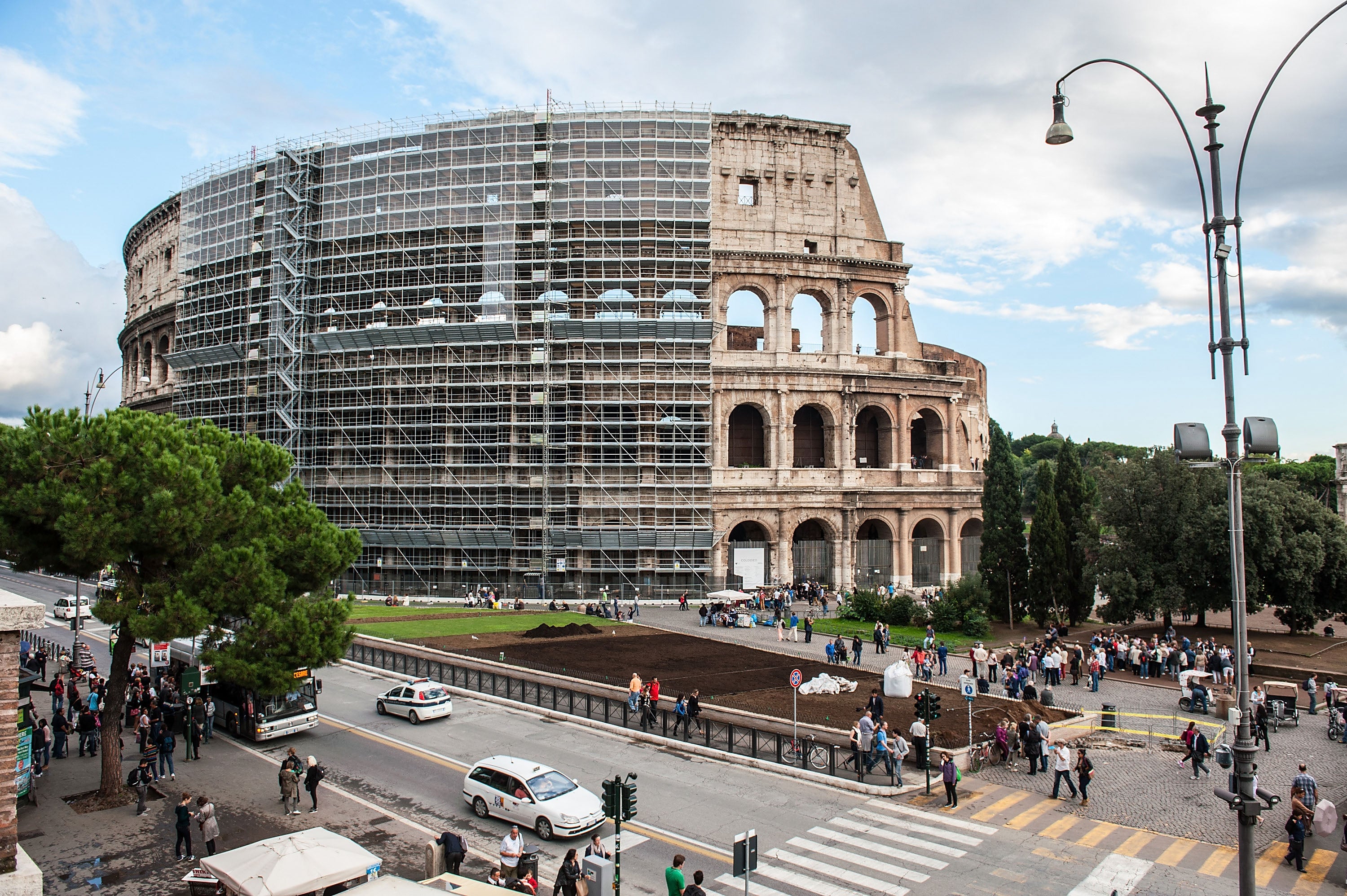 Colosseum restoration begins in Rome after 3-year delay
ROME -- After almost three years of debate and delay, restoration work on Rome's ancient Colosseum has begun. Scaffolding began to obscures part of the immense structure in the heart of the Italian capital more than a month ago, but a ceremony this week marked the official start of work.
Diego Della Valle, founder and chief executive of the Italian fashion and luxury design brand Tod's, stumped up the cash to restore what is considered one of the world's most iconic monuments, and a lasting symbol of Imperial Rome. He's made 25 million euros ($33 million) available for the project to rejuvenate the structure, which is also known as the Flavian Amphitheatre -- the largest in the world.
Della Valle, who first announced his donation in 2010, lamented the years of delay at a news conference this week announcing the beginning of restoration work. Legal action brought by consumer associations and trade unions was largely behind the three-year wait.
Della Valle said he hoped the restoration work would be complete, as planned, within three years, and that it will show Italy is capable of maintaining its valuable heritage -- something which must be safeguarded at all costs in a country where history and culture are such huge draws for the lucrative tourism sector.
The CEO urged the nation's leaders to launch a serious, wide-ranging plan to restore monuments and support tourism as a means of shoring up Italy's recession-battered economy.
Della Valle said many of Italy's most iconic tourist attractions "are literally falling apart," and said the rapport between public institutions and the private sector leaves much to be desired. He said investors are scared away from backing public projects by the sheer amount of government red tape involved, but warned the state could no longer be expected to maintain its immense cultural wealth without additional private funding.
Italy's Culture Minister Massimo Bray agreed, arguing that "tourism and culture should go hand in hand to re-launch the Italian economy. A constructive relationship between the institutions and the private sector, with clear rules and common objectives, can lead to positive results for our cultural heritage."
Six million tourists visit the Colosseum every year, and they will be able to continue doing so during renovation work as there are no plans to close down the monument.


According to details provided months ago, the restoration plan is broken down into three phases. Restorers will first clean the facade, repairing cracks and removing temporary metal arches on the ground level. The Colosseum will be returned to its original white ochre color. The next phases will see the construction of a new visitor's center outside the monument and restoration of the internal areas, including the underground cells, or hypogeum, underneath the arena floor.

Della Valle's hope is that the project will serve as a model for the protection of Italy's endless other cultural sites.

"There is no time to waste," he said. "Sites like Pompei are falling apart."

Bray, the culture minister, added that a plan to safeguard the damaged areas of Pompei -- one of the world's largest urban archaeological excavations -- is in place and has the support of the European Union.

Italy has the highest number of UNESCO world heritage sites in the world. In a country where it is well-understood that culture is a natural resource that cannot be allowed to crumble, other big names in fashion have stepped forward to adopt landmarks.

Renzo Russo, founder of clothing company Diesel, is providing funds ($6.7 million) to restore and clean the oldest bridge spanning Venice's Grand Canal, the Rialto. Fendi has pledged to restore five of Rome's best-known fountains, beginning with the iconic 17th century Trevi fountain.

At a time of deep austerity measures, however, more corporate sponsorship is desperately needed to protect Italy's heritage.

Another Rome landmark authorities are seeking help to repair is the long-neglected Mausoleum or Tomb of Emperor Augustus. Next year, Italy will mark the 2,000th anniversary of Augustus' death.

Filed by CBS Radio News correspondent Sabina Castelfranco

Thanks for reading CBS NEWS.
Create your free account or log in
for more features.