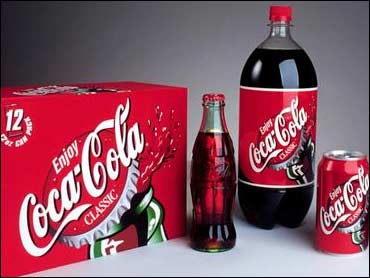 Coke Fit to be the Face of Heart Health?
When it comes to raising awareness about heart disease, some of the world's largest soda and snack makers might seem like unlikely allies in this crusade to better health.
But the National Heart, Lung, and Blood Institute has decided to partner with Coca-Cola and other snack makers for The Heart Truth campaign, leaving the Center for Science in the Public Interest completely baffled.
In a letter to the NHLBI, the nonprofit health advocacy group based out of Washington DC, points out that "overweight and obesity are prime risk factors for heart disease, and the agency shouldn't be bolstering the dismal reputation of the Coca-Cola Company, the world's biggest manufacturer of obesigenic soft drinks."
CBSNews.com contacted the NHLBI for a response, but the institute said it was unable to comment at this time.
However, NHLBI Acting Director Susan B. Shurin, M.D., later issued a statment on Feb. 19, regarding NHLBI's The Heart Truth partnership with Diet Coke.
"We employ a multiplicity of tactics to disseminate the results of research to various constituencies, including the general public. The NHLBI cannot work in a vacuum," Shurin said. "One of our global strategies is to partner with other groups and institutions to leverage our investments.
"We can be effective only if we are able to reach wide and diverse audiences through nationwide health campaigns that find people where they are and connect with them in ways they can recognize and understand. This information empowers individuals to take an active role in preventing disease and maintaining good health through smart choices."
The Coca-Cola Company also issued a statement pointing out that its sponsorship has helped provide free health screenings across the country and raise awareness that heart disease is the #1 cause of death among women.
"We've used our communications and marketing expertise to reach millions of people with this important heart health message," the company said in its statement.
"We've made free heart health screenings available to thousands of people across the country. As a result of The Heart Truth campaign, awareness that heart disease is the #1 cause of death among women has risen to nearly 70 percent compared to 34 percent in 2000 when the campaign was first introduced. And since Diet Coke has been involved, awareness of The Heart Truth and our support of it has nearly doubled. We are extraordinarily proud of the work we've done in partnership with NHLBI and Heidi Klum to have a positive impact on the lives of our consumers."
Two other corporate sponsors listed on NHLBI's Web site - pretzel maker Snyder's of Hanover and Sara Lee - also drawn the CSPI's ire.
CSPI says these partners are not a good fit, and goes a step further by comparing it to smoking to get their message across.
"It is as inappropriate as it would be to allow Philip Morris to sponsor NHLBI's anti-smoking efforts," wrote CSPI's executive director Michael F. Jacobson and nutrition policy advocate George A. Hacker, in a letter to NHLBI director Susan B. Shurin.
Diet Coke has a prominent presence on the NHLBI Web site, CSPI notes, it's listed first among several pages of corporate sponsors for The Heart Truth campaign. Model and "Project Runway" host Heidi Klum is also dubbed the "Diet Coke heart health ambassador" on the government Web site.
"Though Diet Coke is the ostensible sponsor, it is the entire Coca-Cola product line that is basking in the credibility conferred by a government heart-health agency and a slender supermodel, when in fact Coca-Cola promotes heart disease by marketing drinks that contribute to obesity," Jacobson said.
"Coke has long sought to affiliate with or co-opt health groups, and associate its brand with athletes and models," he added. "I fervently hope that NHLBI officials understand that letting Coke bask in their agency's good reputation does American hearts far more harm than good."
While the NHLBI says it "does not endorse any company or its products," they do "seek opportunities and vehicles to reach consumers to educate them about their health."
"The Heart Truth campaign has more than 150 partners, including more than 50 companies that have rallied behind the issue of women and heart disease since the campaign's launch eight years ago," Shurin said in her statement. "We partner with Diet Coke to reach far more women than we could without the marketing power of one of the world's most recognizable brands. Moreover, low- and no-calorie beverages are reasonable options for people looking to manage their weight-an important heart disease risk factor."
Combating childhood obesity in the U.S. has been on top of President Barack Obama's to-do list.
Last week, Mr. Obama signed an executive order directing a number of cabinet agencies, including NHLBI's parent agency, the Department of Health and Human Services, to develop a coordinated strategy to solve the childhood obesity problem within one generation, CSPI points out.
The order highlights heart disease as one of the causes of obesity-related health problems.
CSPI also complained about Snyder's of Hanover, which it describes in its letter as "a major producer of snack foods made largely of white flour and salt," and Sara Lee, which "is famous for its artery-clogging cheesecakes, salty Ball Park hot dogs, and Jimmy Dean sausages."
"Promoting the corporate image of Coca-Cola Co. and other junk-food makers undermines the advice in the government's Dietary Guidelines for Americans, and is contrary to the spirit of the executive order signed by the President just last week," Jacobson said.
Although the NHLBI shares "the CSPI's concern about the effects of dietary and lifestyle choices on the health of individuals," it will continue with its mission of getting the word out to women about how they can reduce their risk for heart disease.
"The NHLBI's many public-private partnerships, which are significant in number and far-reaching in impact, are a major mechanism by which our health messages are delivered," Shurin said in her statement. "The NHLBI looks forward to seeing continued positive results of these important investments in preserving the health of women in every corner of America."
Thanks for reading CBS NEWS.
Create your free account or log in
for more features.