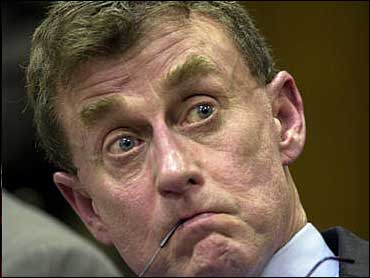 While the story of Scott and Laci Peterson continues to get national attention, a trial has started in another, unrelated Peterson case with some eerie similarities.
Once again, a seemingly perfect marriage is under a microscope, and prosecutors say things may not be as perfect as they appeared, reports The Early Show national correspondent Tracy Smith.
By most accounts, Mike and Kathleen Peterson made an ideal pair. He is a decorated Vietnam veteran, novelist and columnist for the local paper. She was a career woman who served on the city's arts council. Their friend, Nick Galifianakis, called them "sweethearts."
"I thought that they were an extraordinary couple, a loving couple," said Galifianakis. "They had all the appearances and trappings of happiness. Totally compatible with one another."
Their family was a close-knit blend of children from former marriages and two orphaned girls that Mike had helped to raise. They all lived in an 11,000-square foot house in Durhamso picture-perfect that it was used as the set in a movie.
But on Dec. 9, 2001, that seemingly ideal life came to a sudden end. According to Mike Peterson, he and Kathleen were at the house the night before, drinking champagne and celebrating a possible movie deal for one of his books. Mike said Kathleen went to bed at 2 a.m., and when he followed, about a half hour later, he made a devastating discovery.
He said his wife had fallen down the stairs. When police arrived at the scene, they found Kathleen dead at the foot of the stairs, lying in a pool of blood.
"When I called 911, I thought she'd fallen down the stairs," said Mike Peterson. "As far as I know, that's what happened."
But an autopsy showed Kathleen had died of blunt force trauma to the head. In other words, she had been beaten to death. Less then two weeks later, Mike Peterson turned himself in to police, proclaiming his innocence.
"Kathleen was my life," he said. "I've whispered her name in my heart a thousand times. She is there. And I can't stop crying. I would never have done anything to hurt her."
He was indicted on first-degree murder. His family, including Kathleen's daughter, Caitlin Atwater, stood beside him.
"As far as I'm concerned, my mother would just be absolutely appalled and this is the last thing she would have wanted to ever, ever happen to her husband," said Atwater.
Tom Gasparoli has followed the trial as a columnist for The Herald-Sun and says the apparent history of a warm, loving and caring relationship is definitely going to work in Mike Peterson's favor in a circumstantial case.
"Is there a motive? I think the prosecution is going to come up with one," said Gasparoli. "I don't think they have to, but without one, the jury's scratching their heads a little bit and going, 'Why?'"
Gasparoli said the prosecution will use forensic evidence to say Mike Peterson killed his wife, but the defense will also use the same forensic evidence to say he didn't do it.
While forensics seem to be the key to the Kathleen Peterson case, it's the death of another woman 18 years ago that is adding a bizarre angle to the story.
We hear that another woman in Mike Peterson's life was found dead at the bottom of some stairs in a lot of blood, with some head injuries," said Gasparoli.
That woman was Elizabeth Ratliff, who died in Germany in 1985. An autopsy done at the time showed she had suffered a brain hemorrhage. Her friend Mike Peterson was also living in Germany then, and he walked her home the night before she was found dead. He's taken care of Ratliff's two daughters ever since.
Last month, Durham authorities had Ratliff's body exhumed and re-examined. A new autopsy said she, too, was beaten to death. Peterson's attorney, David Rudolf, said there is a logical explanation for the deaths.
"Part of the reality that people don't understand is that accidental falls in the house are the leading cause of death, other than motor vehicle accidents in he United States," says Rudolf.
He said it is a coincidence that both women died similar deaths.
Elizabeth Ratliff's daughters continue to believe Mike Peterson. But the autopsies were enough to convince Kathleen Peterson's daughter Caitlin to change her mind about her stepfather. She filed a wrongful death suit against him.
"It was only natural for her to cling to the hope that Michael Peterson was not involved," said Jay Trehy, Caitlin's attorney. "Over the course of time, evidence began to trickle out and eventually, not very quickly but eventually, she came to the right conclusion."
The Michael Peterson case is still in jury selection. Until the trial starts, it will not be known whether the death of Elizabeth Ratliff will be admissible. But, the prosecution said its case is strong enough to get a conviction even without telling the jury about the Ratliff death.
Thanks for reading CBS NEWS.
Create your free account or log in
for more features.