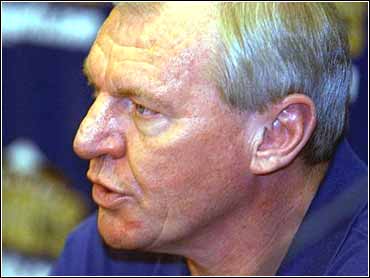 Coach Quits After Slur Controversy
Basketball Hall of Famer Dan Issel resigned as coach and president of the Denver Nuggets Wednesday, two weeks after being suspended and fined for shouting an ethnic slur at a fan who was heckling him.
Nuggets' general manager Kiki Vandeweghe told reporters that Issel, 53, had stepped down. Issel did not attend the news conference at the team's headquarters.
"Dan thought it was best for himself, his family and the Nuggets that he step back from coaching," Vandeweghe said, adding that the Nuggets had reached a financial settlement with Issel, the terms of which were not disclosed.
Issel makes $2.5 million annually on a contract that runs through the 2002-03 season.
Assistant coach Mike Evans, who has led the Nuggets during Issel's absence, will remain as interim coach, Vandeweghe said.
The controversy began on Dec. 11 when a Denver television station videotaped Issel exchanging insults with a fan following the Nuggets 99-96 home loss to the Charlotte Hornets.
On the tape, Issel can be heard telling the fan, "Go drink another beer you Mexican piece of (expletive)."
Members of the Hispanic community were outraged and threatened to boycott the team if he did not apologize. Nuggets' management suspended Issel for four games and docked him $112,000 in salary for the incident.
Issel made a tearful public apology and met with leaders of Denver's Hispanic community to ask their forgiveness.
Issel was scheduled to return from the suspension for a game against the Golden State Warriors on Saturday, but told Vandeweghe that he needed to take a leave of absence.
One of the Hispanic leaders who initially called for Issel's resignation says he's sad that Issel has left the Denver Nuggets.
State Senator Rob Hernandez of Denver joined other community leaders in condemning Issel for making an insensitive ethnic remark to a screaming fan earlier this month. But Hernandez and others changed their minds after Issel apologized in public and in private.
Hernandez says he and other members of the Hispanic community felt good after talking to Issel and were looking forward to working with the coach and the Nuggets on outreach.
The legislator hopes Issel stays involved in the efforts even though he has stepped down as Nuggets coach and president. And Hernandez thinks the Denver community at large has learned some good lessons as a result of the controversy.
Issel spent most of his playing career in Denver, retiring in 1985 as the team's all-time leading scorer and rebounder. His resignation on Wednesday ended his second term as Nuggets coach.
In 1995, he resigned as coach in midseason, but returned to the team as general manager in 1998, later becoming coach and president.
© MMI, CBS Worldwide Inc. All Rights Reserved. This material may not be published, broadcast, rewritten, or redistributed. Reuters Limited and The Associated Press contributed to this report
Thanks for reading CBS NEWS.
Create your free account or log in
for more features.