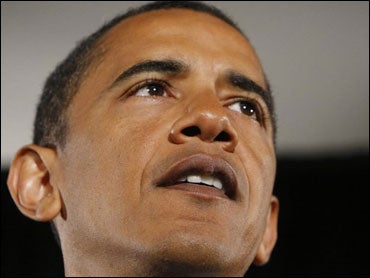 Clues About Obama Found In His Poker Game
Barack Obama's triumph in the 2004 U.S. Senate race earned him a memorable send-off from his friends in the Illinois legislature - they emptied his wallet in a take-no-prisoners night of poker.
"We brought him down to earth real quick," said state Sen. Terry Link, chuckling at the memory.
Obama was a regular at the low-stakes games - sometimes stud poker, sometimes draw - designed to break up the tedium of long legislative sessions. Poker, beer and cigars were staples; Democrats and Republicans, lawmakers and even the lobbyists who Obama sometimes rails against dealt the cards and placed their bets.
The traits Obama displayed around the card table those many nights are ones he brings to his presidential bid and are certain to be evident - and analyzed - if he wins the White House.
By his poker buddies' accounts, Obama is careful and focused. He's not easily distracted and doesn't give away his intentions unless it's to his advantage. He's not prone to taking risky chances, preferring to play it safe. But he's also serious and competitive: When he plays, he plays to win.
"It's a fun way for people to relax and share stories and give each other a hard time over friendly competition," Obama said by e-mail. "In Springfield, it was a way to get to know other senators - including Republicans."
Obama, then a state senator, was a founding member of the group. He became known as a cautious player with a good poker face, someone who paid more attention to the game than to the chatter and laughter that accompanied it.
Obama studied the odds carefully, friends say. If he had strong cards, he'd play. If he didn't, he would fold rather than bet good money on the chance the right card would show up when he needed it.
That reputation meant that he often succeeded when he decided to bluff.
"When Barack stayed in, you pretty much figured he's got a good hand," said Larry Walsh, a former senator.
More than one lawmaker teased Obama about his careful style of play.
"I always used to kid him that the only fiscally conservative bone in his body I ever saw was at the poker table with his own money," said state Sen. Bill Brady, a Republican from the central Illinois city of Bloomington. "I said if he would be half as conservative with taxpayer dollars, the state would be a lot better off."
Obama is taking a different kind of gamble in seeking the Democratic presidential nomination after just two years in Washington.
Showing the same analytical style he brought to the card table, Obama weighed his options for months before deciding to run.
Now that he's in, the image he's cultivating is a match for the one described by his poker buddies - friendly and relaxed yet still serious. And he clearly brings the same competitive streak to the campaign, where he has raised nearly $60 million and challenged front-runner Hillary Rodham Clinton.
Obama once called poker a hidden talent and judged himself a "pretty good" player.
He began playing in high school, sometimes with his grandfather and sometimes with classmates. After leaving Springfield, he didn't join a Washington version of his weekly poker game and he doesn't play on the campaign trail.
The poker nights - sometimes called the "committee meeting" by the players - began around 1997 as a way to kill time in the small capital city - around 115,000 - during long legislative sessions. Under state law, it's illegal to play poker for money, but the law is seldom enforced when low-stakes games are involved.
Players didn't study their cards and their opponents in icy silence. Instead, they joked and griped about legislative leaders and talked trash.
"Barack was always focused on anything he did, but he would certainly engage in banter," said Stephen Selcke, a lobbyist for AT&T. "Barack was one of the guys."
The group didn't always stick to traditional kinds of poker. They often played variations that resembled blackjack or split the pot between the highest and lowest hands. They even played a version that awarded half the pot based on a random card.
On most nights, a player might win or lose around $30, participants said. A really big night would mean winning, or losing, $100.
The players rarely talked about legislation. The lobbyists felt strongly that it would break an unwritten rule if they tried to sway the lawmakers during the games, Selcke said.
As a presidential candidate, Obama doesn't accept political contributions from lobbyists or political action committees. But as a legislator, he took thousands of dollars from the groups represented by some of his poker buddies. AT&T in its various incarnations, for example, gave more than $13,000 over the years.
Still, Obama routinely voted against the communications giant's interests. He opposed SBC Communications Inc. - as AT&T was then called - on a major initiative in 2003 that would have increased costs for the company's competitors.
Poker night also included a lobbyist for the Illinois Manufacturers' Association, and the game eventually was moved to the association's office. Obama often voted to raise taxes and fees for businesses.
Players say the poker game affected legislation only by building relationships, and lobbyists might get a more respectful hearing for their arguments.
Obama usually broke even or came out ahead. Part of the reason he fared poorly in that final game was that he faced card players focused solely on beating him, Link said. Other players took risks they wouldn't normally and called all his bluffs just to have a little fun with the new political superstar.
Obama took it in stride, but his opponents say he always hated to lose.
"He didn't throw his cards or take a swing at anybody, but he wasn't a happy person," said Link, a Democrat from the Chicago suburbs. "He's got that competitive spirit, no doubt about it."
With the departure of Obama and others, the Springfield poker nights have dwindled to just the occasional game. But the players haven't given up on the possibility of another game with Obama.
"I'm hoping that maybe one night we'll have one in the White House," Link said.
Thanks for reading CBS NEWS.
Create your free account or log in
for more features.