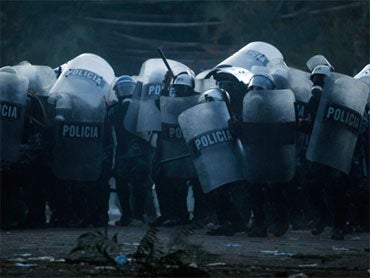 Closet Girl's Stepdad Gets Maximum
A man convicted of abusing and starving his 8-year-old stepdaughter until she weighed only 25 pounds has received the maximum sentence for his crime, a life term behind bars.
A jury Thursday sentenced Kenneth Atkinson, 35, on a charge of serious bodily injury to a child. He had faced a minimum sentence of five years.
The girl's mother, Barbara Atkinson, received a life sentence in January.
The half-sibling of the abused girl testified during the trial that both her mother and stepfather locked the younger girl away almost every day and night over a period of years and told the other children not to tell anyone.
The malnourished child weighed 25 pounds when rescued from the trash- and feces-strewn closet of a Hutchins trailer in June 2001. Prosecutors said the abuse had been going on for five or six years.
A doctor also testified that the girl had been sexually abused so badly she needed surgery. Kenneth Atkinson was not tried on a sexual abuse charge, but prosecutors say they may yet do so.
In closing arguments Thursday, prosecutors asked jurors to remember the disturbing photos of the nearly starved child and sentence Kenneth Atkinson to life.
"There cannot be a worse injury to a child than this," prosecutor Mark Moffitt said. "It's worse than a murder, the torture that child had to sit in."
Defense attorney Malcolm Dade said his client should be credited for caring for the other five children in the home and eventually seeking help by telling a neighbor about the girl.
"This was almost a tragedy, except for what this man here did," Dade said. "If he'd been mean, he'd have walked out the door to save himself."
But prosecutor Patricia Hogue said Atkinson deserves no credit.
"He didn't save her life, he prolonged her death...He slowly, methodically, daily, consistently starved that child near death," she said.
The defense had portrayed Atkinson as a weak man who was controlled and manipulated by his ex-wife, Barbara Atkinson, with whom he lived.
Sabrina Kavanaugh, the adoptive mother of the girl, told Kenneth Atkinson after sentencing that the girl, now 9, still shows fear when his name is mentioned.
Standing before Atkinson after the sentencing, she called him "sadistic and evil," and said she hoped he would be beaten and sexually abused in prison so he would learn the fear that the abused girl still suffers.
"All (she) wanted was someone to love her," Kavanaugh said.
"I just want you to know they got what they deserved, both of them," she added. "What they did to her was very bad."
Prosecutors said the girl's siblings also were damaged by witnessing the abuse. None had attended school in years. They had head lice and severe tooth decay.

Thanks for reading CBS NEWS.
Create your free account or log in
for more features.