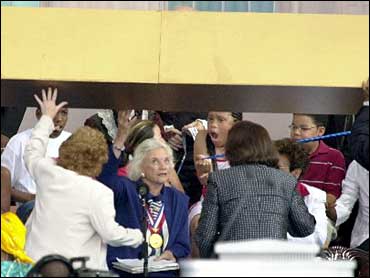 Close Call For Justice O'Connor
There were some frightening moments during Friday morning's dedication ceremonies at the Philadelphia National Constitution Center, when a large piece of the stage frame came crashing down, just narrowly missing Supreme Court Justice Sandra Day O'Connor. Several people, including Mayor John Street, were hit.
To a 3-2-1 countdown by Justice O'Connor, various people on the stage were pulling on red, white and blue ribbons to reveal a tableau depicting the signing of the Constitution, when the wood and steel frame, at least 15 feet high, collapsed just feet from the guest of honor.
She was not hit but was heard through an open microphone saying "we could all have been killed."
The center's president, Joe Torsella, was hit in the head by the falling frame. Mayor John Street and Pennsylvania Senator Arlen Specter were both hit in the arm. A naturalization worker was also taken to the hospital.
Governor Ed Rendell told CBS station KYW-TV, "I saw it coming and I was able to take a step back. So I didn't get hit. It was only the people in the front row who were in danger."
None of the injuries was considered serious. Torsella, Street and a female government worker were released after being treated at a hospital. No one else needed hospital treatment.
The show continued and fireworks exploded overhead as medics treated the injured. The $185 million museum opened to the public, as planned, following the ceremony.
The new center holds exhibits including the first public printings of the Constitution and an inkwell Abraham Lincoln used in signing the Emancipation Proclamation.
Music legend Ray Charles and Supreme Court justices Antonin Scalia and Stephen Breyer also attended the ceremony, but were not near the frame when it fell.

Thanks for reading CBS NEWS.
Create your free account or log in
for more features.