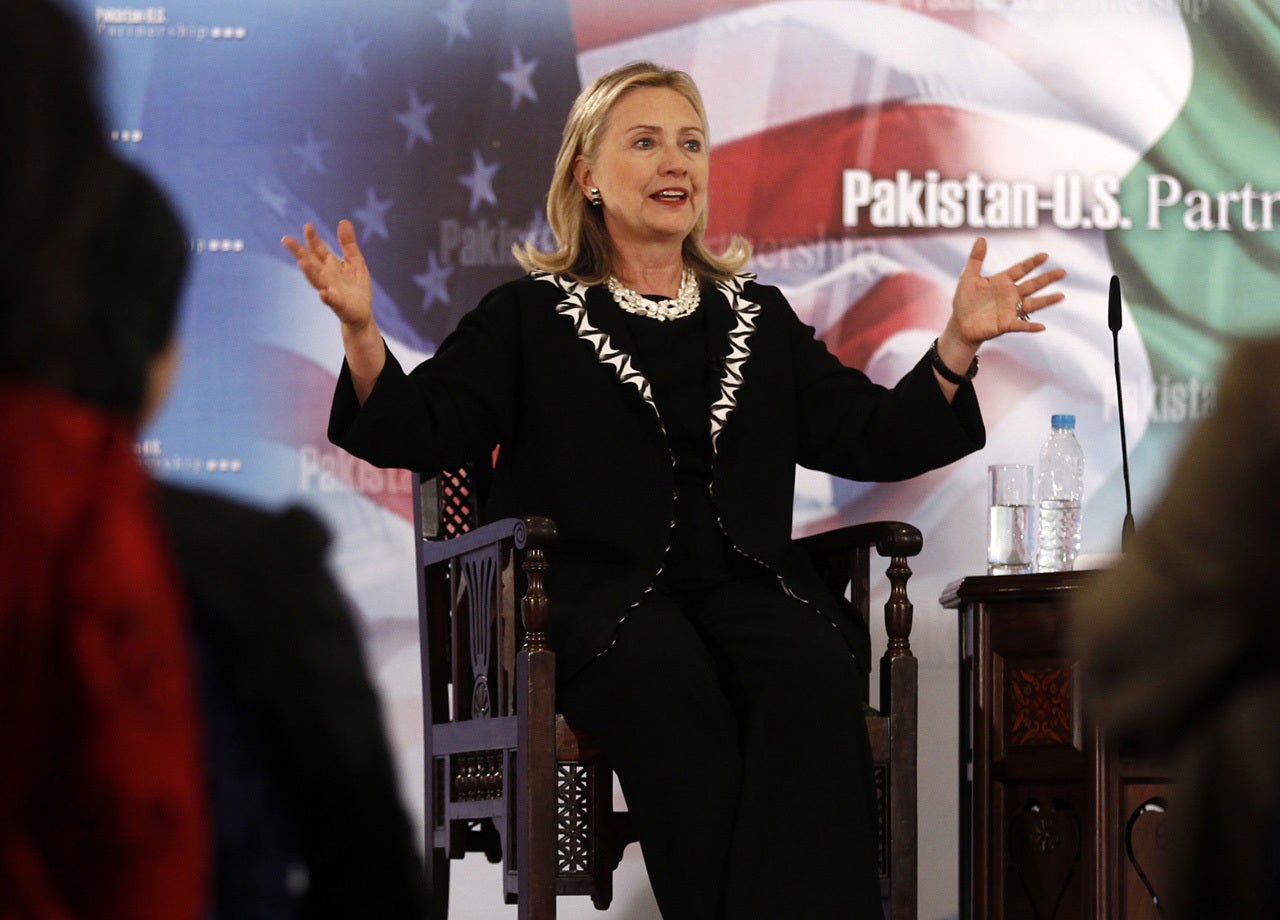 Clinton told U.S. is Pakistan's "mother-in-law"
ISLAMABAD - Washington's troubled relationship with Pakistan has triggered plenty of heartburn for U.S. officials, but rarely sidesplitting laughter.
That changed Friday when Secretary of State Hillary Rodham Clinton erupted in amusement during a town hall meeting in Islamabad when a participant described the U.S. as Pakistan's impossible-to-please mother-in-law.
"We all know that the whole of Pakistan is facing the brunt of whatever is happening and trying to cooperate with the U.S., and somehow the U.S. is like a mother-in-law which is just not satisfied with us," said a woman who identified herself as Shamama, eliciting a round of applause from the crowd.
"We are trying to please you, and every time you come and visit us you have a new idea and tell us, 'You are not doing enough and need to work harder,'" said Shamama, who works for a women's group in northwest Khyber Pakhtunkhwa province near the Afghan border.
Laughing at length, Clinton said she could personally relate to the woman's perspective because she, too, was a mother-in-law. The secretary of state's daughter, Chelsea, married an investment banker last year in New York.
"I think that's a great analogy I have never heard before," said Clinton. "Now that I am a mother-in-law, I totally understand what you're saying and hope to do better privately and publicly.
"I personally believe this relationship is critical, important to us both, and therefore we cannot give it up," said Clinton. "Once a mother-in-law, always a mother-in-law, but perhaps mothers-in-law can learn new ways also."
Video: Clinton changing relationship with Pakistan
Musharraf: US-Pakistan relationship at new low
The U.S. and Pakistan have long had a troubled relationship that got even worse this year following the arrest of a CIA contractor, the covert raid that killed Osama bin Laden in a Pakistani garrison town and, most recently, allegations that Pakistan's spy agency has supported militants attacking American targets in Afghanistan. Pakistan has denied the claim.
The U.S. has given Pakistan billions of dollars in military and civilian aid in an attempt to elicit greater cooperation on the Afghan war, but has come away frustrated.
Pakistani officials and ordinary citizens have also soured on the relationship, perceiving the U.S. as only interested in buying the country's anti-terror cooperation, rather than investing in a long-term partnership.
Clinton's two-day visit to Pakistan, alongside CIA chief David Petraeus and Chairman of the Joint Chiefs of Staff Gen. Martin Dempsey, was focused both on stepping up pressure on Islamabad and preventing the relationship from totally unraveling.
Thanks for reading CBS NEWS.
Create your free account or log in
for more features.