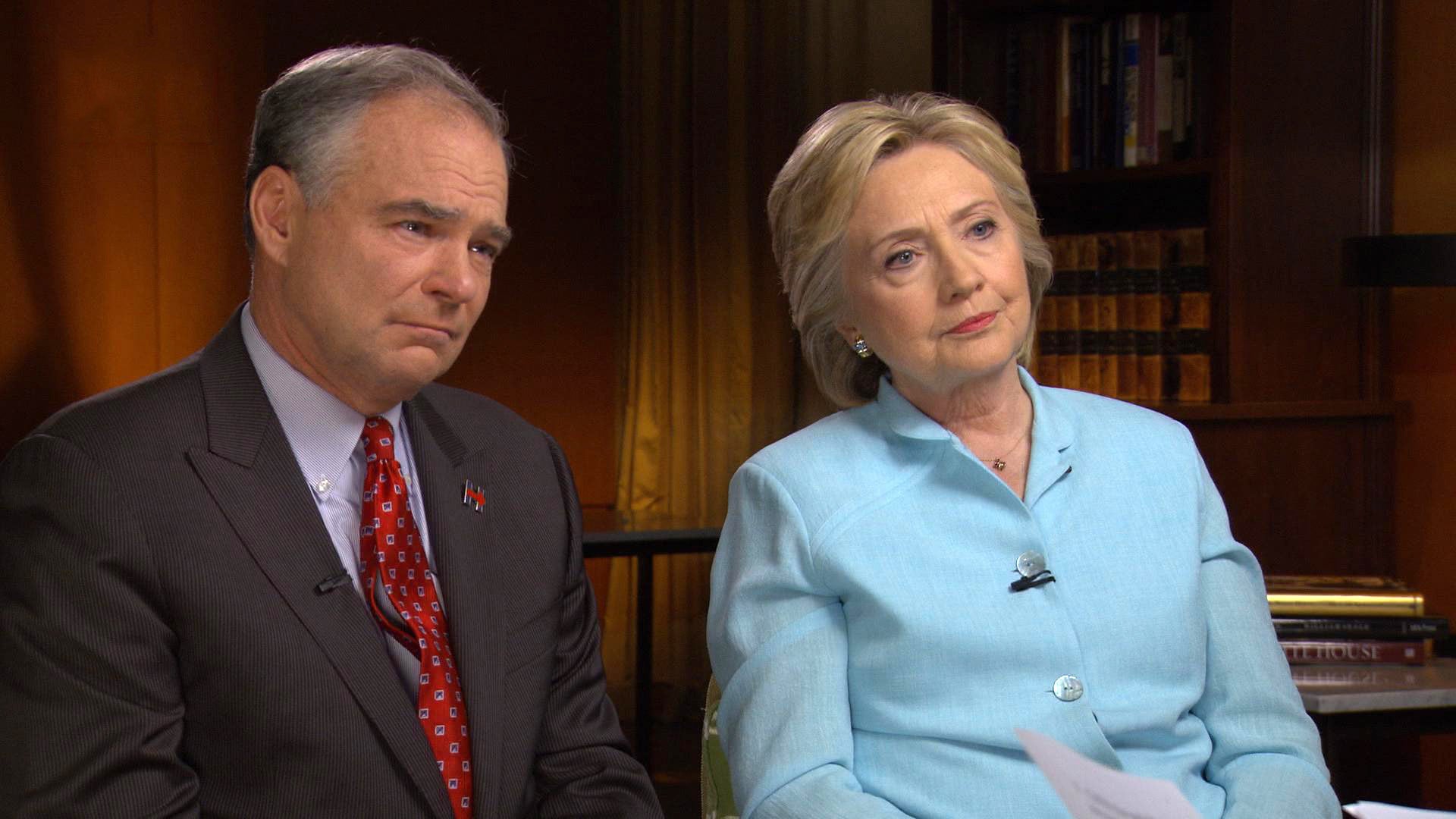 Clinton-Kaine say they won't sling mud at Trump
Presumptive Democratic presidential nominee Hillary Clinton and her running mate Sen. Tim Kaine of Virginia tell Scott Pelley they will not engage in the type of insults hurled at Clinton from rival Donald Trump. They addressed the "Crooked Hillary" epithet Trump often uses and spoke with Pelley about a host of other issues in their first joint interview conducted yesterday in Miami. It will be broadcast on 60 Minutes at 7 p.m. ET/PT.
The following transcript is an excerpt from the interview:
SCOTT PELLEY: He calls you Crooked Hillary.
HILLARY CLINTON: Hmm.
SCOTT PELLEY: What do you call him?
HILLARY CLINTON: I don't call him anything. And I'm not going to engage in that kind of insult fest that he seems to thrive on. So whatever he says about me, he's perfectly free to use up his own air time and his own space to do. I'm going to talk about what he's done, how he has hurt people in business time after time after time. The small businesses, the contractors, the workmen and women who he refused to pay after they rendered services. The total disregard that he has shown toward large groups of people in our country. His vicious language against immigrants. His insulting a distinguished federal judge of Mexican heritage. His mocking a person with a disability. His really inflammatory language about Muslims, about American Muslims, about Muslims all over the world. His demeaning comments about women.
I'm going to respond to what he has said that I think is so fundamentally at odds with who we are as a nation, where we need to be heading in the future, and the kind of dangerous, risky leadership that he's promising.
TIM KAINE: Can I say this? I don't want to-- she's done a good job of letting the, you know, water go off her back on this. That's not the way I feel. When I see this, you know, "Crooked Hillary," or I see the, "Lock her up," it's just ridiculous. It is ridiculous.
But I just-- you know-- it is beneath the character of the kind of dialogue we should have. Because we got real serious problems to solve. And look, most of us stopped the name-calling thing about fifth grade.
Thanks for reading CBS NEWS.
Create your free account or log in
for more features.