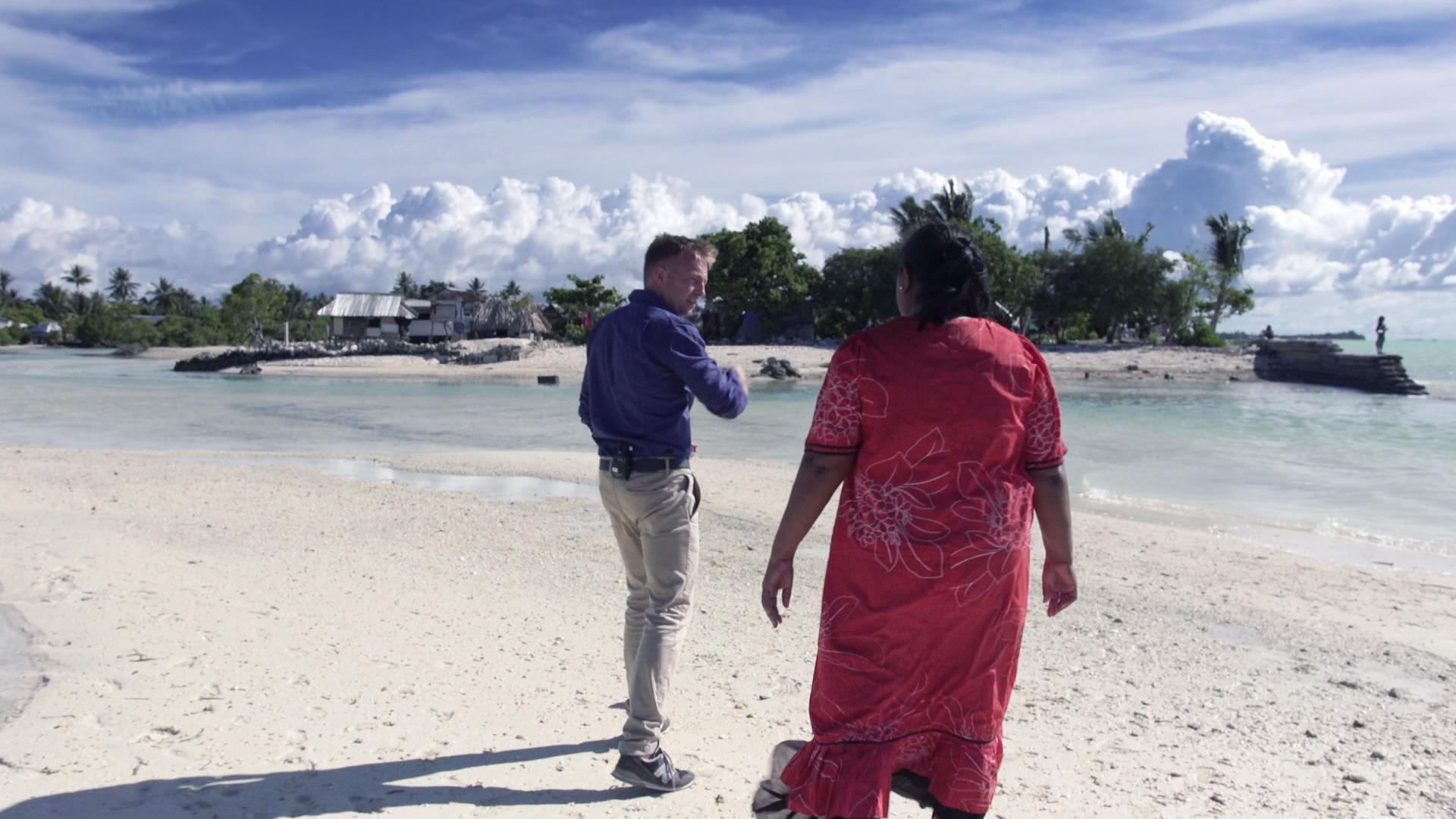 Climate Refugees: Kiribati
Watch "CBSN: On Assignment" on Mondays at 10 p.m. ET/PT on CBS and on our streaming network CBSN. To see more about this topic, click here.
---
Kiribati, the Pacific island nation with a population of 100,000, faces looming threats due to sea level rise and climate change. The archipelago is made up of 33 coral atolls and lies halfway between Hawaii and Australia.
Kiribati native Tearei Tekita's says her home was destroyed by an extremely high tide, known as a "King Tide," when the water surged up from the shoreline without notice as she and her niece lay sleeping. She points to what is now a pool of water, where her home, and many others, once stood.
Scientists have said that the island nation, along with other low-lying Pacific nations, could be uninhabitable within decades. According to Ben Strauss, Vice President for Sea Level and Climate Impacts at Climate Central, "Sea level is rising 50 percent faster than it was 20 years ago and that is a real cause for alarm, so it is not a future thing we are really seeing that acceleration." Kiribati, pronounced "kir-ah-bahss" by locals, has an average elevation of just 6 feet above sea level.
For Strauss, and for the people of Kiribati, every increment of sea level rise poses great threat. "If your maximum elevation is six feet then by the time we get to three feet I think you are in existential stress, you are going to have to have to evacuate". For the remote country's 33 small islands that are scattered across the ocean, spanning an area the size of Alaska, evacuation is not easy. Residents told CBS News correspondent Seth Doane that they would want to leave Kiribati due to the extreme weather they face, however, the UN does not recognize climate change as grounds for refugee status.
Residents spoke openly of the impact climate change has had on their way of life on the island. The high tides that inundate their homes already contaminate their water and kill their crops. Furthermore, locals face the erosion of their land and, ironically, droughts. For mother of two Etrily Karibwa, the constant lack of fresh water reserves has her trying to leave the nation she loves. Between Karibwa and her husband, they have applied for the Pacific Access Category Resident Visa 10 times consecutively, which allows a direct route to claiming residency in New Zealand to live and work indefinitely.
For Karibwa, emigrating is the only option. "I have no choice. No other choice. If a tsunami coming or high tides been affecting our water, how can we survive for the future?" Her fears are echoed by many. Kaboua, who lives on the Kiribati island of Abaiang, showed Doane the various, hard-hit areas where homes were washed away. Kaboua says he is saving money to send his kids elsewhere: "Yeah, we have to move to maybe another country," and half-heartedly jokes, "countries that have mountains, you know?"
Former President Anote Tong hopes his people leave before they are forced to evacuate. "I don't like our people to be categorized, as refugees... having lost a home, the last thing I would push to see them lose is their dignity." He calls on countries worldwide to take responsibility for saving his fragile nation. "We have got to understand that climate change is not a national issue it's a global issue, and we need global thinking. We need global leadership that is what is lacking at the moment." For Tong, this an issue further compounded by President Trump's decision to withdraw the United States from the Paris Climate Accord, which he deems as "selfish."
The United States counts for over a quarter of the world's carbon emissions to date. Many of the Kiribati residents CBS News interviewed hold the United States accountable for the impacts they are experiencing, thousands of miles away. Tekita told CBS News she blames the United States for the loss of her home due to climate change. Yet, even having lost her home, she does not want to leave her homeland. "Even though we lost so many: we lost our property, our home, [it] cannot change my heart," she said. "The land is changing, but I'm still remain the same. And my heart and my spirit remain the same. And I love my people. And I love my land."
Thanks for reading CBS NEWS.
Create your free account or log in
for more features.