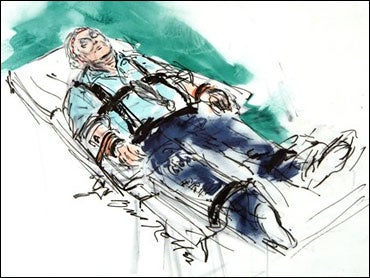 Clarence Allen, 76, Executed
Clarence Ray Allen, 76, was executed early Tuesday at San Quentin in California, for a triple murder he ordered from behind bars 25 years ago, to silence witnesses in other killings. His execution had been opposed because of his age and frail physical condition.
Allen received the first of three lethal injections at 12:20 a.m. He then was given an extra dose of potassium chloride, the lethal chemical that stops the heart, at 12:35 a.m., and was pronounced dead three minutes later, according to Corrections Department spokeswoman Elaine Jennings.
Allen expressed his love for family, friends and the other death-row inmates in a final statement read by Warden Steve Ornoski. Allen ended his statement by saying, "It's a good day to die. Thank you very much. I love you all. Goodbye."
The family of one of Allen's victims, Josephine Rocha, issued a statement saying that "justice has prevailed today."
"Mr. Allen abused the justice system with endless appeals until he lived longer in prison than the short 17 years of Josephine's life," the statement said.
Allen was the oldest inmate on death row in California.
His final appeal was rejected Monday by the U.S. Supreme Court.
California state prosecutor Ward Campbell, speaking before the execution, said that Allen deserved "capital punishment because he was already serving a life sentence for murder when he masterminded the murders of three innocent young people and conspired to attack the heart of our criminal justice system."
In his appeal, Allen raised two claims never before endorsed by the high court: that executing a frail old man would violate the constitutional ban on cruel and unusual punishment, and that the 23 years he spent on death row were unconstitutionally cruel.
Allen was legally blind, nearly deaf and used a wheelchair to get around. His heart stopped in September, but doctors revived him and returned him to San Quentin Prison's death row. Prison officials say Allen later requested a do-not-resuscitate order, in the event he had any serious health problems before the execution.
"These infirmities are not simply the result of the passage of time or of old age, as some would suggest, but result from prison authorities' deliberate neglect of his medical needs while in the state's custody," said Annette Carnegie, one of Allen's attorneys.
Allen was to become California's 13th condemned inmate executed since state lawmakers restored capital punishment in 1977 and the third in the last 12 months.
The U.S. Supreme Court has said it is cruel and unusual to execute inmates who killed when they were juveniles; the mentally retarded; and those who are so mentally incompetent they do not understand their punishment.
But the court has never set an upper age limit for executions or created an exception for physical illness.
Justice Stephen Breyer, who in 2002 expressed an interest in deciding whether a long stay on death row was unconstitutionally cruel, was the lone dissenter in Allen's case.
"Petitioner is 76 years old, blind, suffers from diabetes and is confined to a wheelchair, and has been on death row for 23 years," Breyer wrote. "I believe that in the circumstances he raises a significant question as to whether his execution would constitute cruel and unusual punishment."
The high court upheld a Sunday decision by the 9th U.S. Circuit Court of Appeals, which concluded that Allen's age and illness were not grounds for being spared. The San Francisco-based appeals court also said Allen waited too long to address the longevity question.
The court insisted Allen should have filed such a claim years ago, not on the eve of his execution - a decision left intact by the Supreme Court.
Allen's case generated far less publicity than last month's execution of Crips co-founder Stanley "Tookie" Williams, whose appeals sparked off a nationwide debate over the possibility of redemption on death row, with Hollywood stars and capital punishment foes arguing that Williams had made amends by writing children's books about the dangers of gangs.
There were only about 200 people gathered outside the prison gates before the execution, about one-tenth of the crowd that came out last month for Williams. A large sound system played rap and light rock music as the small crowd milled about.
Jes Richardson, 57, of San Geronimo, carted a 10-foot-tall papier maché statue of Mahatma Gandhi to the prison gate, along with a sign that read "An eye for an eye makes the whole world blind." He constructed the statue in 2003 right before the U.S. invaded Iraq, and also brought it to Williams' execution last month.
"I pay taxes. I vote. It's murder and I feel because I'm a citizen of this state I'm indirectly responsible for that murder." Richardson said.
Most of the people outside the prison were death penalty opponents, but Rudy Thered, of Sacramento, came out to remember the victims.
"I just don't like the way the victims are forgotten after 25 years. Some of these victims were dead longer than they were alive," said Thered, who has been coming to executions since 1995. "They say he shouldn't be executed because of his age. But the only reason he got there is because the system takes so long to execute him."
Allen's final meal was white-meat chicken from KFC, a buffalo steak, whole milk, sugar-free pecan pie and black walnut ice cream.
Prison spokesman Eric Messick said Allen said that his final day was a good day in which "he had a good time visiting with his family."
Allen went to prison for having his teenage son's 17-year-old girlfriend murdered for fear she would tell police about a Fresno market burglary.
While behind bars in 1980, he directed a hit man to kill seven witnesses, including Bryon Schletewitz, whose family owned Fran's Market. Schletewitz and two clerks - Douglas Scott White and Josephine Rocha - were slain. Two others in the market were injured.
The killings landed Allen and hit man Billy Ray Hamilton on death row.
Gov. Arnold Schwarzenegger and the California Supreme Court declined to spare Allen's life. No execution date has been set for Hamilton.
Before Allen, the oldest person executed in California since the reinstatement of the death penalty was a 61-year-old man put to death last January.
Last month in Mississippi, John B. Nixon, 77, became the oldest person executed in the United States since capital punishment resumed. He did not pursue an appeal based on his age.
Thanks for reading CBS NEWS.
Create your free account or log in
for more features.