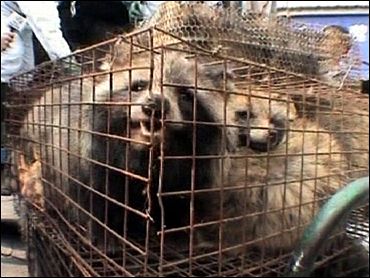 Civet Cat Slaughter To Fight SARS
Racing against a self-imposed deadline, authorities in southern China drowned or electrocuted the first of thousands of civet cats Tuesday in an urgent effort to eliminate a possible source of the SARS virus.
The mass slaughter of animals seized from wildlife markets in Guangdong province was launched despite appeals for caution by the World Health Organization. The U.N. agency said killing civets might destroy clues about the source of SARS and even help to spread the disease.
Meanwhile, WHO said Tuesday it was unlikely that a Filipino woman was suffering from SARS, as health officials reported that she and her husband were showing signs of recovery.
Blood test results for the 42-year-old woman — who developed a fever and pneumonia days after returning from Hong Kong on Dec. 20 — and for her husband were expected on Wednesday or Thursday, officials said.
Chinese authorities have ordered the deaths of some 10,000 civet cats — a weasel-like animal that is a local delicacy — and related wildlife by Saturday. Hundreds were killed on Tuesday and officials were checking highway traffic for smuggled animals.
Genetic tests have suggested a link between civets and the SARS virus diagnosed in a 32-year-old television producer in Guangdong — China's first case of the disease this season. China's government said Tuesday the patient has "fully recovered" and is expected to leave the hospital on Thursday.
"Guangdong is entering an extraordinary period and extraordinary measures are called for," said Feng Liuxiang, deputy director of the provincial Health Bureau, quoted on the Web site of the newspaper Guangzhou Daily.
Hong Kong animal activists condemned the slaughtering of civet cats.
"We don't even know if the civet cat is the direct source of SARS," said Ng Cho-nam, president of the Conservancy Association. "If they decide to kill the animals, they should do it in a humane way with minimal suffering for the animals. Drowning is quite inhumane as it takes about a few minutes before the animal dies."
Chinese media said the civets and other animals were being lowered in cages into vats of water. A local official in Guangdong said some were being electrocuted and their bodies burned.
"They are just way too nervous," Ken Ching, who runs a Hong Kong environmental education center, said. "There's no proven record that civet cats are the culprits."
Newspaper photos showed health workers dressed in white protective suits, goggles, surgical masks and elbow-length rubber gloves as they drowned the animals.
The first case of what would be called severe acute respiratory syndrome was recorded in the southern province of Guangdong in November 2002. It killed 58 people there and sickened more than 1,500.
Worldwide, the disease killed 774 people — most of them in Asia — before subsiding in June.
Civets, which are related to the mongoose, were cited by scientists during that outbreak as a possible source of the virus, which was believed to have originated in animals. China had banned trade in the animals but lifted that prohibition in August.
Researchers in Hong Kong said Monday that tests on samples from the television producer in Guangdong showed a genetic similarity with a new strain of the SARS virus found in civets — suggesting another recent jump from animals to humans.
On Tuesday, civets seized in Guangzhou, the provincial capital, were electrocuted and their bodies burned, said an employee of the city Hygiene Supervision Bureau. He said he didn't know how many were killed that way or how long the killings would continue.
"We first put them in disinfectant to sterilize them, then electrocute them, then burn them," said the man, who wouldn't give his name.
There were no signs of public anxiety in Guangzhou, where no one on the street was wearing a face mask — a marked contrast to the city of shrouded faces that was visible at the height of its SARS outbreak last year.
Authorities in other areas were drowning civets and other animals by lowering them in cages into vats of water, the Guangzhou Daily said. It said the city government of Shenzhen, which abuts Hong Kong, ordered that "not one civet be left alive."
In the city of Zhaoqing, authorities drowned 220 civets, the newspaper Southern Daily reported on its Web site. Guangdong set up eight highway inspection stations to check vehicles for banned animals, said the Guangzhou Daily.
In addition to markets and restaurants, animals were confiscated from 36 breeding farms in Guangdong, the newspaper said.
Authorities ordered all references to "yewei" — or "wild taste," the Chinese term for wild animals as food — removed from shop signs in Guangdong.
The aggressiveness of the crackdown contrasted sharply with China's initial response to the first SARS outbreak last year. The communist government took weeks to acknowledge the seriousness of the disease and was criticized for failing to respond to foreign appeals for information and action.
WHO urged calm and said China was safe — a declaration repeated Tuesday by the state media.
On Monday, WHO expert Dr. Jeffrey Gilbert called the mass slaughter a "radical step" that would have to be done carefully to avoid contaminating people and places. "There is a potential hazard there," Gilbert said at a news conference in Beijing.
At Beijing's Capital Airport, SARS masks were sporadic. One group of children were shrouded in protective masks adorned with pandas.
In Shanghai, the Chinese financial capital, infrared scanners were set up at airports and train stations to check travelers for fever.

Thanks for reading CBS NEWS.
Create your free account or log in
for more features.