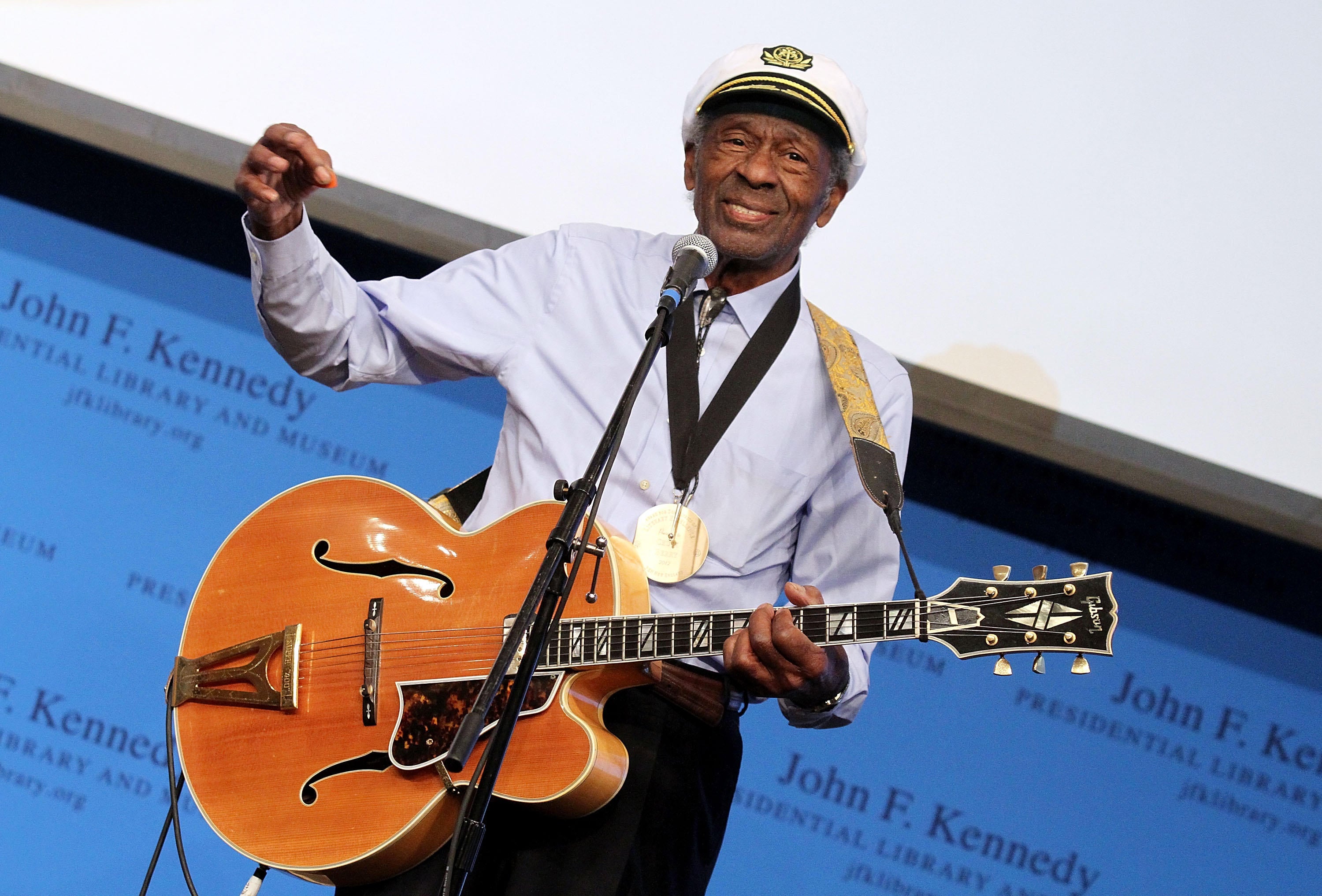 Chuck Berry, rock 'n' roll pioneer, dead at 90
Chuck Berry, the pioneering singer considered by many to be the "father of rock 'n' roll," died Saturday, police in St. Charles County, Missouri, confirmed. He was 90.
Among the first people to be inducted into the Rock and Roll Hall of Fame, Berry was one of the influential early stars of the genre. With his guitar and a killer stage presence, he mixed country, blues and R&B to create a wholly unique sound.
In addition to his own impressive catalog of hits, musicians from Bob Dylan to John Lennon have called out Berry's influence on their music. In 2016, Keith Richards told CBS' "Sunday Morning" that he and Mick Jagger bonded in their school days over a love of Berry.
Richards inducted Berry into the Rock and Roll Hall of Fame, saying that "it's very difficult for me to talk about Chuck Berry because I've lifted every lick he ever played. This is the gentleman who started it all."
Born Charles Edward Anderson Berry in segregated St. Louis in 1926, Berry's early adult years were spent in prison. At 18, Berry was sentenced to 10 years in jail and served three at a Missouri facility. After he got out of prison, he began his career at black jazz clubs in St. Louis, and on New Year's Eve 1952 at The Cosmopolitan club in East St. Louis, Illinois, Johnson called Berry to fill in for an ailing saxophonist in his Sir John Trio.
"He gave me a break" and his first commercial gig, for $4, Berry later recalled. "I was excited. My best turned into a mess. I stole the group from Johnnie."
Influenced by bandleader Louis Jourdan, blues guitarist T-Bone Walker and jazz man Charlie Christian, but also hip to country music, novelty songs and the emerging teen audiences of the post-World War II era, Berry signed with Chicago's Chess Records in 1955. "Maybellene" reworked the country song "Ida Red" and rose into the top 10 of the national pop charts, a rare achievement for a black artist at that time. According to Berry, label owner Leonard Chess was taken by the novelty of a "hillbilly song sung by a black man," an inversion of Presley's covers of blues songs.
"Maybellene" went to the top of the R&B charts and No. 5 on the pop charts, and he followed up with the hits "Roll Over, Beethoven," "Too Much Monkey Business," "Johnny B. Goode," "Sweet Little Sixteen" and "Carol."
After a stint in prison in the early '60s for illegally transporting a woman across state lines for "immoral purposes," Berry continued to crank out the hits such as "Back in the U.S.A.," "Nadine (Is It You?)," "No Particular Place to Go" and "You Can Never Tell." He continued to perform throughout the late '60s and '70s and released his last studio album, "Rock It," in 1979.
It wasn't his only run-in with the law: Tax charges came in 1979, and another three-year prison sentence, all but 120 days of which was suspended. Some former female employees later sued him for allegedly videotaping them in the bathroom of his restaurant. The cases were settled in 1994, after Berry paid $1.3 million.
"Every 15 years, in fact, it seems I make a big mistake," Berry acknowledged in his memoir.
Still, echoing the lyrics of "Back in the U.S.A.," he said: "There's no other place I would rather live, including Africa, than America. I believe in the system."
He influenced nearly every major recording artist, but some stars covered him too well. The Beach Boys borrowed the melody of "Sweet Little Sixteen" for their surf anthem "Surfin' U.S.A." without initially crediting Berry. The Beatles' "Come Together," written by John Lennon, was close enough to Berry's "You Can't Catch Me" to inspire a lawsuit by music publisher Morris Levy. In an out of court settlement, Lennon agreed to record "You Can't Catch Me" for his 1975 "Rock n' Roll" album.
Berry himself was accused of theft. In 2000, Johnson sued Berry over royalties and credit he believed he was due for the songs they composed together over more than 20 years of collaboration. The lawsuit was dismissed two years later, but Richards was among those who believed Johnson had been cheated, writing in his memoir "Life" that Johnson set up the arrangements for Berry and was so essential to the music that many of Berry's songs were recorded in keys more suited for the piano.
Openly money-minded, Berry was an entrepreneur with a St. Louis nightclub and, in a small town west of there, property he dubbed Berry Park, which included a home, guitar-shaped swimming pool, restaurant, cottages and concert venue. He declined to have a regular band and instead used local musicians, willing to work cheap. Springsteen was among those who had an early gig backing Berry.
Burned by an industry that demanded a share of his songwriting credits, Berry was deeply suspicious of even his admirers, as anybody could tell from watching him give Richards the business in "Hail! Hail! Rock 'n' Roll." For the movie's concerts, he confounded Richards by playing songs in different keys and tempos than they had been in rehearsal. Richards would recall turning to his fellow musicians and shrugging, "Wing it, boys."
Berry also appeared in a dozen movies, doing his distinctive bent-legged "duck-walk" in several teen exploitation flicks of the '50s. Richards organized the well-received 1987 documentary "Hail! Hail! Rock 'n' Roll," a concert at St. Louis' Fox Theatre to celebrate Berry's 60th birthday. It featured Eric Clapton, Little Richard and Jerry Lee Lewis, who recalled being told by his own mother that Berry, not he, was the true king of rock 'n' roll.
He had stayed out of the studio life in his later decades, but he continued to perform, including with Bruce Springsteen and the E Street Band. Berry performed monthly in his hometown of St. Louis at Blueberry Hill's Duck Room, a 340-person club named after the musician's namesake move. He received a Grammy Lifetime Achievement Award in 1985.
Shortly after his 90th birthday, a spokesman for Berry announced that the singer would release a new album called "Chuck."
Thanks for reading CBS NEWS.
Create your free account or log in
for more features.