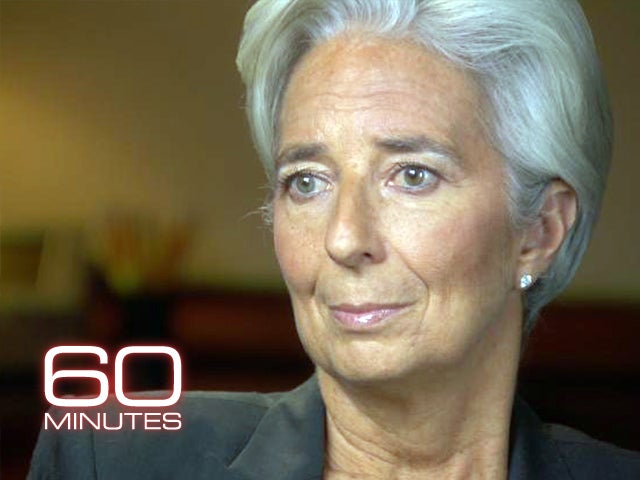 Christine Lagarde: Facing down worldwide recession
Thrust into the center of one of the worst economic crises in decades, Christine Lagarde, the new head of the International Monetary Fund, is working to prevent the overwhelming debts of countries like Greece and Italy from setting off a worldwide recession. In the process, she's become a frank advocate of tighter financial regulation - and one of the world's most powerful women. Lara Logan reports.
---
The following is a script of "Christine Lagarde" which aired on Nov. 20, 2011. Lara Logan is correspondent, Clem Taylor, producer.
With the world economy teetering on the edge, one woman has emerged at the center of the battle to prevent disaster.
Christine Lagarde is an accomplished lawyer who became the first female finance minister of France and is now the first woman to run the International Monetary Fund.
She took over the IMF in July after a sex scandal forced her predecessor, Dominique Strauss-Kahn, to resign.
At nearly six feet tall with her striking silver hair, Lagarde's physical presence is as formidable as her reputation. She'll need those attributes and then some to keep the overwhelming debts of countries like Greece and Italy from setting off a worldwide recession.
We interviewed Christine Lagarde Friday, at the end of another turbulent week for world markets.
Christine Lagarde: It is a very serious situation, unprecedented in many ways.
Lara Logan: What's the worst case scenario?
Lagarde: Stalled growth, high unemployment, potential social unrest as a result and financial markets in disarray.
Logan: For many people around the world, for many Americans, it feels like they've been here before. Is this worse than 2008, the current crisis?
Lagarde: You know, it's a continuum of 2008. Let's face it. It's the same process that is unfolding before our eyes.
Logan: With the potential to be worse?
Lagarde: I'm reasonably optimistic and sometimes desperately optimistic. And I want to be desperately optimistic and I want to believe that countries will understand that they can actually change the course of things.
Logan: And if you look at the U.S., what are you most worried about here?
Lagarde: Political bickering. Certainly I would hope that on a bi-partisan basis both Democrats and Republicans can come to terms in their Supercommittee, about the deficit objectives and the deficit cutting measures and the debt. And there is a degree of certainty that is so much needed for markets.
Trying to save the world's economy has kept Christine Lagarde on the go from the moment she took over. When we caught up with her in Washington in September, she was on her way to address the IMF for the very first time.
Lagarde: It's not always a job where you make friends, because sometimes the truth is not that pleasant when you go through debt ceilings, deficit cutting and all the rest.
Logan: And no second thoughts about taking this?
Lagarde: No. No regret, ever.
Inside the decidedly gloomy auditorium, Lagarde delivered some of those unpleasant truths.
[Lagarde: There are dark clouds over Europe and there is huge uncertainty in the United States.]
Uncertainty fueled by the turmoil in Greece, whose debt crisis threatened to bring down the rest of Europe. Lagarde played a critical role in forging a late-night deal to keep Greece from defaulting on its debt - at least for the moment. Then she turned to Italy, whose economy and debt problem are even larger. At the G20 summit earlier this month, she helped persuade the dysfunctional Italian government to accept IMF monitoring of its finances.
Logan: Do you think you could describe the IMF as a kind of financial fireman?
Lagarde: It's a fire brigade sometimes when there is a crisis. You know, we try to put out the fire. And we do so with rules and funds available that are always paid back. In other words, we say to a country, 'We will lend you money. We will support you. We will help you get out of that crisis. But you have to fix your problems.'
The IMF, with 187 member countries, is based in Washington, D.C. It sits on a fund of $842 billion. But that's not nearly enough to meet the potential needs of all the countries in Europe facing crippling debt. The U.S., the IMF's biggest contributor, is reluctant to put up any more money to bail out Europe. But member countries like Russia and China - that are flush with cash - have indicated they may be willing to help.
Lagarde: Letting Europe down is going to mean, if it was to happen, major consequences and negative consequences on many other economies, including the United States of America. Twenty percent of U.S. exports go to Europe. There is a very strong linkage between U.S. banks and European banks. There are plenty of European employees that are employed by U.S. companies, and there are plenty of U.S. employees that are employed by European companies.
Before Christine Lagarde's arrival in July, the IMF had a long-held reputation as something of a "boys' club."
Logan: The most obvious thing when you look at these walls is that it's all men up there, as the past directors of the IMF.
Lagarde: Quite right. Yes.
Logan: In lots of the things that you've done you've been the first woman. Does it matter to you? Is it important?
Lagarde: Well, what matters to me is that I'm not the last one.
Lagarde's success can be traced back to her life as a young girl in the port city of Le Havre in Normandy. She grew up in this house, the oldest of four and the only girl. Her parents were academics and home life was steeped in books and music - an idyllic childhood that changed dramatically when her father died after a long battle with ALS, Lou Gehrig's disease.
Logan: You were young when he died.
Lagarde: Yeah, I was 16.
Logan: So that must have been extremely difficult.
Lagarde: It was tough on all of us. My mother was young. She continued being strict and very demanding.
Logan: What kind of influence do you think your mother had on you?
Lagarde: Big one, big one, because she was courageous, because she was strong, because she was very determined. She didn't suffer fools gladly. She was a role model.
Lagarde's ambition and drive were evident from the start. When she applied for her first job with a Paris law firm, she was told her credentials were impeccable, but there was one thing she should know.
Lagarde: 'Don't expect partnership in this firm.' So I said, 'Why?' And he said, 'No, you'll never make partnership because you're a woman.' And I looked at him and I said, 'Oh yeah? Well, I'm gone. Thank you very much.' And I just fled.
Logan: You ended the interview?
Lagarde: Oh yes, of course. I packed up and went.
Her self-confidence wasn't misplaced. Lagarde quickly landed a job in the Paris office of Baker McKenzie, one of the largest law firms in the world. Just fourteen years later she moved to Chicago to become its first female chairman - a French woman, at 43, running a major American law firm. Then, while at the very top of her profession, her country came calling.
Taking a significant pay cut and wading into unfamiliar waters, she returned to Paris to join the government, eventually becoming the first woman to serve as France's finance minister in 2007. For President Nicolas Sarkozy, Lagarde's appeal was her Americanness: her near-perfect English, great Rolodex and no nonsense style.
Logan: You got yourself in trouble sometimes speaking too plainly.
Lagarde: Yes. I did. It's become my brand in a way you know, speaking the truth even though it was not politically correct.
Logan: I want to ask you about the speech you made on July 10, 2007. Do you know what speech that is?
Lagarde: No, what would that be?
Logan: Well, that is when you said, that France is a country that thinks...
Lagarde: Oh, yes. I know what it is. I know, I know, I know, I know, I know...
It was her first speech as finance minister and she was trying to get her countrymen to work harder. But she dared question the value of a favorite French pastime: thinking. "France is a country that thinks too much," she declared to the National Assembly. "We have in our libraries enough to talk about for centuries to come. Enough thinking, already. Let's roll up our sleeves."
Lagarde: I'm glad that I gave that speech. But it was groundbreaking and it was shocking for a lot of the French members of Parliament, especially on the left. Because it was not the sort of language they were used to.
Logan: You were trying to motivate people.
Lagarde: Yeah. I was naïve, you see. I was trying to communicate that on a very broad basis. And clearly I was pushed back, brutally, in Parliament.
Logan: People were horrified?
Lagarde: I was praised in the U.S. and heavily, brutally criticized in France.
When the 2008 financial crisis hit, Lagarde was highly critical of her U.S. counterpart, Treasury Secretary Hank Paulson, for his decision to let investment bank Lehman Brothers go under.
Logan: Did you feel that you'd been left out of the loop, that you would have some kind of warning.
Lagarde: We had warnings. I remember telling Hank, 'We are debating what kind of swimming costume we will wear and the tsunami is coming.' I remember him saying, 'No, no, no, no. Things are under control. It's okay. It's fine. It's fine. It's under control.'
Logan: But it wasn't?
Lagarde: No, no. Of course it wasn't.
Three years later, Lagarde told us not nearly enough has been done to prevent another crisis.
Lagarde: Everybody at the time said, 'Oh, we need to regulate better. We can not let financial actors, banks, financial institutions, speculators, just run loose without rules. And we've been relatively slow in, you know, putting the rules in place.'
Logan: Some people listening to you say that will be horrified. W-- they'll be-- that's the last that we need is more regulation. What do you say to them?
Lagarde: Regulation is necessary, particularly in a sector, like the banking sector, which exposes countries and people to a risk.
Logan: One thing that looks very familiar to Americans when they look at the European crisis right now is that the banks are at the center of it.
Lagarde: Uh huh.
Logan: The average American is mystified as to why the taxpayer always has to pay when something goes wrong and the banks fail. But when times are good, the banks don't hesitate to reward their own with massive compensation.
Lagarde: It's offensive to taxpayers in general that while there is taxpayers money put into companies, be they bank or otherwise, those institutions continue to operate on their terms. That's not right. That has to be changed.
From her elegant corner office three blocks from the White House, Lagarde is leading the IMF through perhaps the most critical and unpredictable period in its 66-year history. She has been called one of the most powerful women in the world and her advice and negotiating skills are in high demand. But it is her work she takes seriously, never herself.
Lagarde: When my father passed away and then when later on I gave birth, those are sort of ground-breaking experiences that put everything else into perspective. You know, when I sit in meetings and things are very tense and people take things extremely seriously and they invest a lot of their ego, I sometimes think to myself, "Come on, you know, there's life and there's death and there is love." And all of that ego business is nonsense compared to that.
In Paris, we met up with Lagarde on her way to the market where she still enjoys doing her own grocery shopping.
With longtime boyfriend, businessman Xavier Giocanti, at her side. Lagarde's trademark charm was on full display and she looked every bit the seasoned retail politician.
Logan: Walking with you in the market, people are talking about you as the next president of France.
Lagarde: Oh that's because it's in the air at the moment because everybody is talking about the next presidential election. So they fanaticize a bit. But I'm doing what I'm doing at the moment. I'm the managing director of the International Monetary Fund.
Logan: At the moment.
Lagarde: I have a five year term.
Logan: Five years?
Lagarde: That's a long moment.
Thanks for reading CBS NEWS.
Create your free account or log in
for more features.