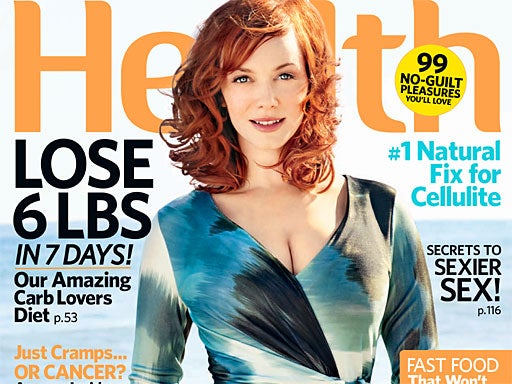 Christina Hendricks' Measurements: Naked "I Look Like a Woman"
(CBS) Christina Hendricks. Many adjectives could be used to describe the voluptuous star of "Mad Men," but "fat" certainly isn't one of them.
Still, sexy real woman curves can be hard to find on Hollywood sets, and the hour-glass shaped beauty definitely stands out.

PICTURES: Curvy. No Apologies.
According to the new issue of Health magazine, the 35-year-old has been fighting negativity about her weight all through her career.
"All those times I had agents who were like, 'You have to lose some weight,' and all of a sudden, people are celebrating it," she told Health. "It's like: 'Oh, thank you! Thank you for letting me be me.'"
Hendricks plays Joan Holloway, the office bombshell who keeps the men who want her, and the secretaries who depend on her, in check.

Even now, she still gets criticism. "You don't put a big girl in a big dress," fashion critic Cathy Horyn wrote in a recent New York Times story about the dress Hendricks wore to the Golden Globes.
The criticism hurts her feelings, she told New York Magazine in February. "Anytime someone talks about your figure constantly, you get nervous, you get really self-conscious, " she said. "I was working my butt off on the show, and then all anyone was talking about was my body."
She used to be 15 pounds heavier - and that, she tells Health - is when she felt the most beautiful. She was modeling in Italy.
"I was having cappuccinos every day!" she told the magazine. "I would take my clothes off in front of the mirror and be like, 'Oh, I look like a woman.' And I felt beautiful, and I never tried to lose it, 'cause I loved it."
Although she "breaks every healthy rule" by eating salty and creamy foods, she tells the magazine that she's started working out for the first time.

There are certainly plenty of fans who hope she doesn't over do it.
PICTURES: Curvy. No Apologies.
Thanks for reading CBS NEWS.
Create your free account or log in
for more features.