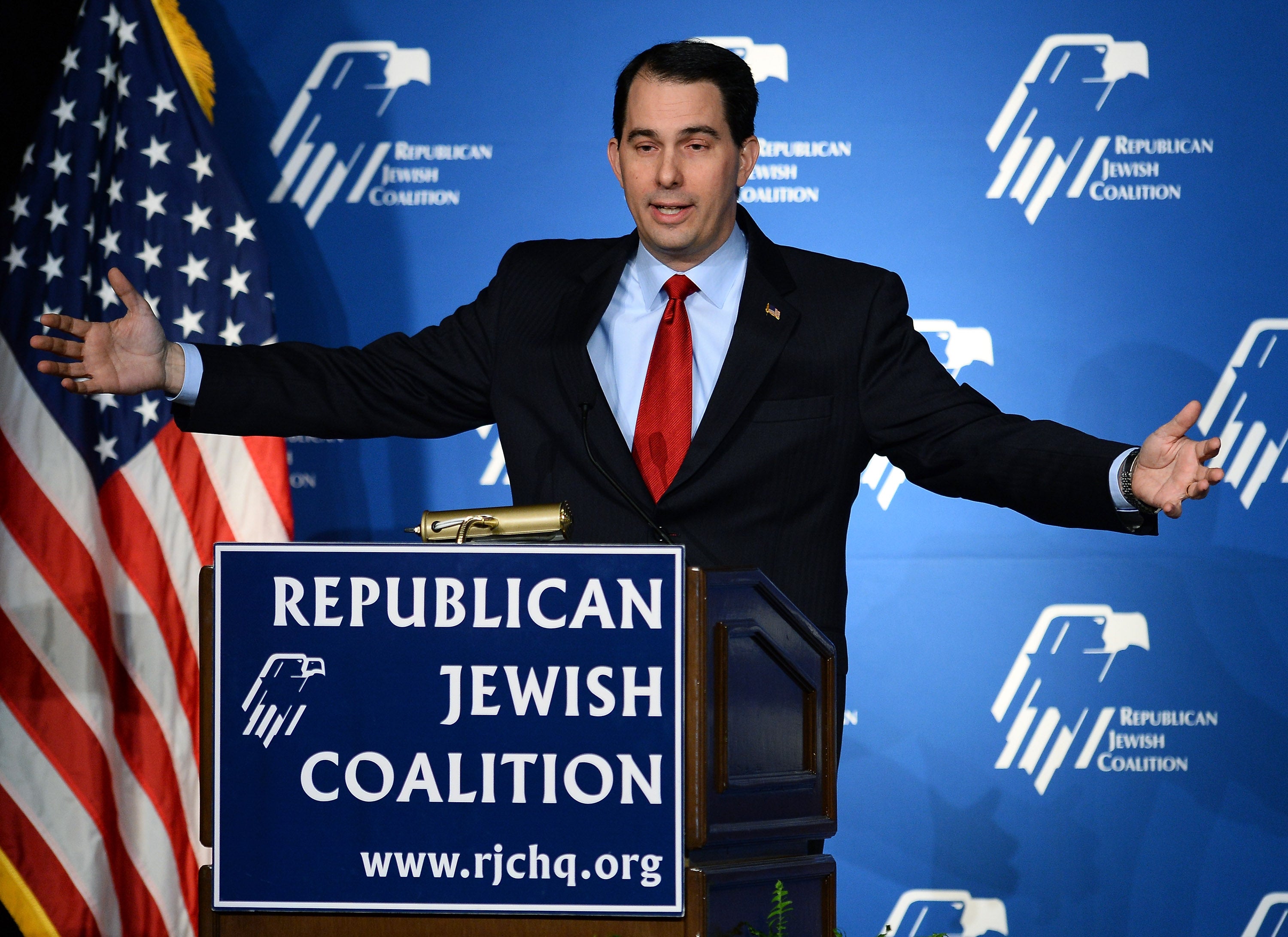 GOP presidential race looms large as potential hopefuls gather
They would have you believe their trip has nothing to do with 2016, but it's easy to see why nobody's buying that.
A gaggle of potential Republican presidential candidates, including Govs. Chris Christie, R-N.J., Scott Walker, R-Wis., and John Kasich, R-Ohio, made the pilgrimage to Las Vegas Saturday to speak to a meeting of the Republican Jewish Coalition, a small but influential group of GOP luminaries.
And, in a happy coincidence, the ambitious governors just might cross paths with one of most profligate GOP donors in the country - a man whose financial support has almost singlehandedly powered a major presidential campaign.
That man, casino magnate Sheldon Adelson, is hosting the RJC meeting this weekend at his Venetian resort on the Las Vegas strip. During the 2012 primaries, $15 million of Adelson's money, channeled through a super PAC, was instrumental in launching Newt Gingrich to the fore of the GOP race and sustaining his campaign long after his small-dollar donations had dried up.

Gingrich had a long friendship with Adelson dating back to his time as speaker of the House. But in 2016, Adelson's support is up for grabs, and the candidate who earns it will be poised to reap quite the reward.

"I call it the Sheldon primary," RJC board member and former White House press secretary Ari Fleischer told CBS News. "I think that every candidate who is coming to Las Vegas has already asked for one-on-one time with Sheldon. He can be extraordinarily influential. Sheldon can keep a candidacy alive, or he can take out somebody else's candidacy."

Several speakers on Saturday emphasized their deep concern for Israel's security, an issue of paramount importance to Adelson. Walker, for example, spoke of America's "integral partnership" with Israel, saying the alliance between the two countries has frayed under President Obama. Christie described his recent trip to Israel as an "overwhelming" experience that reinforced for him the need to speak "loudly," not "quietly," on behalf of the Jewish state.

Israelis "want America to be their unblinking, unwavering, unquestioning friend," Christie said. "And the sense I got from that trip [was] that many of those folks were worried that we were no longer being that."

Adelson did not speak at the event, but it's a sure bet he appreciated what he heard.


Naturally, the potential candidates aren't exactly racing to promote the idea that they're kissing the ring of an influential billionaire in preparation for a presidential bid. They've emphasized more selfless, immediate concerns in explaining their trip.

At a press conference Friday, Christie, currently the head of the Republican Governors Association, said he's going to Vegas to raise money for GOP governors' races. He added that he wasn't sure whether he'd meet with Adelson.

"Oftentimes, they set up other private meetings for me with donors or potential donors to solicit them for the Republican Governors Association, so I'm sure I'll have some meetings," he said.

After his speech Saturday, Walker responded to a question about 2016 by saying, "Any Republican who is talking about anything other than 2014 is doing a disservice to not only the party, but the country."

And a source close to Kasich, who has has refused to entertain talk of a presidential bid as he seeks re-election, told CBS News that the governor is making the trip to raise money for his 2014 race in Ohio.

In a slightly different position is former Florida Gov. Jeb Bush, who's been coyer about the prospect of a presidential bid than many of his potential competitors.

Bush has known Adelson for some time, owing to his famous name and his eight years as governor of Florida, and he didn't have to participate in Saturday's cattle call to earn his spot at the RJC gathering: The four-day gala kicked off Thursday with a private dinner in Bush's honor at Adelson's private airplane hangar.

Bush delivered brief remarks at the dinner, which was closed to the press, and during a question-and-answer session after his speech, one attendee reportedly urged him to run for president.

"I'm going to ignore that one," Bush said with a smile, according to CNN.
In a wide-open race, though, the governors have every motivation to ingratiate themselves with donors who could make or break a presidential bid. A 2016 primary poll released Saturday by GOP-leaning WPA Research showed Bush at 11 percent nationally and Walker at 5 percent. Kasich was not included in the survey.

Sen. Rand Paul, R-Ky., and former Gov. Mike Huckabee, R-Ark., were at the head of the pack with 13 percent apiece, clarifying just how much of a jump ball the GOP primary remains at this early stage.

Still, event organizers are taking pains to downplay any talk of the presidential race. RJC executive director Matt Brooks told the Columbus Dispatch that the group's "focus right now is 100 percent on 2014."

"But obviously, given the very active political involvement of a lot of people coming in from across the country," Brooks conceded, "You can't help but look at them through the prism of, 'Do they have the potential to possibly be contenders for 2016?'"
Thanks for reading CBS NEWS.
Create your free account or log in
for more features.