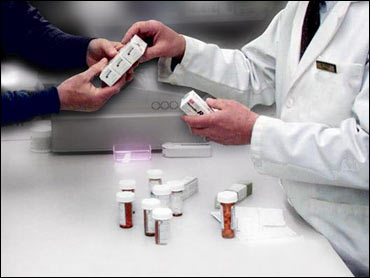 Choosing The Right Pharmacy
When it comes to choosing a pharmacy, bigger isn't always better. A 2003 Consumer Reports survey showed that once-struggling "mom and pop" drugstores were making a comeback as customers gravitated toward service with a more personal touch.
Ultimately, it's most important to choose a pharmacy that suits your family's needs, whether it's an independent operation on the corner or a supermarket-sized chain.
The Saturday Early Show's Dr. Mallika Marshall answers questions and offers advice on choosing the pharmacy that's right for you.
Q: What's so important about choosing a pharmacy? Aren't they all pretty much the same?
No. Surveys show pharmacies vary widely in both competence and the range of services they offer. And this really is important to your health, and your family's, because you are depending on your pharmacist to get it right, every time. Medications, especially prescription drugs, are like an investment in your health, and you want to make sure you're getting an acceptable return. The right pharmacist can help.
Q: What are the key factors to consider when choosing a pharmacy?
One thing to consider is obviously location. All things being equal, a pharmacy that's closer to your home is better than one farther away. But there are several other important factors you should consider that might outweigh the distance you have to travel. You want your prescriptions filled quickly and accurately. Prescriptions should be there when they're promised, and you shouldn't have to wait too long for service. You want to be comfortable dealing with the pharmacists and other employees. It should be very rare for your pharmacy to be out of a particular prescription medication. And it should keep track of the latest reports on drug interactions that may affect you.
Q: What should you expect from a good pharmacist?
Beyond simple courtesy and accuracy in filling your prescriptions, the main thing a good pharmacist provides is information. He or she should be willing and able to answer any and all questions you may have about a prescription — names, uses, how they should be taken, and possible precautions and side effects you should be aware of.
Once you get to know a good pharmacist, he or she can offer personal advice based on the knowledge of your particular health concerns. A good pharmacist should also help you select over-the-counter medications that won't interfere with your prescription medications and treatment plans.
Q: You say once you choose a pharmacy you should stick with it for all your prescription and non-prescription needs. Why is that?
A lot of it has to do with what your pharmacist comes to know about you and your family and the medications you take. It is part of his or her job to watch out for possible conflicts between medications, both prescription and over-the-counter. And that's only possible if you go to the same pharmacist or group of pharmacists regularly. And, of course, loyal customers also tend to get better service anyway.
Q: Won't the giant chain stores offer more selection and service than smaller, independent pharmacies? What are the pluses and minuses of each type?
Surveys have shown that, in general, independent pharmacies get the highest marks for service, speed, accuracy and providing good information to customers. One reason for that is that prescription medications account for most of their sales, and this focus on prescription drugs means more attention to your personal needs than you would get in a big-box pharmacy or one in a supermarket. That is not to say you can't get good service from the chains — you can, and convenience does count. But inevitably, it's less personal and you're more likely to be dealing with crowds. If you have a choice, at least give that independent pharmacy a try. You might like it.
Q: How about these really low-priced generic drugs being offered in many states by superstores like Wal-Mart and Sam's Clubs. Do they make the big boys more attractive than smaller pharmacies?
Such prices are hard to beat, but keep in mind, these bargain generics are limited in scope. They do include some of the most widely prescribed medications, but there are hundreds of other drugs that are not included. Still, people on a budget who need those particular prescriptions may choose to go for the savings, which is bound to impact the smaller chains and independents.
Thanks for reading CBS NEWS.
Create your free account or log in
for more features.