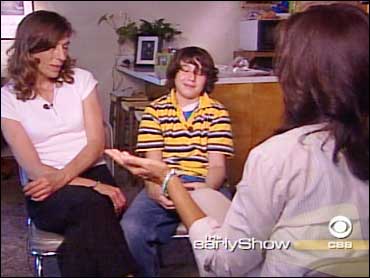 'Choking Game' A Deadly Trend
Teenagers have always been thrill seekers, willing to take dangerous risks. But, reports The Early Show national correspondent Hattie Kauffman, a growing number of teens nationwide are taking part in a disturbing and potentially deadly trend, known as "The Choking Game."
Thirteen-year-old Sam Mordecai's twin brother, Gabe, died recently while playing the "game." Sam found him with a rope around his neck.
"I saw him sitting on the ground with the rope on him and thought he was playing," Sam recalls. "I was like, 'Gabe, knock it off.' "
Gabe and Sam's mother, Sarah Pacatte, told Kauffman, "The first thing you think of is, 'My God, my child, he killed himself. Oh, my God.' And as soon as the thought came in my head, the thought was gone. I knew immediately what Gabriel had done. …I had no doubt in my mind."
Gabe had shut off the oxygen to his brain to get a sort of high, Kauffman explains. Other names for "The Choking Game" include "Fainting Game," "Passing-Out Game," even "Space Monkey."
Sam says he and his brother had played it several times: "It's hard to describe how it feels. It's kinda like, just, like, somewhere not on earth, but you're just dreaming, kind of. But then it only lasts for a few seconds and when you wake up … you don't know where you are or what's going on.""Sometimes," observes child psychologist Dr. Lawrence Shapiro, "kids will choke each other. Sometimes, they'll get something like a tie and pull on each other's neck. Sometimes, they'll hyperventilate and have another child push them to literally knock the breath out of them."
Even though you may not have heard of "The Choking Game," Kauffman points out, there's a good chance your kids have.
After Gabe's death, a concerned teacher at his middle school took an informal poll. Half of the eighth graders were familiar with the game.
Documented cases are few.
A New Hampshire boy died from the game in 2001. And this spring, there were two separate incidents in Idaho.
Ten-year-old Dalton Eby was found hanging from a tree. Thirteen-year-old Chelsea Dunn apparently hanged herself in her closet. Security cameras at her middle school had earlier caught students playing the game.
"I can't express, seriously, how irate I am," bristles Laura Cooper, a friend of the Dunn family, "that they knew, that the school knew this was going on, and didn't do anything."
Gabe's mother also feels more needs to be done to warn parents. She searched the Internet for information and found almost nothing. So she's started her own Web site.
"I miss him. So much," says Pacette. "And I wish to God I would have known the warning signs, because I knew something was wrong, I knew something wasn't right with Gabe."Among the warning signs parents should watch for:
Your child keeping a rope, or plastic bag

Bloodshot eyes

Headaches

Marks on the child's neck

"The thing about it is," Pacette continued, "with Gabriel, the day before, I had said to him, 'What's that?' Pacette gestured to her neck. "I had the week before looked at Gabriel, and asked about his eyes being so red."

One of Gabe's last school assignments was an autobiography called "All About Me."

In it, he wrote that he wished he hadn't gotten in so many fights with his brother.

"Can you believe that your brother's gone?" Kauffman asked Sam.

"In a way, but like, not really, sometimes," Sam responded.

"Like you expect him to still be here?"

"Yeah, sometimes," Sam answered as he wiped tears from his eyes.

"Is it hard to believe that a 'game' could cost his life?"

"Yeah," Sam said, still crying.

Pacette is certain her son's death isn't an isolated incident.

Dr. Shapiro, the child psychologist, agrees: "We now think, going back, that some young adolescents, and that's really who we're talking about, who might have been ruled as suicides, were really playing this 'choking game.' "

"The Choking Game" isn't considered a new trend, Kauffman adds. Kids who've tried it say they learned "The Choking Game" from older kids.

So, this may be another opportunity for parents to talk to their kids about resisting peer pressure, Kauffman points out.

The room Sam used to share with his brother is all his now. The bunk bed has been removed. On the wall is a star chart. The family has registered a star in Gabe's name. And Sam has chosen one for himself, next to his brother's, so he'll still be twins with Sam, up in the sky.

Thanks for reading CBS NEWS.
Create your free account or log in
for more features.