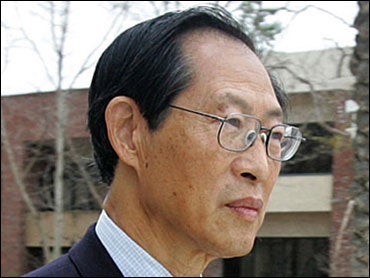 Chinese-Born Man Guilty of Economic Spying
A Chinese-born engineer was convicted Thursday of stealing trade secrets critical to the U.S. space program in the nation's first economic espionage trial.
A federal judge found former Boeing Co. engineer Dongfan "Greg" Chung guilty of six counts of economic espionage and other charges for taking 300,000 pages of sensitive documents that included information about the U.S. space shuttle and a booster rocket.
"Mr. Chung has been an agent of the People's Republic of China for over 30 years," U.S. District Judge Cormac J. Carney said while issuing his ruling.
Federal prosecutors accused the 73-year-old stress analyst of using his 30-year career at Boeing and Rockwell International to steal the documents. They said investigators found papers stacked throughout Chung's house that included sensitive information about a fueling system for a booster rocket - documents that Boeing employees were ordered to lock away at the close of work each day. They said Boeing invested $50 million in the technology over a five-year period.
The judge convicted Chung of six counts of economic espionage, one count of acting as a foreign agent, one count of conspiracy, and one count of lying to federal agent. He was acquitted of obstruction of justice.
Chung opted for a non-jury trial that ended June 24. During the three-week trial, defense attorneys said Chung was a "pack rat" who hoarded documents at his house but insisted he was not a spy.
They said Chung may have violated Boeing policy by bringing the papers home, but he didn't break any laws and the U.S. government couldn't prove he had given any of the information to China.
Attorneys and prosecutors were not immediately available for comment after the verdict.
The Economic Espionage Act was passed in 1996 to help the government crack down on the theft of information from private companies that contract with the government to develop U.S. space and military technologies.
The legislation became a priority in the mid-1990s when the United States realized China and other countries were targeting private businesses as part of their spy strategy.
Since then, six economic espionage cases have settled before trial. Another is set for trial in U.S. District Court in San Jose this year.
Chung worked for Rockwell International until it was bought by Boeing in 1996. He stayed with the Chicago-based company until he was laid off in 2002. After the Columbia space shuttle disaster in 2003, Chung was brought back as a consultant. He was fired when the FBI began its investigation in 2006.
The government believes Chung began spying for the Chinese in the late 1970s, a few years after he became a naturalized U.S. citizen and was hired by Rockwell.
Prosecutors said they discovered Chung's activities while investigating another suspected Chinese spy, Chi Mak. Mak was convicted in 2007 of conspiracy to export U.S. defense technology to China and sentenced to more than 24 years in prison.
Mak was not charged under the Economic Espionage Act.
Thanks for reading CBS NEWS.
Create your free account or log in
for more features.