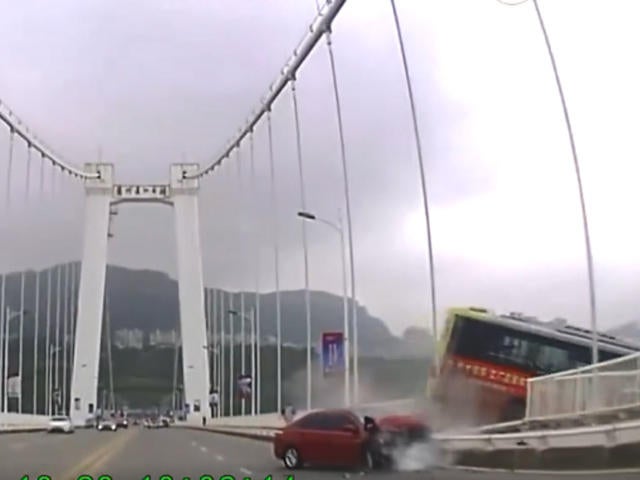 Video shows bus plunging off bridge into river after passenger, driver fight
BEIJING -- Police say a brawl between a passenger and a bus driver led to the bus plunging off a bridge in southwestern China Sunday. All 15 people on board are presumed dead.
An eight-second surveillance video released by Chongqing city police on its Weibo social media account shows the two people arguing and grappling with each other in the moments before the bus suddenly veered across oncoming traffic and off the bridge Sunday morning.
Buses in China often have surveillance cameras.
A statement from Wanzhou district police said the 48-year-old female passenger asked the driver to pull over after she missed her stop, but he didn't. She walked up to the driver's seat and scolded him. The driver turned his head back several times arguing.
The Chongqing police also posted dashcam video from a nearby car showing the bus colliding with an oncoming vehicle before smashing through a guardrail and falling into the Yangtze, a major river in southwestern China.
Rescuers recovered the wreck of the bus Wednesday night. The official Xinhua News Agency said Friday that 13 bodies had been retrieved from the river and two others were still missing. No one is believed to have survived.
The Reuters news agency cites state radio as quoting rescuers saying the bus wound up some 262 feet underwater.
Thanks for reading CBS NEWS.
Create your free account or log in
for more features.