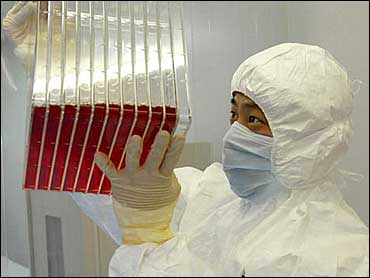 China To Test Risky SARS Vaccine
The Chinese volunteers chosen as subjects for an experimental SARS vaccine are healthy adults aged 20 to 50 who have tested negative for the virus, and they're being warned their mission could be risky, state television said Tuesday.
The 30 test subjects have been drawn from areas where there has been no severe acute respiratory syndrome outbreak and must have no history of chronic diseases, China Central Television said in its national midday news.
It said there probably would be unspecified side effects.
"The volunteers will be notified of the risks," the CCTV announcer said.
The government announced Monday that it had approved human trials of the vaccine, which it began developing last April, but researchers cautioned that the approval doesn't mean the vaccine can be produced for widespread use anytime soon.
A longer second phase of tests will be conducted if the first phase proves effective, the television report said, and a third phase is planned for areas that have already been hit by SARS.
"There is still a lot of research work that needs to be done before this medicine can be effectively used," said Zheng Xiaoyu, director of the State Food and Drug Administration, speaking on CCTV. The state newspaper China Daily said he called the move "a milestone in the country's anti-SARS efforts."
CCTV showed lab workers in head-to-toe hooded jumpsuits lining up vials of the vaccine.
SARS, which scientists say is caused by a coronavirus, first emerged in southern China in late 2002. It killed 774 people worldwide last year and sickened more than 8,000 before subsiding in July. In China, 349 people died.
China plans to inject volunteers this month with a vaccine made from a dead sample of the virus. It says tests on animals have shown it to be effective.
The first phase of tests is meant to find out whether the vaccine is safe for humans, the official Xinhua News Agency reported.
The reports did not include other details of the test or identify the 30 volunteers.
A World Health Organization spokesman in Beijing said the agency "always welcomes scientific progress" but still believes that the development of a usable vaccine is still at least two years away.
The WHO would like more details about the vaccine trials and has urged China to share the results of its tests with scientists in other countries to foster cooperation and verifiable adherence to safety precautions, said spokesman Roy Wadia.
"The trials should be carried out in an appropriate manner with full openness and sharing of data collected, as well as proper protocol set up for the various phases," Wadia said.
In the meantime, WHO says the best way to fight SARS is through proven methods of surveillance, early diagnosis, hospital quarantines and international reporting.
The China Food and Drug Administration said that while 85 percent and 90 percent of new drugs fail, the results of the tests will help the research into SARS' causes and possible cures.
Since December, China has reported three new cases of SARS — two patients who have recovered and another who is being treated but is in recovery. All were in the southern province of Guangdong.
The latest patient, a 35-year-old private businessman, is hospitalized but as of Monday had had a normal temperature for 13 consecutive days, China Daily said. No one linked to him has shown SARS symptoms, the government says.

Thanks for reading CBS NEWS.
Create your free account or log in
for more features.