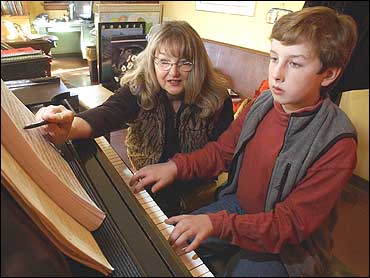 Child Prodigy, 14, Commits Suicide
A musical prodigy who completed high school at age 10 apparently killed himself at 14, authorities said.
Brandenn E. Bremmer, who taught himself how to read at 18 months and began playing the piano at 3, was found dead Tuesday at his home in southwest Nebraska with a gunshot wound to the head, sheriff's officials said.
Patricia Bremmer said her son showed no signs of depression, had just finished the art for the cover of a second CD of his music, and had plans for Wednesday. She did not disclose details of how he was found.
"We're rationalizing now," she said. "He had this excessive need to help people and teach people. ... He was so connected with the spiritual world, we felt he could hear people's needs and desires and their cries. We just felt like something touched him that day and he knew he had to leave" so his organs could be donated.
She said Brandenn's kidneys went to two people, his liver to a 22-month old and his heart to an 11-year-old boy.
Brandenn had decided in December he wanted to be an anesthesiologist, his mother said. He started taking a biology class at Mid-Plains Community College in North Platte, where he had also taken courses in 2001. She said he had planned to eventually attend the University of Nebraska.
Reached at home late Friday afternoon, Perkins County Sheriff James D. Brueggeman said the investigation was ongoing and declined to comment.
David Wohl, one of Brandenn's professors at Colorado State University at Fort Collins, Colo., where he had been taking classes and lessons since age 11, said Friday he was shocked to learn of Brandenn's apparent suicide.
Wohl, who last saw Brandenn in December, recalled him as an unpretentious young man who had an easy smile. "He wasn't just talented, he was just a really nice young man," Wohl said.
Brandenn was home-schooled through high school and completed his junior and senior years in seven months. For his high school graduation photo, Brandenn darkened his hair, wore round wire-rimmed glasses, and threw on a red cape to look like one of his favorite characters — Harry Potter.
Like most kids at that age, he loved cartoons, playing video games and going swimming. But he also loved playing the piano and began taking independent study classes at CSU because he was interested in the school's music department.

Thanks for reading CBS NEWS.
Create your free account or log in
for more features.