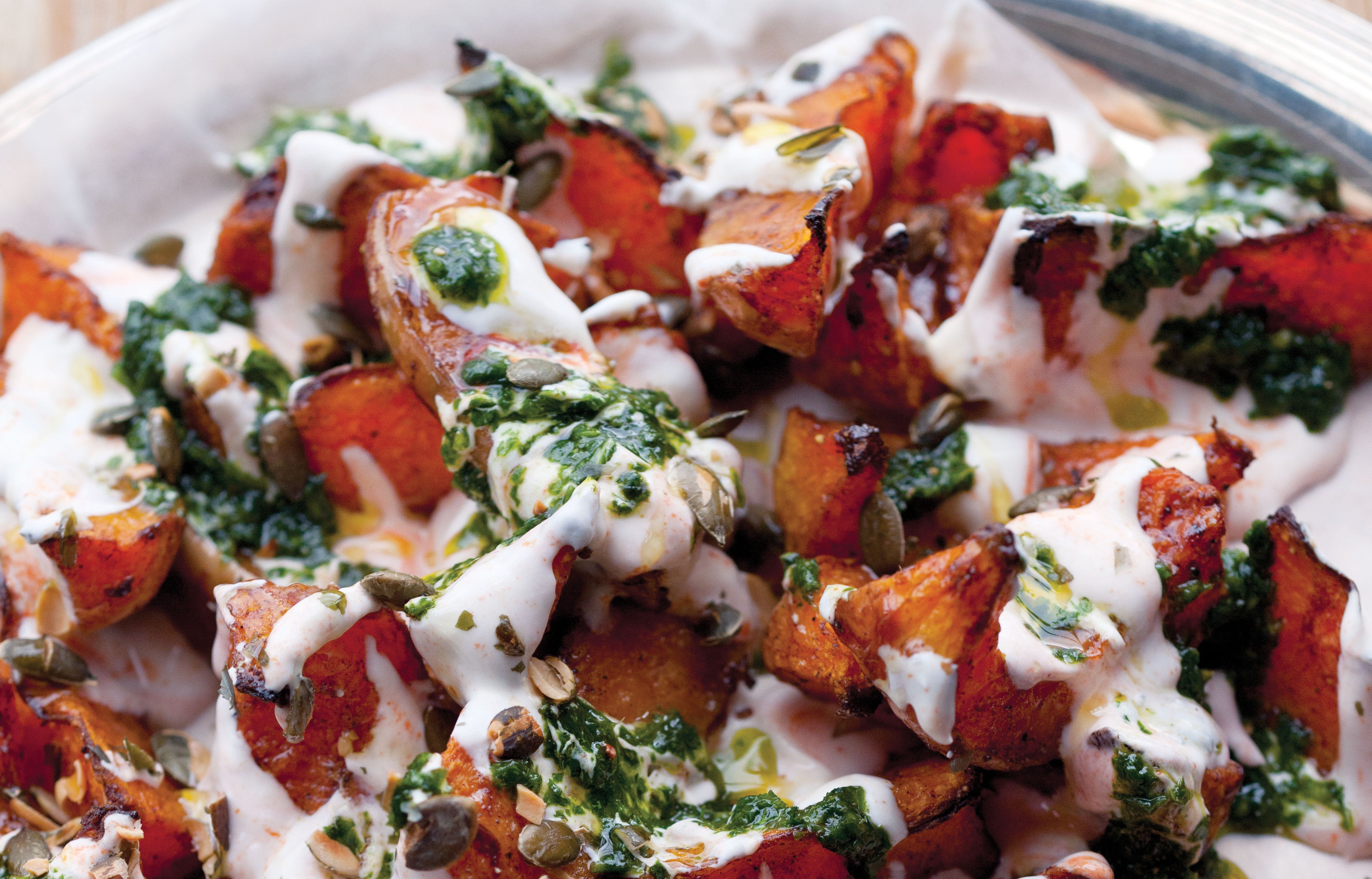 Recipe: Ottolenghi's squash with chile yogurt and cilantro sauce
Sweet chile sauce has been making its way into dressings and dipping sauces for a while, but the rise in demand for the hot savory Sriracha sauce--originating in eastern Thailand and made from sun-ripened chile peppers and garlic, ground into a smooth paste--points to an increasing demand for the hot stuff.
Recent threats of shortages have created a small panic among those addicted to the sauce. Mixing Sriracha with Greek yogurt and drizzling it over a dish like this is a fast- track way to reach a sweet-sharp depth of flavor. The fresh herb paste brings in another layer of freshness, along with a visual "wow." According to Ottolenghi, this is perhaps the simplest recipe in the book and destined to become a favorite.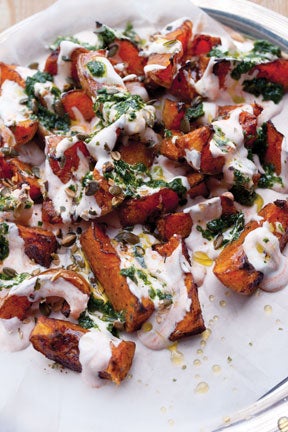 Ingredients (serves four)
1 large butter nut squash (3 lb/1.4 kg)
1 tsp ground cinnamon
6 tbsp/90 ml olive oil
1¾ oz/50 g cilantro, leaves and stems, plus extra leaves for garnish
1 small clove garlic, crushed
Scant 2½ tbsp/20 g pumpkin seeds
1 cup/200 g Greek yogurt
1½ tsp Sriracha or another savory chile sauce
Salt and black pepper
--
Preheat the oven to 425ºF/220ºC.
Cut the squash in half lengthwise, remove and discard the seeds, and then cut into wedges ¾ inch/2 cm wide and about 2¾ inches/7 cm long, leaving the skin on. Place in a large bowl with the cinnamon, 2 tablespoons of the olive oil, ¾ teaspoon salt, and a good grind of pepper. Mix well so that the squash is evenly coated. Place the squash, skin side down, on 2 baking sheets and roast for 35 to 40 minutes, until soft and starting to color on top. Remove from the oven and set aside to cool.
To make the herb paste, place the cilantro, garlic, the remaining 4 tablespoons oil, and a generous pinch of salt in the bowl of a small food processor, blitz to form a fine paste, and set aside.
Turn down the oven temperature to 350ºF/180ºC. Lay the pumpkin seeds on a baking sheet and roast in the oven for 6 to 8 minutes. The outer skin will pop open and the seeds will become light and crispy. Remove from the oven and allow to cool.
When you are ready to serve, swirl together the yogurt and Sriracha sauce. Lay the squash wedges on a platter and drizzle the spicy yogurt sauce and then the herb paste over the top (you can also swirl the yogurt sauce and herb paste together, if you like). Scatter the pumpkin seeds on top, followed by the extra cilantro leaves, and serve.
Thanks for reading CBS NEWS.
Create your free account or log in
for more features.