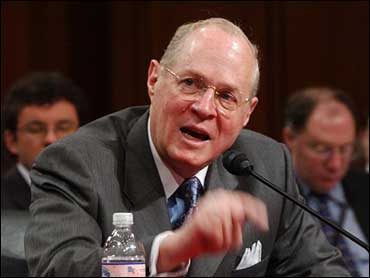 Charlize Theron's 'Monster' Role
Known for her glamorous roles in "The Italian Job" and "The Legend of Bagger Vance," Charlize Theron has quickly become the frontrunner in this year's Oscar race for a very different role.
Theron astonished critics in her almost unrecognizable role in the true story of America's first known female serial killer in "Monster."
"When I read the script, I didn't know that it was based on a real person," Theron tells The Early Show co-anchor Rene Syler. The film is based on Aileen Wuornos, a prostitute executed last year in Florida after being convicted of murdering six men.
Theron says, "I was blown away by the writing. And I was also blown away by this very conflicted, troubled woman. And I find that the guys tend to get those parts."
While Wuornos confessed to the six murders, including that of a policeman, she claimed to have killed only in self-defense, resisting violent assaults while working as a prostitute.
Theron notes, "I had a real thirst to want to know what really happened in her life. And so I was with Patty Jenkins, who wrote the script and directed the film, we went on a journey to find the greater truth of her story, which we always felt was kind of misrepresented. And saying that we never tried to justify why she did very horrendous things, we wanted to stay true to that. But also maybe lift the rug a little bit and show her actual situation."
Wuornos was actually on a verge of suicide. Theron says, "This is a woman who, and when I say never experienced love in her life, I mean that. Finally in her late 20s, she met this woman (Selby Wall) and fell madly in love. And she spent 12 years on death row and never once said one bad thing about this woman, even after she was betrayed by her and turned in by her." The woman, Selby Wall, is played in the film by Christina Ricci. She was sent by her parents to live with an aunt in order to "cure her homosexuality."
Theron had access to letters that Wuornos wrote to a friend over the 12 years that she was on death row, which the actress says were very helpful. "Everybody always wanted to know if I met her. And I didn't. And I think that in a way, if I had met her, she would not have opened up to me the way she did through these letters that she wrote to this friend. Sometimes the tiniest little thing that she would say in a letter that just meant so much to me about who she was."
What everyone is talking about, though, is what's most obvious on the screen, the incredible physical transformation she underwent. Theron gained between 25 and 30 pounds. She shaved her eyebrows. She even had prosthetic teeth in order to look more like Wuornos.
Theron says, "I was so concerned early on in the process with the physical aspect of it, because in diving into the emotional aspect of it so much. I was so concerned about wanting to stay so true to Aileen, every decision that we made, we never forgot Aileen. When I saw it and when I see it today, I'm just really proud of what Toni G, our makeup artist, did."
Some facts about Charlize Theron
Theron was born in Benoni, South Africa, on Aug. 7, 1975.
In 1996, Theron played the role of a Norwegian hitwoman in John Herzfeld's "2 Days in the Valley"; she also co-starred in Tom Hanks' directorial debut, "That Thing You Do!"
In 1997, Theron co-starred in "Trial and Error"; she also co-starred in the thriller "The Devil's Advocate."
Woody Allen cast Theron as an oversexed supermodel in 1998's "Celebrity"; that same year, Theron starred in Disney's "Mighty Joe Young."
In 1999, Theron co-starred with Johnny Depp in "The Astronaut's Wife"; she also starred in "The Cider House Rules."
In 2000, Theron acted in such movies as "Reindeer Games," The Yards," "Men of Honor" and "The Legend of Bagger Vance."
In 2001, Theron was seen in Woody Allen's "Curse of the Jade Scorpion" and "Sweet November" with Keanu Reeves.
In 2003, Theron co-starred in the remake of the 1969 heist drama "The Italian Job."
Thanks for reading CBS NEWS.
Create your free account or log in
for more features.