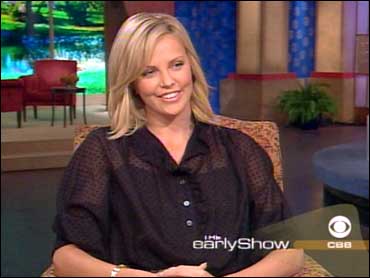 Charlize Theron Goes Futuristic
Charlize Theron has taken on a variety of film roles over the course of her career and now she's playing a 25th-century anti-hero in the movie "Aeon Flux." The actress dropped by The Early Show to talk about her latest role and her career.
Aeon Flux is actually the name of the character Theron plays in the movie. When government agents murder her family, Flux, a highly trained soldier on the front lines of a war against the perfect society, swear revenge. The movie is based upon characters created by Peter Chung in the pioneering MTV animated series.
"I'm part of kind of a rebellious group who are a few people who kind of ask bigger questions," Theron told co-anchor Harry Smith. "It has become kind of this lockdown. Seems like really the greatest place on earth. But deep down inside, I think a lot of people are asking, 'What's really going on?' (Aeon Flux) is part of this group... She's an assassin (assigned) to kill the leader."
This is the first role Theron took after her Oscar-winning performance in "Monster." (She also recently starred in "North Country.")
Other actresses starring in "Aeon Flux" are Sophie Okonedo, who plays Sithandra, Aeon's protégé, and Frances McDormand as The Handler, Aeon's commander in the Monican rebellion.
Theron liked the idea of playing Aeon Flux because of the kind of character she is, but also added, "I would be completely lost without wardrobe and makeup and hair and just walking onto a set. I think all of those elements are what kind of helps you transform and become. And, you know, it gets harder the longer I'm in the business, because you become more recognizable. And I don't want people to go and watch a film and watch Charlize Theron."
For her role as Aeon Flux, Theron trained for almost four months before the movie even started production. She had gained more than 30 pounds for her role in "Monster." She combined gymnastics, trampoline, acrobatic work and dance with elements of karate, judo, Capoiera and Krav Maga, the Israeli fighting style. She trained with Cirque du Soleil gymnast Terry Bartlett, who guided her through the acrobatic, trampoline and wire work. Mika Saito was on hand to help with strength training and other stunt work.
At the end of August 2004, however, she was injured while shooting "Aeon Flux" in Germany, and production had to be postponed for several weeks.
Theron, who was born in South Africa on Aug. 7, 1975, has become known for the diversity of the roles she has played. Here are a few of them:
The marriage-minded girlfriend of a drummer (Tom Everett Scott) in Tom Hanks' directorial debut, "That Thing You Do!" (1996)
A waitress who catches Jeff Daniels' eye in Jonathan Lynn's "Trial and Error" (1997)
Keanu Reeves' brunette wife in Taylor Hackford's thriller "The Devil's Advocate" (1997)
The oversexed supermodel in "Celebrity" (1998)
Candy, a young woman tempted by another man while her soldier boyfriend is away at war, in "The Cider House Rules" (1999)
Convicted murderer Aileen Wuornos, one of America's first known female serial killers, in writer-director Patty Jenkins' "Monster" (2003). The actress received the Academy Award for Best Actress and took home the year's Golden Globe for Best Actress in a Drama, as well as the Independent Spirit Award and Screen Actors Guild Award.

She also played Britt Ekland opposite Geoffrey Rush in HBO's "The Life and Death of Peter Sellers."

"Aeon Flux" is being released by Paramount Pictures, which is owned by the same parent company as CBS.

Thanks for reading CBS NEWS.
Create your free account or log in
for more features.