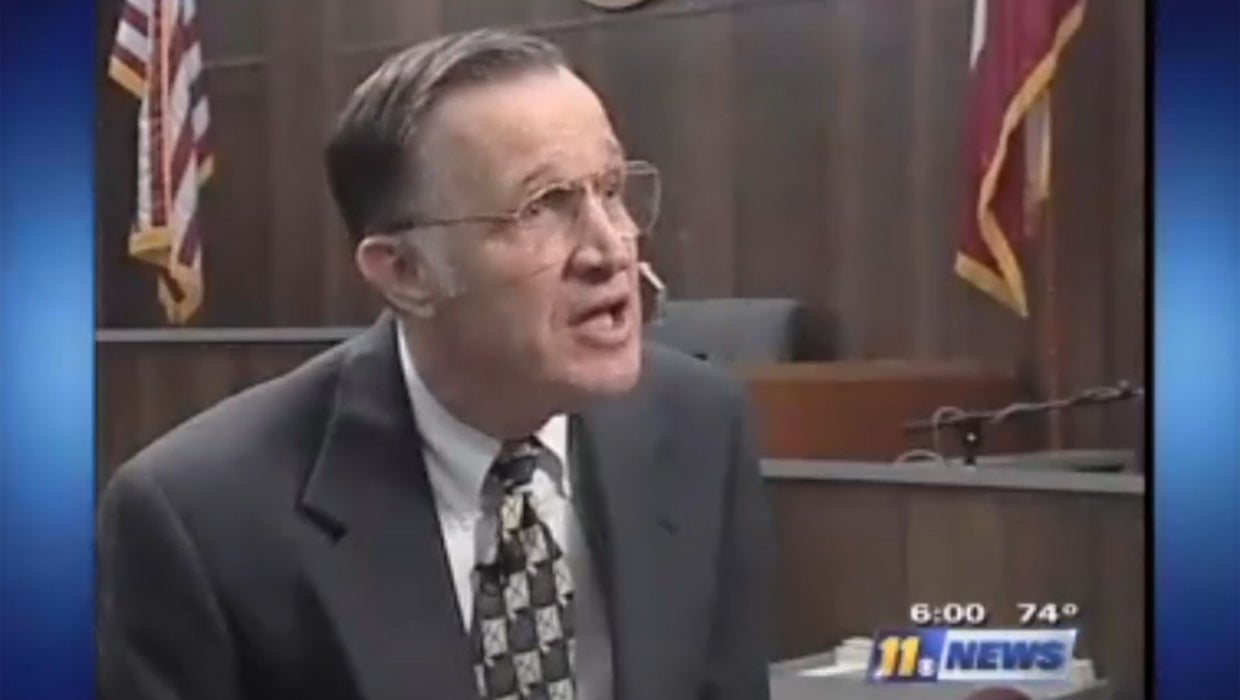 DA disbarred for sending Texas man to death row
HOUSTON -- A former Texas prosecutor has been stripped of his law license after a panel of the State Bar determined he withheld evidence and used false testimony to win a capital murder conviction against Anthony Graves, a now-exonerated death row inmate.
WATCH: 48 Hours: Grave Injustice
A three-member evidentiary panel Thursday ordered the disbarment of Charles Sebesta, who spent 25 years as district attorney in Burleson and Washington counties, after finding he committed professional misconduct in his prosecution of Graves.
Graves was convicted and sent to Texas death row for the 1992 slayings of six people. A federal appeals court reversed his conviction in 2006. He was released from prison four years later, after serving a dozen years on death row, when a special prosecutor determined he should be freed and declared innocent.
"It takes great courage to say a prosecutor was so clearly acting against the rules of fair play that he should be stripped of his law license," Graves said Friday in a statement released by his lawyers. "But the panel did just that, and I appreciate it.
"I have waited 20-plus years for complete justice and freedom. ... No one who makes it a goal to send a man to death row without evidence - and worse, while hiding evidence of my innocence - deserves to be a lawyer in Texas."
"48 Hours" investigated the Graves case in its Emmy-winning broadcast, "Grave Injustice." Graves has credited the broadcast with getting the state of Texas to pay $1.4 million in compensation.
Sebesta left office in 2000 after 25 years as prosecutor in the two counties about 100 miles northwest of Houston. He did not immediately respond to telephone messages Friday from The Associated Press. His State Bar profile lists him as retired.
He has said he continues to believe Graves is guilty and has posted extensively about the case on his personal website.
Texas has achieved notoriety as the nation's most active death penalty state and prosecutors rarely have been punished for wrongdoing. Sebesta's disbarment comes about 18 months after another former district attorney, Ken Anderson, served four days in jail and forfeited his law license for the wrongful murder prosecution of a Central Texas man, Michael Morton.
Morton served nearly 25 years of a life prison term for the 1986 slaying of his wife but was freed after a special court of inquiry determined Anderson intentionally concealed evidence favorable to Morton's defense.
READ: Wrongfully convicted Texas man gives back to woman who helped set him free
In Graves' case, another man, Robert Earl Carter, also received a death sentence for the killings and had testified that Graves was his accomplice. Carter subsequently recanted that testimony, including in the moments just before he was executed 15 years ago.
When a federal appeals court reversed Graves' conviction, it found Sebesta withheld that Carter told a grand jury that he committed the murders alone, and then allowed Carter and another witness to give false testimony.
Graves, in January 2014, filed a grievance with the State Bar. A year ago the organization's Office of Disciplinary Counsel found "just cause" to believe Sebesta had violated ethics rules, leading to a four-day disciplinary hearing last month. Sebesta invoked his right under State Bar rules to keep those proceedings private.
Besides his 12 years on death row, Graves spent two years awaiting his first trial, then another four in jail awaiting a second trial.
"The ordeal experienced by Mr. Graves is almost unimaginable," his attorneys, Kathryn Kase, Neal Manne and Charles Eskridge III, said in a statement Friday. "We are humbled and inspired by the grace and character he has shown throughout - including when he shook Mr. Sebesta's hand after the hearing ended and wished him well."
Graves and Carter were convicted separately of the murders of Bobbie Davis, 45; Nicole Davis, 16; Denitra Davis, 9; Brittany Davis, 6; Lea 'Erin Davis, 5; and Carter's 4-year-old son, Jason Davis. Court records showed Carter was upset that one of Davis' daughters had named him in a paternity suit, a step toward seeking child support.
The six victims had been stabbed or shot, or both, and were discovered by firefighters responding to a blaze at a home in Somerville, about 80 miles northwest of Houston, in the early morning hours of Aug. 18, 1992. Evidence showed their killer tried to burn the bodies to hide the deaths.
Thanks for reading CBS NEWS.
Create your free account or log in
for more features.