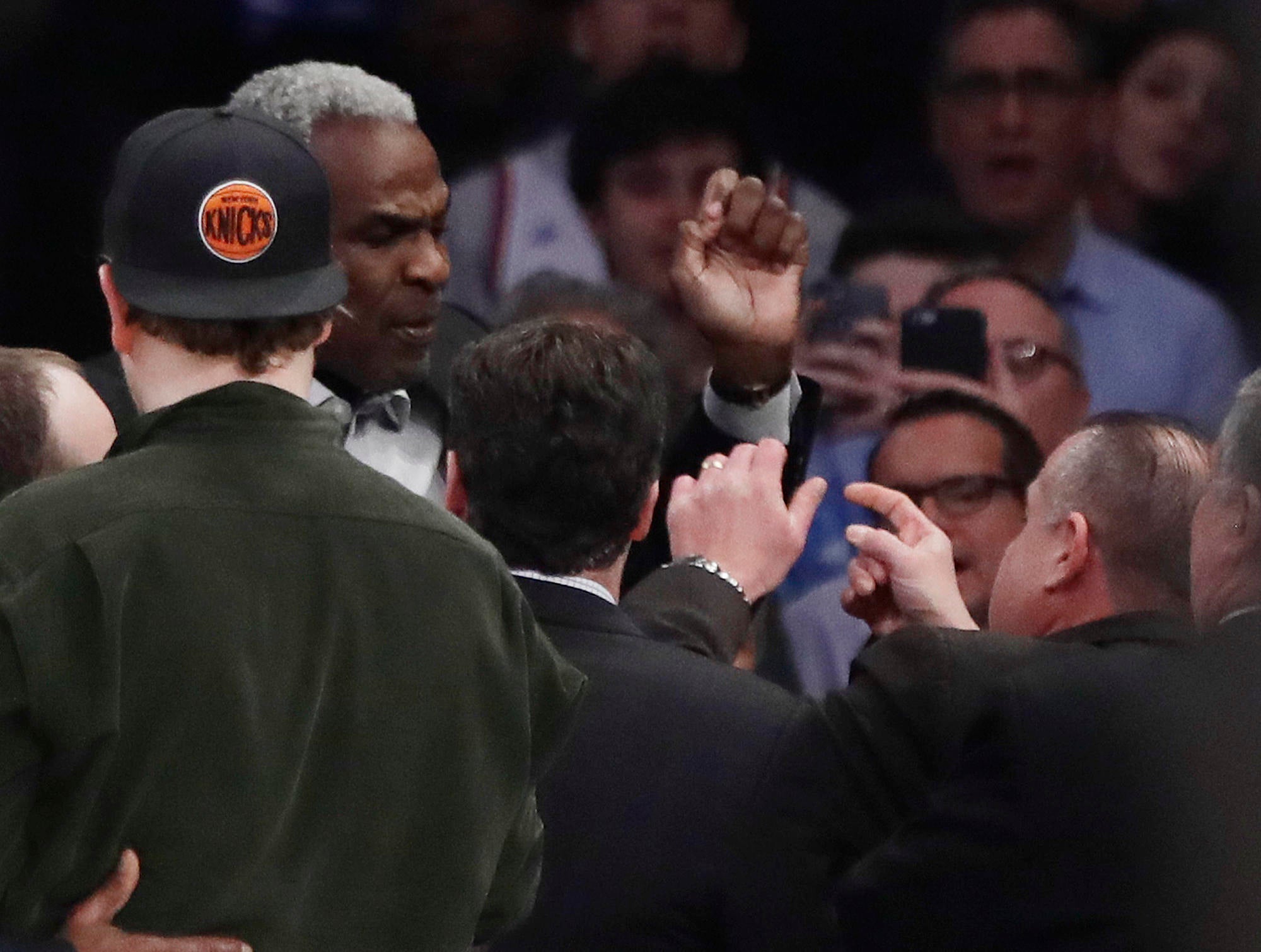 Former Knicks star Charles Oakley arrested after altercation at game
NEW YORK -- Former Knicks star Charles Oakley was escorted from his seats at Madison Square Garden and arrested after an altercation near team owner James Dolan.
Oakley got into an argument with a fan at courtside, and was confronted by Madison Square Garden security, CBS Sports reports. He eventually shoved a member of security, was forcibly kicked out of MSG, and then later placed in handcuffs and was arrested.
Fans chanted, "Oakley! Oakley!" in support of the popular power forward.
Oakley has been charged with three counts of assault and one count of trespassing, CBS New York reports.
Sources tell CBS New York that Oakley purchased tickets to Wednesday's game and was seat behind Knicks owner Dolan, and made comments to Dolan. Dolan alerted security and Oakley was asked to leave.
Sources said the former fan favorite refused to leave, and instead hit one employee in the face with a closed fist, causing swelling to the face. Two other employee received minor cuts to their hands while attempting to remove Oakley. All three refused medical attention.
"Charles Oakley came to the game tonight and behaved in a highly inappropriate and completely abusive manner," the Knicks wrote in a statement on Twitter. "He has been ejected and is currently being arrested by the New York City Police Department. He was a great Knick and we hope he gets some help soon."
The altercation took place just a few rows behind the court during a stoppage in play, and players from both teams turned to watch.
Oakley was handcuffed near an arena exit as he waited for police to arrive.
Clippers coach Doc Rivers, who played with Oakley in New York, said the scene was "sad."
"That was tough for me to watch," Rivers added. "Honest to God, if you could see, I took three steps. I swear I was going to run down there and then I thought, 'What the hell am I going to do?' But I didn't like that. That's my guy. So that was tough to watch from where I was standing."
Security was called to Oakley's seat after he was shouting at Dolan, sitting not far ahead in his usual seat in the first row behind the baseline. Oakley shoved one security official in the face, though neither he nor any other arena staff threw any punches or pushed Oakley back, as players and tennis great John McEnroe looked on from his nearby seat.
"I stopped and then there was an inbounds play on the side. I turned around just in time as he was handing it to him and then there was a foul. I walked back to catch the third, fourth and fifth rounds," Clippers forward Blake Griffin said. "It was crazy, man."
The 53-year-old Oakley played for the Knicks from 1988-98, helping them reach the NBA Finals, but has a poor relationship with the team because of his criticisms of Dolan, the Madison Square Garden chairman.
The 6-foot-8 Oakley was a rugged enforcer playing alongside Patrick Ewing on the Knicks teams of the 1990s and has kept his tough-guy persona long after retirement, trading barbs with former rival Charles Barkley recently.
Thanks for reading CBS NEWS.
Create your free account or log in
for more features.