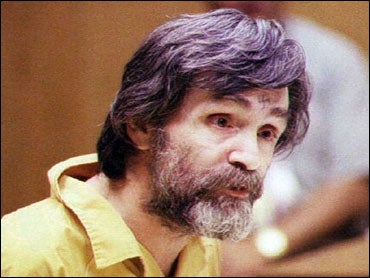 Charles Manson Denied 10th Parole Bid
Charles Manson, one of America's most notorious mass murderers, was denied parole Wednesday for the 10th time at a hearing before a prison board at Corcoran State Prison in California where he has been jailed for masterminding a bloody 1969 rampage, prison officials said.
His next chance for parole is in the year 2007, said Lt. Johnny Castro, a spokesman at the Corcoran State Prison where Manson is being held about 150 miles north of Los Angeles.
Castro said Manson, 67, who is currently being held in solitary confinement to keep him away from the general prison population, was refused parole because he has had 17 "serious" infractions on his record since his last parole hearing five years ago, including "possession of a (blunt object) weapon and threatening to hurt or kill peace officers."
Manson was also charged, in 1997, of arson for trying to set his mattress on fire, Castro said.
Prior to the hearing, which Manson refused to attend, Los Angeles Assistant District Attorney Stephen Kay said Manson has been a "terrible prisoner" in recent years, and that his record shows multiple incidents in which he hit, spit at, or threw coffee on prison guards and other employees.
"He's really not much different than he was in 1969 or 1970," Kay said.
Kay said the good news was that finding Manson unsuitable for parole was a simple task. The bad news was that Manson had done nothing to rehabilitate himself through education or self-help.
"Mr. Manson has literally thumbed his nose at the recommendations given by this board," Kay said. "He knows he's never going to get paroled and he's just not going to go along with the program."
Manson was originally sentenced to die in the gas chamber for masterminding the 1969 killings of Hollywood actress Sharon Tate -- the pregnant wife of film director Roman Polanski -- and six other people, including wealthy story owners Leno and Rosemary La Bianca.
The head of the so-called "Manson family" was convicted of ordering his followers to carry out the murders during a two-day rampage in the Los Angeles area. Manson hoped the slayings would ignite a race war that he thought was foreshadowed in the Beatles' song "Helter Skelter."
His sentence, and those of other Death Row inmates, was later reduced to life in prison when the state Supreme Court declared the death penalty unconstitutional. California later restored capital punishment.
Manson never asked for the hearing. One is automatically scheduled every three to five years. He failed to file any of the papers requested by the board and said he didn't want to be represented by a state-appointed lawyer.
The graying guru to the drugged-out disciples has vacillated between remaining behind bars and seeking liberation. In 1982, he said he wouldn't know what to do if paroled. Five years later he said he would spark a revolution if released.
In his previous appearances, Manson has said he wanted to live among snakes and spiders in the desert and be a "force of darkness" tormenting the world.
In 1997 Manson was denied parole for the ninth time. Prison officials said that for years he has been in and out of solitary confinement, commonly referred to by inmates as "the hole."
On Wednesday, Castro said, Manson steadfastly refused guards' persistent requests for him to attend his hearing saying he did not want to wear the required handcuffs. "He refused to be handcuffed and stated that if he could not go with his hands free that he would not attend," Castro said.
"They asked him to attend up until the last minute (and) he refused."
Sharon Tate's sister, Debra Tate, was present Wednesday, the first time a Tate family member has attended a parole hearing for Manson. She said she is concerned that with Manson aging, she may not have the chance again. She said she was disappointed Manson was not there.
"I would like to give him a piece of my mind," Tate said. "I would like to look in his eyes and see what I see - any conviction of heart and soul."
Thanks for reading CBS NEWS.
Create your free account or log in
for more features.