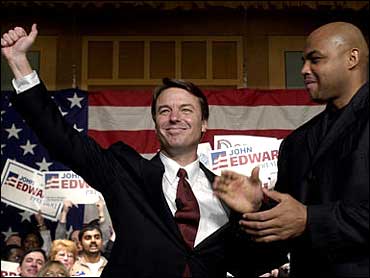 Charles Barkley Eyes Run For Governor
Former basketball star Charles Barkley says he's switched political teams from Republican to Democrat and is again talking about running for governor in his home state, possibly in 2010.
"I really believe I was put on Earth to do more than play basketball and stockpile money," said Barkley, who started his career with the Philadelphia 76ers. "I really want to help people improve their lives, and what's left is for me to decide how best to do that."
Barkley, a Leeds native who has been an NBA analyst with cable network TNT since his 2000 retirement, has been talking about running for governor of Alabama since he was playing with the Phoenix Suns in the 1990s. In 1995, he said he was considering running in 1998 as a Republican, but that never materialized.
Barkley continued to identify himself as a Republican until recently, when he switched parties. "I was a Republican until they lost their minds," he said earlier this month.
Barkley said his immediate goal is to get his 17-year-old daughter through high school and into college. Then he plans to decide on his future, including whether to run for governor.
"I say welcome Charles Barkley. Charles Barkley has been a Horatio Alger story for many people, not only in sports but in business and broadcasting," Joe Turnham, Alabama's Democratic Party chairman, said Wednesday.
But Jim Seroka, a political science professor at Auburn University, said the former Auburn basketball star is getting ahead of himself. "He doesn't have any of the bases necessary to run a statewide campaign," Seroka said.
The head of the state GOP said she has no idea whether Barkley is serious when talking about a future race for governor as a Democrat. "To be governor requires more than a publicity stunt. It requires real leadership," said Twinkle Andress Cavanaugh.
Barkley is eyeing a job that has had more than its share of scandal, with criminal convictions against two of the last four people elected to the office. Former Gov. Don Siegelman was convicted of government corruption charges last month, and Guy Hunt was forced to step down as governor in 1993 when he was convicted of an ethics violation.
Thanks for reading CBS NEWS.
Create your free account or log in
for more features.