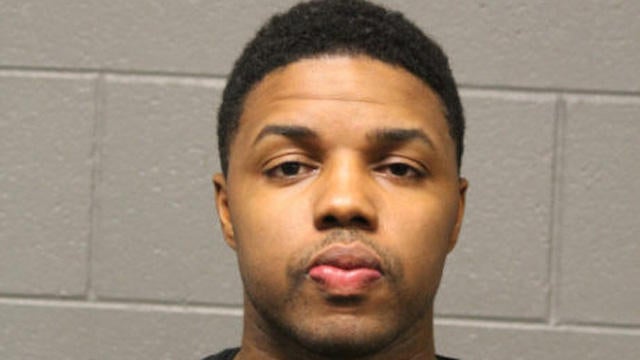 Chad Robertson case: Amtrak officer charged with murder in unarmed man's shooting
CHICAGO -- An Amtrak police officer charged in the shooting death of an unarmed Minneapolis man outside Chicago's Union Station was ordered held on $250,000 bail Friday.
LaRoyce Tankson, 31, is charged in the Feb. 8 shooting of 25-year-old Chad Robertson, who died Wednesday, the Cook County state's attorney's office said.
Robertson was taking a bus from Memphis, Tennessee, to Minneapolis and was on a stopover in Chicago when the shooting occurred. Robertson and two friends went to Union Station to stay warm while they waited for their onward bus. But two officers confronted them, so the three friends got up to leave, according to Robertson's sister, Nina Robertson.
"He was just trying to come home," his girlfriend Arterria Lipsey told CBS Chicago, crying. "He was just trying to come home."
The officers confronted them again outside the station and accused one of them of smoking marijuana. An officer searched the men and when he put his hands in Robertson's pockets, he ran, the sister said. That's when one of the officers opened fire. Chicago police say they found cash and narcotics on Robertson, but no weapon.
Tankson's attorney, Will Fahy, said Friday that Tankson saw Robertson turn and reach for what the officer thought was a gun. Fahy said Tankson "reasonably believed he was about to be shot." Fahy said Tankson is a father of three and is married to a firefighter.
Robertson was black, as is the officer.
Robertson's family said outside court Friday that they were upset with the bail amount set by the Cook County judge.
"It should have been millions," Robertson's father, Leroy Taylor, said.
Douglas Hopson, Robertson's family attorney, on Tuesday filed a federal lawsuit against the then-unknown officer and Amtrak seeking compensatory and punitive damages for the shooting.
The attorney said Robertson had no criminal record, and was carrying an "insignificant amount" of marijuana, but was not armed, CBS Chicago reports.
"They go to the Amtrak station and immediately they are insulted, talk to disrespectfully by one police officer," Hopson said.
The lawsuit described Tankson and another officer as disrespectful and aggressive and said they used profanity. Robertson "feared for his life," according to the lawsuit.
Amtrak officials said they are cooperating with Chicago police and prosecutors but that they can't comment further. Amtrak has put the officers involved on administrative assignment.
Civil rights activist Mel Reeves said the charges filed against the officer indicate "something went wrong severely that night. That clearly (the officer) had no reason to shoot Chad Robertson."
Thanks for reading CBS NEWS.
Create your free account or log in
for more features.