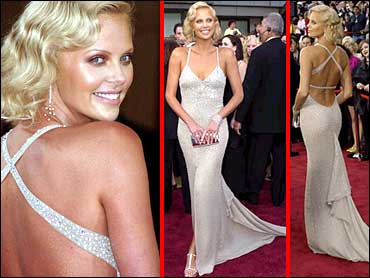 Celebs: Best And Worst Dressed
Even with stylists, not all celebrities look fantastic all the time. The special issue of People magazine's Best and Worst Dressed hits newsstands on Friday. The Early Show gets a sneak preview.
"We look at lots and lots of pictures throughout the year and separate them in different piles," the magazine's Zorianna Kit tells co-anchors Hannah Storm and Julie Chen. "There are some who look good and will make the list, but there are those on the iffy side and those who are always in a disastrous outfit. You're waiting for them to show up in some sort of God-knows-what type of frock."
The following are five of the magazine's 20 categories:
Just Stunning - Women who manage to hit the right note at every red-carpet event. The editors selected Charlize Theron as the star who looks amazing at every event.
"She is the epitome of sophistication and glamour," Kit says. "She is such a classic beauty that no matter what color she wears or hair style or makeup style, she always looks beautiful."
They call her the "queen of the red carpet."
Nicole Kidman and Naomi Watts, two Australian actresses, also, according to Kit, look "fabulous, clearly know what they want."
About Kidman, she notes, "She is a trend-setter. You never know what she is going to show up in. She definitely is at the forefront of fashion. She favors high fashion. Her look is very well thought out. And it's complete from head-to-toe."
30 Going on 13 – This category includes celebrities trying too hard to dress young, such as Mariah Carey, Jewel, Chloe Sevigny, and Tracee Ellis Ross - all wearing too-short skirts.
Kits says Carey hs been wearing the baby-doll dresses that are not age appropriate. "There is a difference between looking youthful and looking childish and she looks gorgeous in her gowns, but at 35 years old, she should retire that outfit. It definitely is past its prime," Kit says.
Self-Tan Rage 3 -There were lots of trends this past year in fashion and beauty and one of the biggest was the faux glow. However Kit notes, "You don't want to go overboard. Self-tanners are great; you're not exposing your skin to the harmful sun rays but sometimes it turns out orange and it doesn't look so natural."
Charlize Theron and Jessica Simpson are examples of ending up looking a bit orange.
Sister Acts Everywhere you turned there was a pair of famous sisters making the news: the Hiltons, the Williams, the Simpsons, the Olsens, the Bushes, the Kerrys, the Duffs, and on and on!
Sisters often came to red carpet events either mirroring each other or trying hard to show their individual style.

The Bush girls: "They are cute and dress like college girls. Flirty," says Kit.
The Kerry girls: "They are a bit more sophisticated than the Bush girls; they dress older," notes Kit.
The Williams sisters: Serena is much more of a risk taker with her clothes.

Perfect Match In this category are the traditional Hollywood power couples, like:

Will Smith and Jada Pinkett. "They're always young and hip, even though they have a brood of kids at home. Their style reflects a playfulness about themselves. They always look great and like they're having a lot of fun with each other," Kit says.
Jessica and Nick. Kit says, "She is the dressed-up Barbie doll. Nick is low-key and very understated and clearly lets her have the spotlight."
Brad Pitt and Jennifer Aniston. "They have a great sense of style," Kit says. "Their key phrase I would describe is minimalist, less is more. They're always toned down but never, ever boring."

Asked if there are people who just want to show up in an outrageous outfit so that they're talked about and make headlines, Kit says, "There are those celebrities who relish in their bad style and, clearly, laugh at themselves and have fun with their poor taste, whether or not it's planned or innate. Then there are those who love to experiment with clothes. They have stylists who help them. Sometimes, the look works and sometimes it doesn't, and that's why they can, in one year, make the best- and worst-dressed list, depending on the outfit."

Thanks for reading CBS NEWS.
Create your free account or log in
for more features.