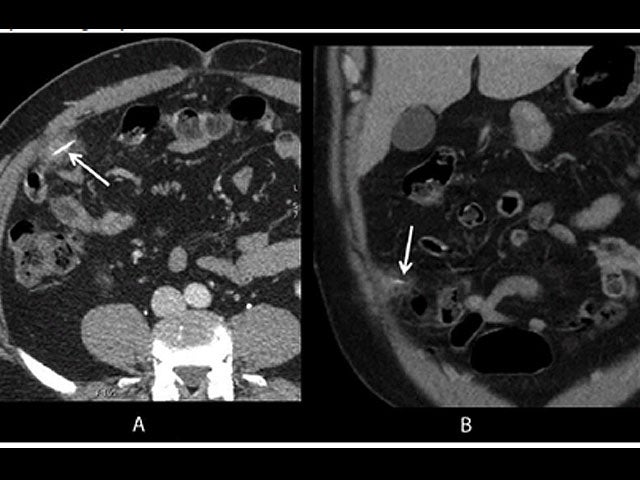 CDC warns of injuries from inadvertently swallowing grill-cleaning brush bristles
(CBS News) The Centers for Disease Control and Prevention is warning of a potential health risk from grilling Americans may face this summer. But the government health agency isn't warning about fatty barbecue food or risks from fire: The danger lies in wayward bristles from brushes used to clean grills.
Pictures: 22 most shocking medical scans
The CDC is urging emergency rooms around the country to be on the lookout for internal injuries that may be caused by accidental ingestion of wire grill-cleaning brush bristles. In the July 6 issue of its journal, Morbidity and Mortality Weekly Report, the CDC describes six cases that occurred at a Providence, R.I., hospital which occurred between March 2011 and June 2012.
The injuries ranged in severity from a puncture in the neck tissue that caused pain while swallowing to a perforations in the gastrointestinal tract that required emergency surgery.
The six patients were between the ages of 31 and 64, and five of them were men.
One of the cases described in the report is of a 50-year-old man who went to the emergency room with abdominal pain after eating steak at a barbecue. A CT scan of the man's abdomen revealed a linear object poking through the wall of his small intestine (picture above). Doctors removed the bristle with a laparotomy - a large incision in the abdomen for exploratory surgery - and he recovered fully and left the hospital the following day.
The other five patients visited after this incident, the CDC said, and in all cases the bristles were identified by X-rays of the neck or CT scans of the abdomen. Three of the patients experienced severe pain while swallowing, and the other two reported abdominal pain. In one patient, the wire bristle punctured a portion of the sigmoid colon (portion of large intestine near rectum) and even indented the bladder.

Patient interviews revealed they had all been grilling meat prior to the accidental ingestion. Once the bristles were removed, the patients recovered.

The CDC warns doctors that the bristles are small and can be tough to see on X-rays and scans, so greater awareness of such injuries among emergency room physicians, internists and radiologists might help improved diagnoses.
These latest cases aren't the first reports however: The team of Rhode Island emergency room doctors previously reported six cases from July 2009 through November 2010 that were reported in the April issue of the American Journal of Roentgenology.

The CDC didn't have information on the types or brands of grill-cleaning brushes, and as such won't make safety recommendations about which type of brush may reduce risk.
Dr. Robert Glatter, an emergency medicine physician at Lenox Hill Hospital in New York City, told HealthPop in an email that the risk of ingesting a stray wire from a grill brush is likely small, but still possible
"It is important to carefully inspect the grill surface for any remaining wire bristles that may have separated from the grill brush and could penetrate into the grilled food prior to grilling," Glatter said. He recommends using a moist cloth or paper towel to clean the grill surface before cooking as an alternative to wire brushes.

While Americans should be aware of this risk, as the Harvard Medical School's health blog points out, you're much more likely to get sick from eating undercooked meat or from food poisoning.

The U.S. Department of Agriculture advises summertime barbecue attendees to wash their hands thoroughly before and after handling food, to make sure raw meats are separated from vegetables and other cooked foods, to keep a grill thermometer handy to make sure your meat is a safe temperature, and to not leave food out more than two hours - bacteria can thrive in those conditions.

Research has also linked grilling meats at high heats to forming HCA and PAH carcinogens. .

Thanks for reading CBS NEWS.
Create your free account or log in
for more features.