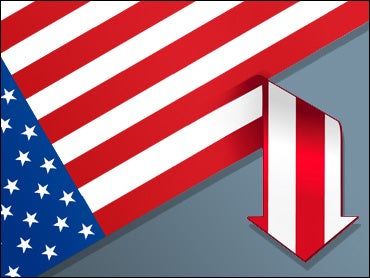 CBS Poll: 81% Say U.S. On Wrong Track
Americans' views on the economy and the general state of the country have hit an all-time low in the history of the CBS News/New York Times poll. Eighty-one percent of those polled say the country is on the wrong track, while only 14 percent believe it is heading in the right direction.
Asked to compare the state of the country to how it was five years ago, 78 percent say things are worse today - the highest percentage since CBS News began asking the question in 1986. Only four percent say things are better now.
---

Complete CBS News Polls:
The Economy And State Of The Country
Campaign '08 And Economy
Race Relations In America

---
The outlook on the economy is as bleak as views on the state of the country as a whole. Just 21 percent say the economy is in good shape - the lowest percentage recorded since October of 1992. That number is down from January of this year, when 38 percent said the economy was in good shape.

Federal Reserve Chairman Ben Bernanke said on Wednesday that a recession is possible, but 66 percent of those polled say the country is already in a recession - a number that is unchanged from two weeks ago.

In light of those views, it is no surprise that the economy and jobs remains the top concern for Americans - 37 percent of whom name it as such - while the war in Iraq is the top concern for 15 percent of those polled.

As which economic problem facing the country is most important, 21 percent say it is gas and oil prices, while 14 percent named housing and the home mortgage crises. Eleven percent say the most important economic problem is jobs.

Despite rampant worries about the economy and concerns about the home mortgage crisis, Americans are relatively satisfied with their own financial status. Seventy-two percent rate their financial situation as at least somewhat good. But this number is down six points from February, and only nine percent of Americans say their financial situation is very good, which is down nine points in the last few weeks.

Most Americans admit that the state of the economy has taken a personal toll. Seventy-nine percent say they have had to make cutbacks in their daily spending in recent years, although only 28 percent say those cutbacks have been severe.

Although seven in ten Americans say the economy is getting worse, they are cautiously optimistic about its long-term future. Nearly half of Americans with families say they believe their children's standard of living will be better than their own. Twenty eight percent say they believe it will decline and 24 percent think it will be about the same as their own. Sixty-two percent of Americans think their standard of living is better than that of their parents when they were the same age.

Americans' negative views on the economy are taking a toll on evaluations of how President Bush is handling the issue. Only 21 percent of Americans now approve of the president's handling of the economy - his lowest rating to date. Mr. Bush's overall job approval rating stands at 28 percent.

The Campaign

The Democratic presidential race continues to be tight nationally, with Barack Obama maintaining a narrow lead. Among Democratic primary voters who have already participated in a Democratic primary held this year, or still plan to, Obama leads Hillary Clinton 46 percent to 43 percent. Those numbers are unchanged from a month ago.

Expectations that Obama will become the nominee have grown in the last two weeks, with 69 percent of Democratic voters now saying they expect him to defeat Clinton - up from 55 percent in mid-March.

Democratic primary voters view Obama as the more electable candidate. Fifty-six percent think he is better positioned to beat John McCain in November, while only 32 percent think Clinton is.Both Democrats are polling ahead of McCain in potential general election match-ups. Obama leads McCain 47 percent to 42 percent, while Clinton fares equally well, leading 48 percent to 43 percent if the election were held today.

All three presidential candidates are seen as sharing the values that Americans try to live by, and none more so than Obama, who leads all three candidates by this measure. Seventy percent say Obama shares Americans' values, 60 percent say Clinton does and 66 percent say the same for McCain.

On the broader issue of national unity, Obama is the only candidate seen by a majority of voters (59 percent) as someone who would unite the country. By comparison, 51 percent say that Hillary Clinton would not be able to do so, while voters are divided on whether McCain would succeed in unifying the country.

Race Relations And Politics

Forty years after the assassination of Reverend Martin Luther King, Jr., Americans have a more positive view of race relations than they did nearly two decades ago. A majority (55 percent) of Americans think race relations in the U.S. are generally good now, while 36 percent think they are bad.

Views of race relations in this poll reached a low point in 1992, just after riots erupted in Los Angeles after the acquittal of police officers accused of beating Rodney King. But there continues to be a racial divide, with African-Americans holding more negative views about the state of race relations than whites do. Just 42 percent of blacks think race relations are generally good now, while 46 percent think they are bad.

Black perceptions of race relations have improved since 2000, while the perceptions of whites are unchanged since then. The presence of a viable African-American candidate may have helped improve black perceptions, but voters are not in agreement as to whether Obama's campaign has brought blacks and whites together. Thirty percent think his campaign has done so, but 22 percent think it has pushed blacks and whites further apart.

In comparison, few voters think Clinton's campaign has brought blacks and whites together, and 20 percent think it has pushed the two races further apart. Those who think her campaign has pushed the races apart tend to be Obama supporters.

Looking ahead to the fall, voters don't expect either Clinton or McCain to have much impact on race relations if either were elected president. However, voters do think Barack Obama would have an impact, with 34 percent predicting he would make race relations better. But one in five thinks his impact would be negative.

Most voters have heard or read about the controversy surrounding statements made by Obama's pastor Jeremiah Wright, and most have also heard or read about Obama's speech on race relations.

While the impact of the Wright issue on views of Obama is negative, the impact of Obama's speech on race is positive and has perhaps offset some of the negative impact of the Wright issue. Thirty-six percent say that Wright's statements have caused them to have a less favorable view of Obama while 62 percent say they have made no difference.

It is primarily white voters whose views of Obama have become more negative as a result of Wright's statements, though 58 percent of whites say the statements did not affect their views. Most blacks say they had no effect on their opinion of the candidate.

By two to one, voters say Obama's speech on race in America has made their view of him more favorable rather than less favorable. Both black and white voters responded more favorably than unfavorably to Obama's speech on race, although most said the speech had no impact on their views of Obama.
Thanks for reading CBS NEWS.
Create your free account or log in
for more features.