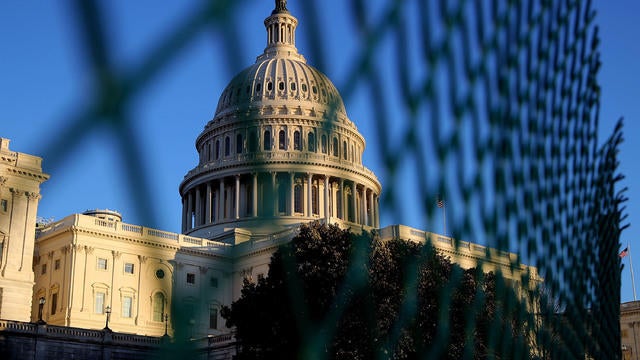 CBS News Battleground Tracker: Arizona, Florida, Texas - immigration and key Senate races
By Anthony Salvanto, Jennifer De Pinto, Kabir Khanna and Fred Backus
The latest CBS News Battleground Tracker dives into how the issue of immigration and the separation of families at the border is playing in the key states of Arizona, Texas and Florida. Each features a hot Senate race this fall.
Most voters are unhappy with the way immigration policy is being handled in these states (both Democrats and Republicans say this). A majority of voters care at least some about the issue of parents and children being separated at the border, and most disapprove of families being separated, but for many, it won't change how they intend to vote in the midterms this fall.
As a midterm election issue, for about half of voters in Arizona, Florida and Texas they say the matter of separating parents and children at the border will not change the way they're thinking of voting this November. On balance, more say the issue will make them more likely to consider voting Democratic this year than Republican, but it's largely Democrats who say that. Almost no partisans say they will consider voting for the opposing party because of this issue.
The broader issue of immigration is important to voters, however. More than three-quarters of voters in each state say a candidate must agree with them on the issue in order to earn their vote.
Senate races: Arizona, Florida and Texas
With about five months to go until Election Day, this survey takes a look at where three hot Senate races stand: The Republican-held seats in Arizona and Texas and a Democratic seat in Florida. Arizona represents one of the best opportunities for the Democrats to pick up a Senate seat and the Democratic candidate currently leads there. The Republican has the advantage in Texas, and it's a close race in Florida where the Republican has an edge against the Democratic incumbent.
In Arizona, where Democrat Krysten Sinema leads each of her potential Republican opponents among likely voters, an August primary will determine who she'll face in November. She has a double-digit advantage against former Maricopa County Sheriff Joe Arpaio, but her lead narrows when she's matched up Congresswoman Martha McSally and Kelli Ward. Arpaio gets less support among Republicans (although still a majority) compared to either McSally or Ward. In each of these match-ups, Sinema is ahead with independents. Women are currently backing Sinema against all three potential opponents, while the races are closer among men, although she has the advantage with men against Arpaio. Sinema also leads with Hispanics.
In Texas' Senate race, incumbent Republican Ted Cruz has a 10-point lead over Democrat Beto O'Rourke among likely voters. Cruz benefits from strong support from his own party and has an advantage among independents as well. O'Rourke is supported by Democrats, leads with Hispanics and has an edge with women. Cruz performs well with whites and men.
Cruz also has an overall job approval rating of 54 percent in Texas among registered voters, a bit higher than President Trump's (50 percent) in the state.
On the matter of separating families specifically, both Cruz and O'Rourke get net positive ratings (largely driven by support from their own parties), although three in 10 voters do not have an opinion about O'Rourke on this, as he may be less known to voters than Cruz.
In Florida, Democratic Senator Bill Nelson is currently in a tough race against Republican challenger and current Governor Rick Scott. Scott has a five-point edge among Florida likely voters. Most Florida voters like the job Scott is doing as governor, he has a 61 percent approval rating among registered voters. In addition to strong support from his own party, most independents approve of the job he's doing (as do about a third of Democrats). Scott currently leads Nelson among independents. The two are effectively tied among Hispanics.
The race is bit closer between Nelson and Scott among the broader group of registered voters which includes voters who say they may not vote this November, more of whom are Democrats and independents than Republicans.
As for the Trump factor, two thirds of Republican voters in Arizona and Florida would like their next senator to be someone who tries to support President Trump as much he or she can, rather than a conservative who is independent of Trump.
More Democrats are looking for their senator to be someone who opposes Trump as much as he or she can (58 percent say that in Arizona and 46 percent in Florida), instead of a progressive who sometimes works with the president.
Views of Immigrants
Partisanship shapes views of those trying to come to the U.S. Most Republicans (about three in four in each of these states) say those attempting to enter the U.S. illegally should be punished as an example of America's toughness on illegal activity, while about eight in 10 Democrats feel they should be treated well as an example of America's kindness. Democrats also see the separation of families as an immoral, while Republicans don't see it as a moral issue.
Many voters place blame for the separation of families on the parents for trying to bring their children into the U.S. illegally. About half of voters believe parents are mostly to blame, a figure that rises to roughly eight in 10 among Republicans.
Some voters in these states feel immigrants from Mexico and Latin America have had an adverse effect on life (and the economy) in their states. At least four in 10 say immigrants from Mexico and Latin America have made life worse, compared to a lower 33% among voters nationwide Republicans (and many independents) are particularly likely to say immigrants from Mexico and Latin America have negatively impacted their state.
At the same time, majorities in these states feel things are going well when it comes to the availability of jobs and the chance to achieve the American Dream. At least seven in 10 say their local economy is in good shape. Donald Trump won here in 2016 and his approval rating among voters in these states (Florida 52 percent, Texas 50 percent and Arizona 47 percent) is generally higher than it is nationally.
---
The CBS News 2018 National Battleground Tracker was conducted by YouGov using a nationally representative sample of 2,063 U.S. adults between June 21-22, 2018. The margin of error (a 95% confidence interval) based upon the entire sample is approximately 2.6%. The poll in Texas interviewed a representative sample of 1,030 registered voters and was fielded between June 19–22, 2018. The margin of error is approximately 3.6%. The poll in Florida interviewed a representative sample of 1,002 registered voters and was fielded between June 19–22, 2018. The margin of error is approximately 3.5%. The poll in Arizona interviewed a representative sample 1,001 registered voters between June 19–22, 2018. The margin of error is approximately 3.7%.
Thanks for reading CBS NEWS.
Create your free account or log in
for more features.