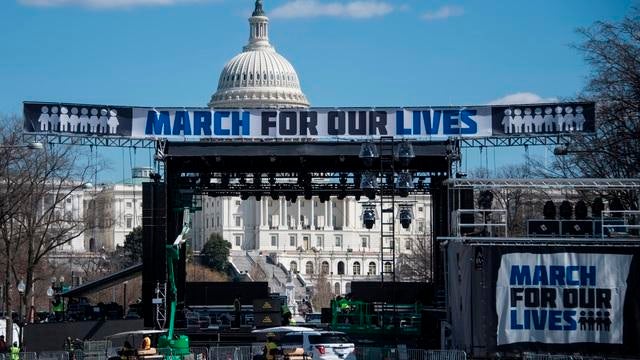 CBS Nation Tracker poll: More support than oppose young people speaking out about guns
By Anthony Salvanto, Jennifer De Pinto, Kabir Khanna and Fred Backus
By almost two-to-one, Americans are more supportive than opposed to the young people taking part in marches and speaking out on guns and safety.
Forty-seven percent support the young activists, compared to 27 percent who oppose them, though another one in four say it doesn't matter. Among those who share the goal of enacting stricter gun laws, this support rises to 66 percent.
Younger Americans, particularly those in the post-millennial generation, are more supportive of this movement than those who are older.
Younger people ages 18-29 (29 percent) are more likely than those over age 50 (18 percent) to say they'll participate in the March for Our Lives either in person or online.
Sixty-three percent of Americans favor stricter laws to cover sale of guns, and most of them think the recent student organizing and marches – including March for Our Lives– mark a turning point in the effort to enact stricter gun laws.
The CBS News survey is conducted by YouGov using a nationally representative sample of 2,206 U.S. residents interviewed online between March 19-21, 2018. The final sample included oversamples of 854 parents, as well as 433 adults aged 18-24, and 466 adults aged 25-29. This sample was weighted according to gender, age, race, education, and children under 18 at home based on the American Community Survey, conducted by the U.S. Bureau of the Census, as well as 2012 and 2016 Presidential vote. Respondents were selected from YouGov's opt-in panel to be representative of all U.S residents. The margin of error is 3.2%.
Thanks for reading CBS NEWS.
Create your free account or log in
for more features.