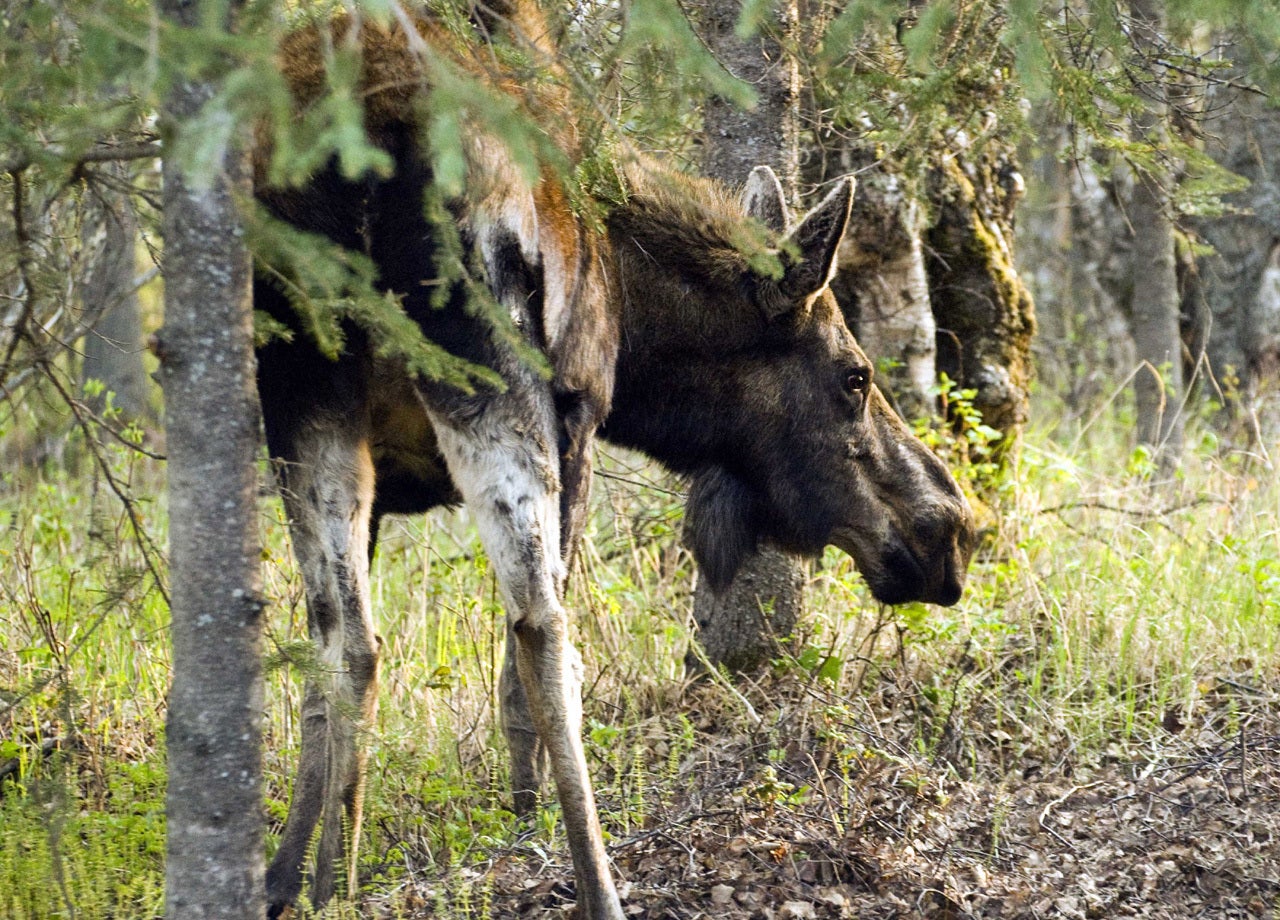 Caution warned after Alaska moose attacks
PALMER, Alaska — Caren della Cioppa remembers the thundering roar of hooves behind her, just before a cow moose slammed her to the ground as she cleared a trail on her Alaska property.
The massive animal — her newborn twin calves nowhere to be seen — pounced again, stomping on the fallen woman before tearing into the woods. Della Cioppa could barely breathe as she punched 911 on her cell phone.
State troopers had just arrived when the enraged moose stormed back, jumped over della Cioppa, and charged toward the two officers, who opened fire. The moose fell dead 20 feet from della Cioppa, who suffered a broken collar bone and ribs, a dislocated shoulder and a bruise shaped like a hoof on her forehead.
"I remember thinking I might not make it through this," she said Wednesday as she revisited the scene of the assault two days earlier in Palmer, about 40 miles north of Anchorage.
Della Cioppa, 65, was attacked five days after another cow moose struck an Anchorage girl on a bicycle. In March, a six-year-old boy was knocked unconscious by a moose, and a woman was kicked when she tried to pet the animal.
The attacks occurred at the height of moose birthing season, a dangerous time for anyone who veers too close to the aggressively protective mothers of calves primarily born within a two-week period in May.
Jessy Coltrane, an Anchorage-area state wildlife biologist, said moose are not predators and charge only when they feel threatened or their personal space is trespassed. But that distance that can vary widely from moose to moose, Coltrane said.
"The best practice around moose is to go away around a moose. Assume every moose is a serial killer standing in the middle of the trail with a loaded gun," said Coltrane, urging people to treat them with more respect.
All but della Cioppa's attack took place in Anchorage, Alaska's largest city and home to an estimated 1,500 moose, including a few hundred in the most populated part of the municipality, most of which is wilderness and mountainous terrain. Brown and black bears can also be found in some city parks and neighborhoods near the Chugach Mountains.
Coltrane said more people are injured by moose every year than bears in Anchorage. Surprisingly few people are killed, with rare exceptions that include a man who was stomped to death in 1995 by a cow protecting her calf at the University of Alaska Anchorage campus. Students had been harassing the moose before she attacked the man, who was near the cow and its calf.
The number of human and moose encounters is higher than usual this year, but encounters usually peak when calves are just born, Coltrane said. But no time is safe around the notoriously unpredictable animals, which are familiar sights all over Anchorage, in yards, trails or busy streets, authorities said.
In some of the attacks, as in the two recent ones, authorities were forced to kill the moose, leaving the calves orphaned. The twin calves in the incident involving the girl on the bike are being held at the Anchorage zoo, with plans to transfer them to the Columbus Zoo in Ohio, Coltrane said.
The calves of the moose that trampled della Cioppa are being cared for by the Alaska Moose Federation at Point McKenzie, across Knik Arm from Anchorage.
Gary Olson, the moose conservation group's executive director, said the calves have been calling for their mother with tiny squeaks and they are finally getting the hang of the milk replacement they're being fed. The goal is to release them back to the wild as early as August.
"They're taking to the bottles," Olson said. "They're in good shape."
Della Cioppa said she wants to visit the calves before she returns on Tuesday to Alaska's North Slope, where she works part-time as an aviation weather observer for the airport in the oil industry outpost of Deadhorse.
It would be her way of making peace with the loss of their mother.
"They're so cute," she said. "I want to see them so bad."
Thanks for reading CBS NEWS.
Create your free account or log in
for more features.