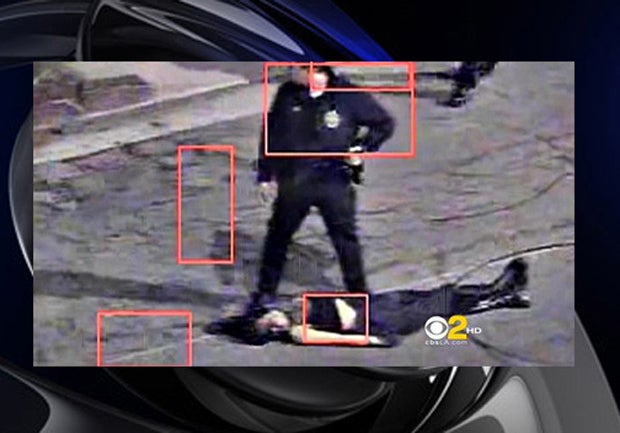 Caught on tape: Woman sues LAPD after falling out of moving patrol car
LOS ANGELES A 27-year-old woman is suing the L.A. Police Department for alleged negligence after she fell out of a moving patrol car in March.
The attorney for plaintiff Kim Nguyen showed CBS2/KCAL9 footage of the incident caught by surveillance cameras at the Federal Reserve Bank, located near Olympic Boulevard and Grand Avenue.
At approximately 3:08 a.m. March 17, the video shows Nguyen on the ground, her dress around her waist, after she fell out of the car.
The university student was in a medically-induced coma for six days.
"I woke up with my mouth wired shut, I had bruises all over the inside of my leg," Nguyen said.
The night it all happened Nguyen said she went out with friends to dinner, then a club near Staples Center, before calling a designated driver to pick them up.
While waiting for the designated driver, police approached her to make sure she was okay, then left and moments later approached her again.
"Almost automatically they put me in two handcuffs and took me into custody," Nguyen said.
Her attorney says she was arrested for public intoxication.
"LAPD states patient was in custody and, as they accelerated from a stop, they heard the door open. Patient presumably jumped/fell out of moving squad car at approximately 10 mph," according to a report filed by the City of Los Angeles Fire Department Ambulance Services.
But Nguyen's attorney Arnoldo Casillas says the surveillance video shows the patrol car wasn't stopped and was driving through a green light at a faster speed.
"We know their version is a lie," Casillas said.
The lawyer says the video doesn't explain how Nguyen, handcuffed behind her back, could have opened the door or why the door, which he says should have had internal and external locks, would be unlocked in the first place.
It's also unclear whether one of the two officers was in the back of the patrol car when Nguyen fell out.
For now, Casillas has instructed Nguyen not to talk about the 15 minutes she remembers prior to the fall.
The LAPD will not comment about the incident because of the ongoing lawsuit.
Casillas said the police report has not been released. He has asked LAPD to preserve any black box data, in-car video and radio communications.
Thanks for reading CBS NEWS.
Create your free account or log in
for more features.