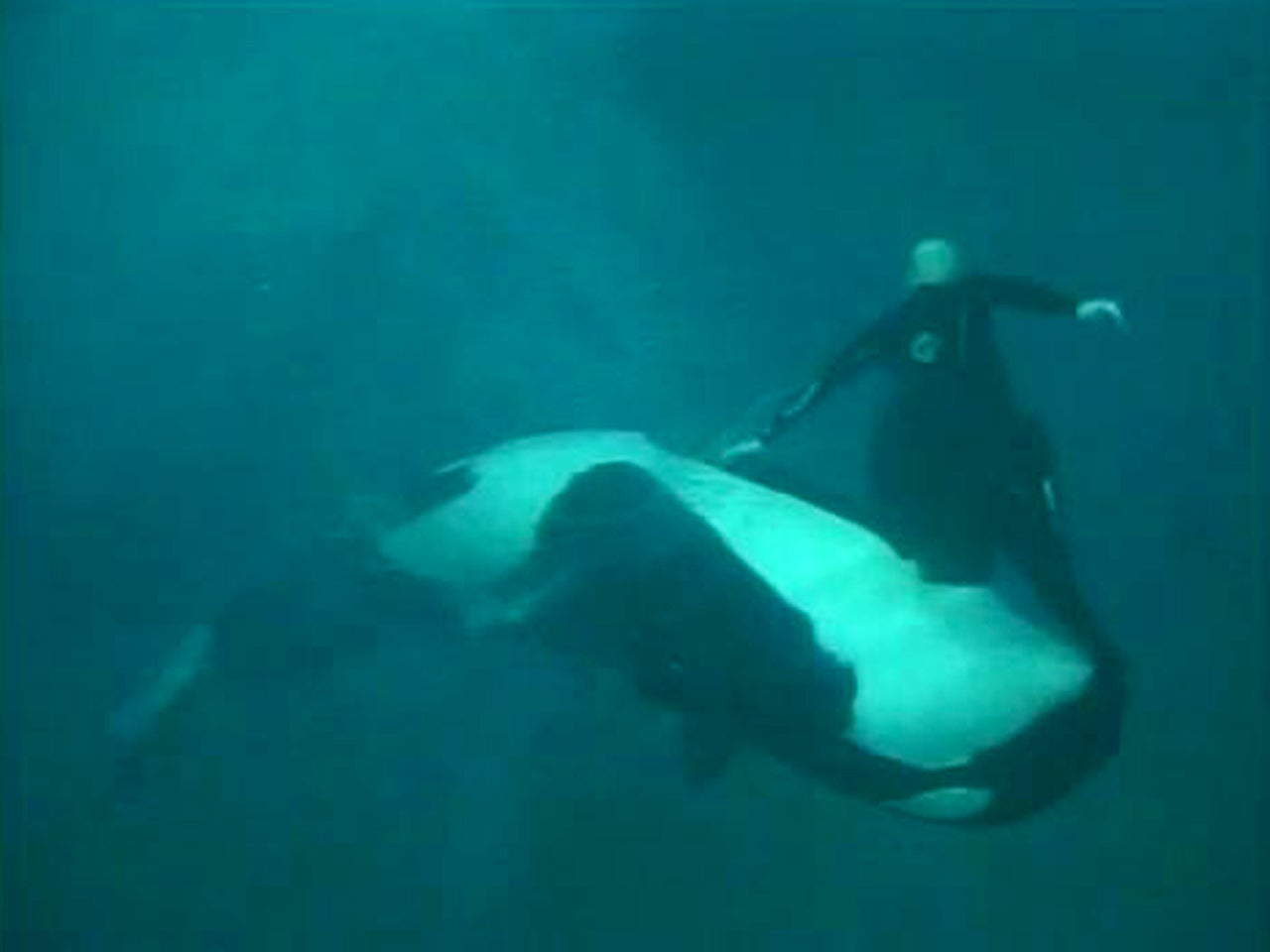 Caught on tape: Whale nearly drowns SeaWorld trainer
(CBS News) A newly released video, shown at a government court hearing in September, shows a killer whale dragging her trainer underwater and holding him there at a 2006 SeaWorld San Diego show.
The nearly ten-minute long incident was captured by SeaWorld cameras and shown at an Occupational Safety and Health Administration court hearing, according to CBS Orlando affiliate WKMG. The government released the video as part of public records request related to trainer Dawn Brancheau's drowning at SeaWorld Orlando in February 2010.
SeaWorld Will Fight $75k Fine in Trainer Dawn Brancheau's Death
SeaWorld & Dawn Brancheau's Family Wants Video Suppressed
SeaWorld Staff Saw Tilikum as Dangerous
In the video, a female orca named Kasatka grabs trainer Ken Peters by one of his feet and pulling him down deep into the water. Peters struggles to reach the surface, but the whale doesn't let her trainer go for about a minute.
Clearly struggling for air, Peters tries to calm the whale by patting her on the back, but Kasatka pulls him under again for about 40 seconds. After Peters makes it above water, he rushes to the side of the pool, tripping and falling when he sees the orca coming after him. Once he makes it out of the water, he receives aid.
Other trainers tried to signal the orca to let the trainer go, but Kasatka did not obey.
Peters suffered a broken foot in the incident, according to WKMG.
After the video was played at the OSHA hearing in September, Peters testified that he was confident the whale would let go of him if he remained calm.
SeaWorld San Diego's vice president said that no safety improvements were made after the incident, other than ordering trainers not to swim with Kasatka and two other orcas.
In a statement to WKMG, SeaWorld said the video "clearly shows the trainer's remarkable composure and the skillful execution of an emergency response plan, which helped result in a successful outcome with minor injuries" and that it cited for no violations by OSHA
Trainer Dawn Brancheau, 40, was killed by a killer whale named Tilikum in 2010, leading OSHA to fine SeaWorld for $75,000 and raising questions about safety at the animal theme park.
Thanks for reading CBS NEWS.
Create your free account or log in
for more features.