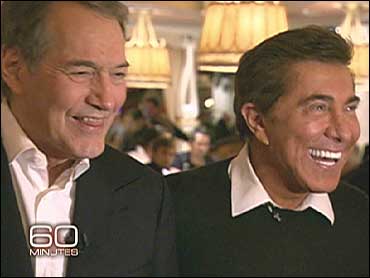 Casino Mogul Steve Wynn's Midas Touch
This story was first published on April 12, 2009. It was updated on July 16, 2009.
If you look down at the earth at night, the astronauts say the brightest spot on the planet is the Las Vegas Strip. The man who turned up the wattage in Las Vegas is casino mogul Steve Wynn. He set off a building boom in the 1980s that turned a bunch of gambling joints into an international tourist spot.
Las Vegas became the fastest growing city in America until the financial meltdown hit it - hard.
As Charlie Rose reported in April, the gambling industry has been in desperate shape. Revenues in Wynn's Las Vegas properties have plummeted about 30 percent in the recession.
But the economy didn't stop him from opening his most opulent casino resort yet, the Encore. Rose, who has known Steve Wynn both personally and professionally for about 15 years, profiles him for 60 Minutes.
---

At 67, Wynn is a legend in Las Vegas - the man with the Midas touch who added glamour to the gambling industry. Even in this recession, thousands came to try their luck at his new casino, Encore, when it opened in late 2008.

Encore cost nearly $2.3 billion dollars, a risky bet in a bad economy.

Asked why he'd open a hotel in this economic environment, Wynn told Rose, "Well I'll tell you right now that if I had any idea this…I wouldn't if I had a choice. But this project was started four years ago. These things have a huge lead time."

The gambling industry has been battered by the recession and taken the city of Las Vegas down with it. Some casinos stand half-built; unemployment is over 10 percent.

And while Wynn has had to slash employees' pay and lower room prices, he plows ahead, doing whatever it takes to get customers to his new hotel.

When he opened his namesake Wynn casino-hotel, he shot a famous TV ad standing right on the edge of the top of his hotel - dozens of floors above Las Vegas. For Encore, he did an encore performance for a commercial, this time sitting on the edge of the building.

The Encore and Wynn casino-hotels are connected, situated right next to each other. And he has a third casino hotel in Macau, China.

Inside, his hotels are fantasy lands for well-heeled adults. He brought gourmet restaurants and high end shopping to the strip.

His hotels may be extravagant but his business strategy is conservative. His company is not highly leveraged and has over $1 billion in cash to help ride out the recession.

"I want to understand a bit about the casino business," Rose remarked.

"So do I," Wynn joked.

He told Rose the only way to win in a casino is to own one, "unless you're very lucky."

And he says, even when people are lucky, they usually gamble away their winnings.

"You have never known in your entire life a gambler who comes here and wins big and…walks away?" Rose asked.

"Never," Wynn replied.

"You know nobody hardly that over the stretch of time is ahead?" Rose asked.

"Nope," Wynn said.

The customer's loss is Wynn's gain. He's a billionaire, but he isn't all that interested in gambling: his passion is creating the resorts.

He works closely with his design team and signs off on nearly every detail.

Asked why he focuses so much on how things look, Wynn said, "I can't help myself. It's a sickness. My doctor says if I take my medication I'm no danger to anybody but myself. I can't help it."

He told Rose that brings him the greatest joy.

The person who knows him best is his wife and business partner of 41 years, Elaine Wynn. And although the Wynns have filed for divorce, they say she will remain part of the business and on the board of directors.

"What is it that he has?" Rose asked Elaine Wynn.

"He brings a businessman's intelligence and awareness of what it takes to make a property successful, and yet he can put that on a side shelf and go crazy, making the most extraordinary environments. He understands innately what the public will respond to," she replied.

And he understands what the public will pay for.

Asked if the money matters a lot, Elaine Wynn told Rose, "It enables him to have a kind of freedom. There's rich freedom and poor freedom, you know. You can be a ski bum and a beach bum."

"That's poor freedom," Rose remarked.

"That's poor freedom," she replied. "Steve is, Steve likes…"

"Rich freedom!" both Elaine Wynn and Rose said simultaneously.

Wynn collects beautiful, often extravagant things - from great art, to big yachts, to the largest privately owned pear-shaped diamond.

In a cruel irony, this man who pursues beauty is losing his sight. He has a degenerative eye condition called retinitis pigmentosa.

"I was born with this recessive and rather rare condition that has diminished my vision since childhood. Night vision when I was very young, and then peripheral vision as you get older," he explained.

Because he's losing his peripheral vision, he often leans on people to guide him. He can see what's directly in front of him, but it's like looking through a tube and the circle keeps getting smaller.

Wynn acknowledged he has an appetite for visual things. "And you know that's the kind of thing that can be a source of great anxiety. You say well, suppose I can't enjoy the things that I love seeing so much? So there you are, that's it. You're face to face with the threat, the menace. I won't be able to see this at some point in the future, even though I can see it now."

But he says he doesn't feel sorry for himself and continues to enjoy his extraordinary art collection, including Picasso's "La Reve."

In 2006 Wynn had a contract to sell it for $139 million, a record price for a painting.

He was showing it off to some friends when an unfortunate mishap occurred. "In gesturing to the picture I turned to the right and caught her right on the arm, and poked a hole in the picture the size of the end of my thumb. We stood there in shock. I can't believe I'd done it. Oh no. Oh no. And then I said, 'Thank God it was me and not someone else.'"

He had the picture restored and it's no longer for sale. "But the fact of the matter is, what stands historically is that the painting, the painting was damaged by its owner, 'the Clouseau of collectors, Wynn,'" he joked. "But look, people make mistakes."

Wynn has made few mistakes in his business career. He grew up in the gambling business. His father, Michael Wynn, owned a string of bingo parlors. When Steve was 10, his father took him to Las Vegas for the first time. It was 1952 and Nevada was the only state in America where gambling was legal.

Wynn told Rose his father was a compulsive gambler.

"And you're in the gambling business. That's one of many ironies about you," Rose remarked.

"It is, and it's accidental, but it is an irony," Wynn acknowledged. "My father had a terrible problem with gambling. He was a guy that enjoyed that activity so much that he lost control of it."

Michael Wynn died during heart surgery at age 47, leaving the family with a gambling debt of $350,000. Steve Wynn took over the family business, made a success of it, and paid back the money his father owed.

"I would give anything for half hour, or 15 minutes with my father to walk him through anything that good fortune has allowed to come my way these past 40 years," Wynn told Rose.

"And have him stand outside and look on the building and it says…," Rose said.

"…Wynn," Wynn said. "He changed his name when he was a kid, he was Weinberg."

Wynn was in fact born Weinberg, but the name was changed when he was just several months old.

Steve and Elaine Wynn moved to Las Vegas in 1967. His career took off when he invested in the Golden Nugget and added hotel rooms to the casino.

He became its president by the time he was 31 and convinced Frank Sinatra not only to sing, but to appear in a series of commercials.

The Golden Nugget became Wynn's golden egg.

Las Vegas was just a bunch of casinos in the 1980s when Wynn built the Mirage, the first luxury resort on the Strip. Outside, a volcano exploded every 15 minutes. Inside, he hired Siegfried and Roy to perform.

Next door, he built another hotel and brought Cirque de Soleil to Las Vegas for the first time.

The Strip wasn't just about gambling anymore, and Wynn was hailed as a visionary.
"I've gotten too much credit for that really. If you look at Las Vegas in the 1980s, there hadn't been anything built since 1973 new. And so the city was in a time warp and as has so often been the case, in the valley of the blind, the one eyed man is king," he told Rose.

"So you had an idea and you were king," Rose asked.

"Yeah, all of a sudden I look like I was a rocket scientist," Wynn replied.

He wasn't a rocket scientist but he was a showman. When he imploded the old Dunes Hotel in 1993, the event became a Steve Wynn extravaganza, broadcast live on television.

Out of the ashes he built the Bellagio, at the time the most expensive hotel in the world. He sold the Bellagio and Mirage Resorts in 2000, pocketing more than $600 million. By then Las Vegas was calling itself the "Entertainment Capital of the World."

Steve Wynn is known for his charm but he's also known for his explosive temper. "I wish that I was a more considerate person and to the extent that I demonstrate consideration for other people at my age, I wish that I had gotten to that point earlier," he told Rose.

He got to this state of self awareness with the help of a friend, the Dalai Lama. "He says to me, 'I'll do an imitation, When you get angry, when you lose your temper, when you think that you shout and react in a poor way to other people, it is a result of a false sense of yourself, an inflated sense of yourself that is worthless,'" Wynn said.

And what keeps Steve Wynn on top while other casino moguls tottered near bankruptcy is that he never gambles with his own bottom line and he has always been driven by a single vision: "To see if I could do, If I could make people go 'Wow.' To see if I could create a place that was a wonderland, that it was better than the outside world. Where everything, like Joel Gray said in Cabaret, 'inside everything is beautiful, even the girls are beautiful, even the band is beautiful.' That seemed like such a fun way to spend your life."

Produced by Catherine Olian
Thanks for reading CBS NEWS.
Create your free account or log in
for more features.