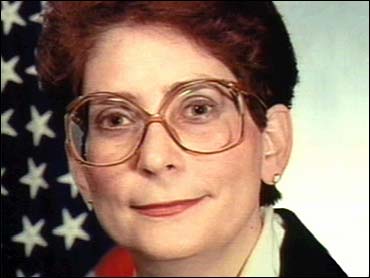 Chances are you've never heard of Darleen Druyun, but she's been spending a lot of your money — your tax money.
For 10 years, Druyun was the Air Force official who decided how much to pay for bombers, fighters, missiles -- you name it.
She had such a reputation for toughness, she was commonly known as "The Dragon Lady." Which is why there is shock that Druyun, one of the most powerful women in Washington, is headed to prison.
In the biggest Pentagon scandal in 20 years, it appears that billions of dollars were doled out to the Boeing Company, as Druyun was accepting personal favors for her family.
Now, as Correspondent Scott Pelley reports, both the Pentagon and defense industry are reeling from what might be called "The Curse of the Dragon Lady."
---
The Air Force spends more on weapons than any other service, and Druyun negotiated the price on most of the deals -- $131 million each for F-22 fighters, $350 million boosters for spy satellites, and the latest satellite-guided bombs.

In all, Druyun's taxpayer credit card racked up $30 billion in charges every year. She had a bigger budget than the Department of Homeland Security or the Justice Department.

And, as she told a congressional committee in 1998, she didn't let generals or CEOs push her around: "I think I have a very clear, crisp record. I am also not a shrinking violet. And I can tell you very clearly that if I don't like something, I don't sit there and keep my mouth shut. I do something about it."

"She has a very difficult disposition," says her former boss, Marvin Sambur, the assistant secretary of the Air Force for acquisitions. "She believed that no matter what the circumstances, she's in charge."

Even though he was her boss? "Well, she's had a lot of bosses over the years. They came and went," says Sambur. "So when I came in here, her view was, 'You're temporary, you're summer help, and I'm gonna be here long after you're gone.'"

That's because top civilian leaders of the Air Force like Sambur are political appointees hired and fired by the president. Druyun was career Air Force. In fact, there were times when as much as a year would go by when there was no political appointee above her, leaving her in charge.

Did she like being in charge of acquisitions? "She definitely did," says Sambur. "She liked the power, absolutely."

And in 2000, she had enormous power over the C-130. Druyun was considering whether to pay Boeing $4 billion to update the planes. She had Boeing's immediate future in her hands and she used some of her power to get something for herself.

Druyun called Michael Sears, the chief financial officer at Boeing, and asked him to arrange a job for her daughter's fiancé, Michael McKee. Boeing set up the job right away. And then, three months later, with the contract still on the table, Druyun asked for a job for her daughter, Heather. Boeing again complied.

You might be surprised that under Pentagon rules, that's not illegal.

Months after her daughter and now son-in-law went to work at Boeing, Druyun awarded Boeing the $4 billion contract. But that was just the beginning.

Next, Boeing presented an idea that was enormous, even for the Pentagon. It wanted to lease to the Air Force 100 767s as refueling tankers. The cost: $23.5 billion. Critics thought the idea was much too expensive. But during the price negotiations, Boeing internal Emails show that Druyun was siding with Boeing, not the Air Force.

After one meeting, a Boeing executive wrote: "Meeting today on price was very good. Darleen spent most of the time bringing the USAF pricer up to our number."

Sen. John McCain, who uncovered the Emails in an investigation of the tanker deal, had this to say: "Her job was to get the best possible price of the product for the American taxpayer. Instead, obviously she drove the price up to get the best possible deal for Boeing Corporation."

Asks Pelley, "And in driving the price up, how much money do you think the taxpayer is out on the tanker deal as it was constructed at the time?"

"I don't know exactly," answers McCain. "But it had to be in the billions. It had to be."

Was Druyun padding the tanker contract just because her daughter and son-in-law worked at Boeing? Not exactly.

In the midst of the tanker negotiations, Druyun's daughter, Heather, Emailed Boeing's Mike Sears and revealed that her mother was retiring from the Air Force. Now, Druyun herself was looking for a job, one that Heather told Sears "must be challenging, tough, lots of responsibility." … "She is very interested in talking to us, but we would have to give her something that would blow her out of the water." … "She also mentioned that Boeing has her most admired quality: honest values."

"Darleen Druyun understood the rules of the game, and that this discussion about employment was gonna violate the rules of the game," says Paul McNulty, the U.S. attorney in charge of prosecuting crime at the Pentagon. He told 60 Minutes Wednesday that while getting jobs for Druyun's family isn't against the law, getting a job for herself is a felony -- a violation of conflict of interest laws.

If, in that time period, Druyun had made those calls and sent those Emails herself, what would that have meant?

"Well, it wouldn't really have meant much different than what happened, because by using her daughter, she was still doing something indirectly that she wasn't allowed to do directly," says McNulty, who adds that any contact, even through her daughter, is against the law. "That's part of the conspiracy to violate the federal conflict-of-interest law."

In October 2002, at the height of the tanker negotiations, Druyun and Sears met secretly at an airport in Orlando to talk about her proposed Boeing job and the F-22 fighter which Boeing was involved in.

"Right there, on that one day, in that one 30-minute meeting, a violation of federal law occurs, because they're negotiating employment and they're doing business at the same time," says McNulty.

How much did Boeing's top executives know about the meeting and the illegal negotiations? One Email that Sears sent to "The Office Of The Chairman" of Boeing said: "Had a 'nonmeeting' yesterday . . . Good reception to job, location, salary. Recommend we put together a formal offer."

In November 2002, Druyun accepted an offer to be deputy general manager of Boeing's missile defense systems -- with a $250,000 salary and a $50,000 signing bonus.

"I was terrified. I actually was terrified for the Air Force. There was just too much about the tanker program, that was going on," says Sambur. "And I didn't want anyone to perceive, in any shape or form, that there was anything wrong with this negotiation, and I felt that she going to Boeing was not right. Totally not right."

And it didn't last long. That job offer her daughter once said should "blow her out of the water" did exactly that. Sen. McCain's investigation of the tanker deal uncovered the Emails. Druyun pleaded guilty to a felony and has been sentenced to 16 months. Sears also pleaded guilty, and will be sentenced later.

Fallout from the scandal reached all the way to the top of Boeing. Chief Executive Officer Phil Condit resigned.

An audit by the Congressional Budget Office found Druyun's tanker deal would have overcharged taxpayers nearly $6 billion. If there was any doubt about her motive, Druyun cleared that up in a statement to McNulty's investigators.

"Well, in fact, she referred to her decision on the tanker deal as a parting gift to Boeing," says McNulty. "As a parting gift to the company."

But it turns out that the tanker deal wasn't the only "gift." At her sentencing, Druyun stunned the Pentagon when she admitted swinging two other contracts Boeing's way, together worth another half billion dollars.

She also admitted that the family jobs "influenced her government decisions" and she "took actions which harmed the United States."

"Where was the United States Air Force? Where was the Department of Defense in this," asks McCain. "How could she do all this alone? That is really one of the fundamental questions in this whole scandal."

Does he believe she did it alone?

"I don't know if she did it alone or not, but where was the oversight of the secretary of the Air Force," asks McCain. "Where was the oversight of Mr. Sambur, who was supposed to be in charge of acquisition?"

How could Sambur not know what Druyun was doing? "Why would we think that to be the case? As I told you, the core value in the Air Force is integrity," says Sambur. "She has a spotless reputation. Everybody, you talked about the 'Dragon Lady.' That was due to the fact that she was a tough negotiator. No one suspected that there were any integrity problems."

Out of the 500 people who worked for Sambur, he said that none of them knew what Druyun was up to. "It appears that nobody knew," he says.

Even though there were billions of dollars in contracts? "There's no evidence, that we're finding, that there was anything that would have prompted anybody," says Sambur.

"What kind of a system is it that one individual has the ability to determine multibillion, $20, $30 billion contracts without anyone checking up on it," says McCain.

Sambur says the Pentagon is putting together an independent committee to figure out where the flaws are: "We want to learn. We want to correct. The Air Force wants to be open here. We want to restore our integrity. We wanna do what's right."

McCain plans to hold hearings into the scandal. In the meantime, he's been holding up Senate confirmation of promotions for Pentagon civilians and officers. Under that pressure, the secretary of the Air Force, James Roche, has resigned, and so has Marvin Sambur.

"It's reached the point where my serving is hurting my Air Force family," says Sambur. "I love this family. I will do nothing to hurt it, period."

"We've got to change not only the process over there, where one person can make these decisions all by themselves, and also the culture that allows this kind of thing to go on," says McCain, who believes it will be difficult to find out the truth. "I think that there's a lot that we'll probably never know."

Druyun, her daughter, and son-in-law all declined to talk with 60 Minutes Wednesday. So did Michael Sears and Phil Condit of Boeing.

But the Druyun scandal is far from over. Investigations by the FBI and Pentagon Inspector General continue. The Pentagon is now reviewing every contract Druyun handled during her 10-year Air Force career.

Thanks for reading CBS NEWS.
Create your free account or log in
for more features.