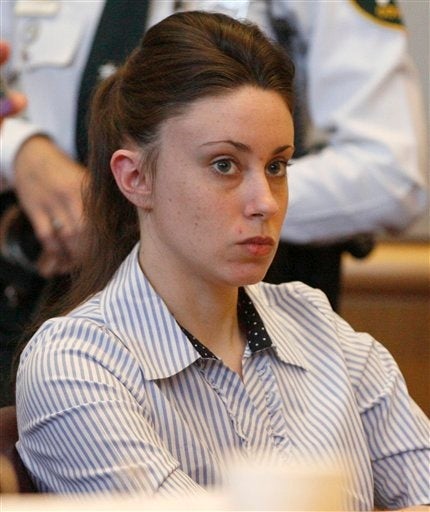 Casey Anthony trial begins with defense shocker - Caylee's death wasn't homicide
(CBS) ORLANDO, Fla. - A stunning revelation in the murder trial of Casey Anthony on Tuesday. Just minutes into his opening statements, Casey's lead attorney, Jose Baez, said his client should not be on trial for murder or even manslaughter. Why not?

Pictures: Casey and Caylee Anthony, Personal Photos
Because 2-year old Caylee Anthony died in a drowning accident on June 16, 2008, the last day the little girl was ever seen alive.
In Baez's version of events, Casey was at home with her daughter and father, George Anthony. George hadn't seen Caylee in a little while and began asking Casey where she was. The two proceeded to search the house. When Casey went into the backyard to see if her daughter was hiding there, she saw her father holding the dead child in his arms.
According to the defense, Caylee was able to climb into the pool via a ladder that was usually removed to prevent just such an accident. Then, they claim, George began yelling at Casey that she would go to jail for the rest of her life for neglecting her child; Casey broke down in tears and pleaded with her father to help hide the body.

Pictures: Casey and Caylee Anthony, Personal Photos
The defense also wants the jury to believe that Casey is so disturbed from childhood trauma that she blocked the death of her daughter. That, as a defense mechanism, Casey was transported to some kind of alternate reality in which her daughter hadn't died. That's how she was able to go out partying with friends, go shopping at Target, cash checks at the bank and get a tattoo that reads "Bella Vita," the "good life" in Italian, in the weeks after the tragedy occurred.
Baez even took it one step further, saying that Casey's childhood trauma came at the hands of her father in the form of sexual abuse that started when she was 8 years old. The jury heard some graphic details of the alleged abuse - and an accusation that Casey's brother, Lee, had tried to follow in his father's lecherous footsteps.
After the defense wrapped their opening statements, the state called its first witness: George Anthony. He refuted all the accusations that he had either molested Casey or been party to the alleged cover-up of Caylee's accidental death. George choked up on the stand when denying that he was there when Caylee died saying, "when I heard that today it hurt really bad. Because if I would have known something would have happened to Caylee we wouldn't be here today."
Pictures: Casey and Caylee Anthony, Personal Photos
It was a tough blow for the defense to have their case seemingly come apart with the testimony of the first witness on the stand. But even if Baez and his legal team can convince jurors that Casey is telling the truth and George is lying about the fateful events of that June morning, the defense still has to show that the structure of their case is built on a solid foundation. And if Casey's reputation and previous actions are the foundation, then cracks are already starting to show.
When Linda Drane Burdick led opening statements for the prosecution first thing Tuesday morning, one of her main themes was that Casey is, was and always has been a liar. Burdick talked about how Casey lied to her family about working at Universal Studios and about the nanny who supposedly watched Caylee on a regular basis. Casey lied to her mother about where Caylee was for an entire month and when she was cornered by her mother and brother for more information, Burdick said Casey fell back on what she did best. "Her mother was in her face, her brother was in her face, how do you get out of that? You tell another lie."
And the prosecution claims it wasn't just family that Casey lied to. When police were finally called in - by Casey's mother - to help locate Caylee, Casey led them on a wild goose chase. First sending police to an apartment where Casey swore she had last seen her daughter. Casey said she left the child there with her nanny, whose nickname happened to be Zanny. Upon a little investigation, officers discovered that not only did Zanny not live there and never had - but that nobody had lived in that apartment in five months, since the last tenants were evicted.
Pictures: Casey and Caylee Anthony, Personal Photos
State attorneys also say Casey told police she didn't have Zanny's contact information because it was on the phone she had left at her boyfriend's apartment. Police went to the boyfriend's place and got Casey's phone, but couldn't find any numbers for "Zanny the nanny."

Burdick went on to say that police followed other leads to find the mysterious nanny, including tracking down some of Casey's supposed colleagues at Universal Studios. Casey told detectives her friends at Universal knew Zanny. But when they got to the theme park it became clear to investigators that Casey hadn't worked there in years and that the friends she claimed to have made there didn't exist.
In order to make their case that Caylee died of an accidental drowning in the family's aboveground swimming pool, Baez had to tell the jurors that Casey lied. She had to admit that there never was a nanny named Zanny and that all of her sworn testimony to police was untrue.
At some point, the jurors will have to consider that. When the prosecution calls Casey a liar and her own defense is built on an admission of telling falsehoods to police - how can jurors ever really trust that this latest truth isn't just another lie?
The Casey Anthony case was recently reported on by "48 Hours Mystery."
Thanks for reading CBS NEWS.
Create your free account or log in
for more features.