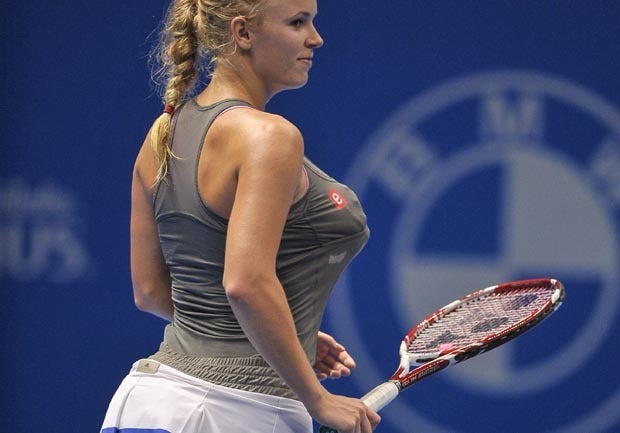 Caroline Wozniacki imitates Serena Williams by stuffing her bra and skirt: Funny or offensive?
In Brazil for an exhibition match against Maria Sharapova over the weekend, Caroline Wozniacki decided to channel her inner Serena Williams. The Danish tennis star stuffed her shirt and skirt with towels and pranced around the court.
The crowd - which included bemused onlooker Roger Federer - laughed and whistled at the imitation of the voluptuous WTA player of the year.
The reaction online was mixed. Yahoo Sports deemed the imitation "hilarious" but USA Today's Chris Chase called it a "disappointment."
Meanwhile others on social media deemed it outright offensive. One commentator on tumblr wrote: "It may have been done in 'jest,' but I love how people can turn a black woman's body and sexuality into a caricature."
One article on feministing.com said: "Given the history and current-day context of racialized standards of beauty, and the hypersexualization of people of color, when a white woman makes fun of a black women's body, especially in a way that hypersexualizes her and draws on the stereotype of black women's big butts, it's racist."
Wozniacki has done the Serena imitation before, dancing with extra padding in her shirt and skirt to a Rihanna song at an exhibition match in Slovakia last year.
And she's not the only one. Recently retired tennis player Andy Roddick did his best Serena impersonation during an exhibition match in Toronto in November. Novak Djokovic did the same earlier this year.
Williams has not publicly said that the imitations offend her but she did address the issue of body types for female American-American women earlier this year. In September, Williams said she was alarmed by the U.S. Tennis Association's decision to hold top junior player Taylor Townsend (who is black) out of competition over concerns about her fitness.
"She's so sweet and she works so hard," she said. "For a female, particularly, in the United States, in particular, and African-American, to have to deal with that is unnecessary. ... Women athletes come in all different sizes and shapes and colors and everything. I think you can see that more than anywhere on the tennis tour."
Williams won Wimbledon, the U.S. Open and the Olympic gold medal in 2012, compiling a tour-best 58-4 record and seven titles.
Thanks for reading CBS NEWS.
Create your free account or log in
for more features.